---
Foreclosure activity in the U.S. dropped 10 percent in February
compared to a month ago
, reaching the lowest level in more than seven years, according to RealtyTrac. 
A total of 112,498 foreclosure filings -- default notices, scheduled auctions and bank repossessions -- were reported in February, dropping 27 percent from a year ago to the lowest monthly total since December 2006. 
"Cold weather and a short month certainly contributed to a seasonal drop in foreclosure activity in February, but the reality is that new activity is no longer the biggest threat to the housing market when it comes to foreclosures," said Daren Blomquist, vice president at RealtyTrac. "The biggest threat from foreclosures going forward is properties that have been lingering in the foreclosure process for years, many of them vacant with neither the distressed homeowner or the foreclosing lender taking responsibility for maintenance and upkeep of the home."
As of the first quarter of 2014, a total of 152,033 homes in the foreclosure process -- excluding bank-owned properties -- had been vacated, representing 21 percent of all properties in the foreclosure process. 
"One in every five homes in the foreclosure process nationwide have been vacated by the distressed homeowner, but it is closer to one in three foreclosures in some cities," Mr. Blomquist said. "These properties drag down home values in the surrounding neighborhood and contribute to a climate of uncertainty and low inventory in local housing markets."
After a 10 percent monthly increase in January, foreclosure starts reached the lowest level since December 2005. A total of 51,842 homes began the foreclosure process in February, down 9 percent from January and down 27 percent from a year ago.  
The nation's highest foreclosure rate in February was recorded in Florida despite dropping 7 percent from January and decreasing 24 percent from a year ago, marking the seventh consecutive month of yearly decreases. Maryland, Nevada, New Jersey and Illinois followed Florida with the nation's highest foreclosure rates. 
More from the report: 
Owner-vacated foreclosures nationwide were flat compared to the last time RealtyTrac analyzed these properties, in the third quarter of 2013, but some states saw substantial increases, including Michigan (27 percent increase from September 2013), New Jersey (24 percent increase) and Nevada (21 percent increase).
States with the most owner-vacated foreclosures were Florida with 54,908 (36 percent of the national total, Illinois (15,512), New York (10,880), New Jersey (8,595), and Ohio (7,780).
States with the longest average time in foreclosure for owner-vacated foreclosures included Arkansas (1,128 days), Hawaii (1,112 days), Florida (1,095 days), Nevada (1,055 days), and New York (1,037 days).
Counter to the national trend, February foreclosure starts increased from a year ago in 14 states, including New Jersey where foreclosure starts increased 126 percent from a year ago, boosting the state's foreclosure rate to fourth highest in the nation -- its highest foreclosure rate ranking since October 2005.
A total of 47,715 U.S. properties were scheduled for a future foreclosure auction (in some states this is the foreclosure start) in February, down 15 percent from the previous month and down 21 percent from a year ago.
Counter to the national trend, scheduled foreclosure auctions increased from a year ago in 19 states, including Oregon (up 389 percent), Utah (up 145 percent), Connecticut (up 141 percent), New Jersey (up 70 percent), and Maryland (up 36 percent).
There were a total of 30,307 U.S. bank repossessions (REO) in February, up less than 1 percent from January but still down 33 percent from February 2013.
Counter to the national trend, 15 states reported year-over-year increases in bank repossessions in February, including Connecticut (up 162 percent), New York (up 108 percent), Maryland (up 98 percent), New Jersey (up 90 percent), and Oregon (up 70 percent).
Nine of the top 10 metro foreclosure rates in February were posted by cities in Florida, along with Atlantic City, N.J., where overall foreclosure activity increased 254 percent from a year ago.
Among the nation's 20 most populated metro areas, the highest foreclosure rates were in Tampa, Miami, Baltimore, Riverside-San Bernardino in Southern California, and Chicago. Only four of the 20 largest metro areas posted annual increases in foreclosure activity: New York (up 77 percent), Philadelphia (up 20 percent), Washington, D.C. (up 19 percent), and Baltimore (up 14 percent).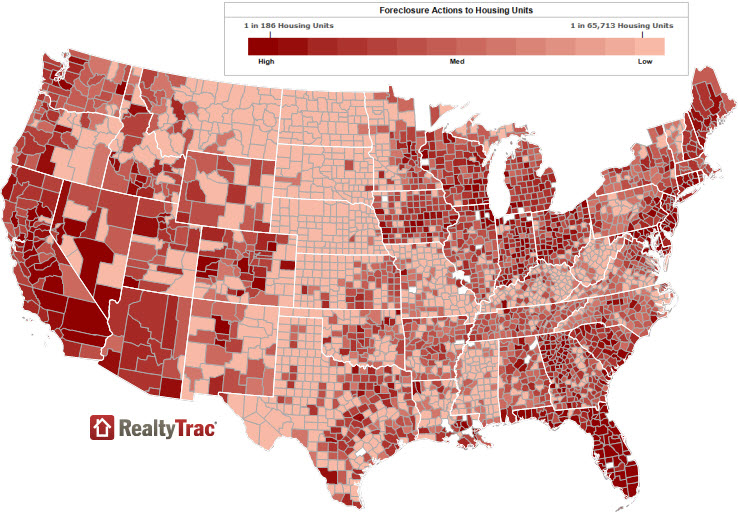 Sign Up Free | The WPJ Weekly Newsletter
Relevant real estate news.
Actionable market intelligence.
Right to your inbox every week.
---
Real Estate Listings Showcase