---
The number of foreclosure filings in 2013 dropped 26 percent from 2012, to reach the lowest annual total since 2007, according to the latest report from RealtyTrac.
Foreclosure filings -- default notices, scheduled auctions and bank repossessions -- were reported on 1,361,795 U.S. homes in 2013, down from the peak of 2.9 million properties with foreclosures filings in 2010.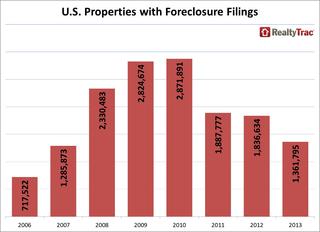 One in every 96 homes, or 1.04 percent, had at least one foreclosure filing in 2013, decreasing from 1.39 percent in 2012 and down from a peak of 2.23 percent in 2010, RealtyTrac reports.
Foreclosure starts totaled 747,728 homes in 2013, down 33 percent from the previous year, to reach the lowest annual total since RealtyTrac began tracking in 2006. Foreclosure starts decreased in 2013 compared to 2012 in 37 states. States with the significant decreases in foreclosure starts included California (down 60 percent from 2012), Arizona (down 59 percent from 2012), Colorado (down 58 percent from 2012), Georgia (down 47 percent from 2012) and Michigan (down 42 percent from 2012) -- all non-judicial states.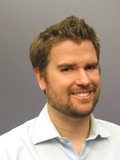 Daren Blomquist
"Millions of homeowners are still living in the shadow of the massive foreclosure crisis that the country experienced over the past eight years since the housing price bubble burst -- both in the form of homes lost to directly to foreclosure as well as home equity lost as a result of a flood of discounted distressed sales," Daren Blomquist, vice president at RealtyTrac, said in the report. "But the shadow cast by the foreclosure crisis is shrinking as fewer distressed properties enter foreclosure and properties already in foreclosure are poised to exit in greater numbers in 2014 given the greater numbers of scheduled foreclosure auctions in 2013 in judicial states -- which account for the bulk of U.S. foreclosure inventory."
Florida, Nevada and Illinois posted the highest foreclosure rates in the nation in 2013, after continuously
ranking at the top throughout the year
.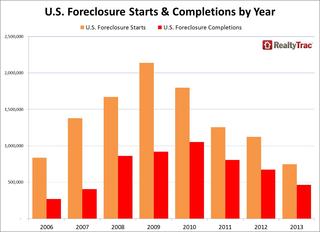 The report also reported positive news regarding the nation's foreclosure inventory. In December 2013, more than 1.2 million homes were in some stage of foreclosure or bank owned, dropping 19 percent from the same month in 2012, and dropping 44 percent from the peak of more than 2.2 million in December 2010.
"The push to schedule these auctions is certainly coming at an opportune time for the foreclosing lenders," Mr. Blomquist said. "There is unprecedented demand from institutional investors willing to pay with cash to buy at the foreclosure auction, helping to raise the value of properties with a foreclosure filing in 2013 by an average of 10 percent nationwide."
More from the report:

States with the highest foreclosure rates in 2013 were Florida (3.01 percent of all housing units with a foreclosure filing), Nevada (2.16 percent), Illinois (1.89 percent), Maryland (1.57 percent), and Ohio (1.53 percent).
Total foreclosure activity in 2013 increased in 10 states in 2013 compared to 2012, including Maryland (up 117 percent), New Jersey (up 44 percent), New York (up 34 percent), Connecticut (up 20 percent), Washington (up 13 percent), and Pennsylvania (up 13 percent).
Scheduled judicial foreclosure auctions (NFS) increased 13 percent in 2013 compared to 2012 to the highest level since 2010. NFS were the only foreclosure document type among the five tracked by RealtyTrac to post an increase nationwide in 2013 compared to 2012.
States with big increases in scheduled judicial foreclosure auctions included Maryland (up 107 percent), New Jersey (64 percent), Connecticut (up 55 percent), Florida (up 53 percent), Pennsylvania (up 24 percent), and New York (up 15 percent).
The average estimated value of a property receiving a foreclosure filing in 2013 was $191,693 at the time of the foreclosure filing, up 1 percent from the average value in 2012, and the average estimated market value of properties that received foreclosure filings in 2013 has increased 10 percent since the foreclosure notice was filed.
The average time to complete a foreclosure nationwide in the fourth quarter increased 3 percent from the previous quarter to a record-high 564 days. States with the longest time to foreclose were New York (1,029 days), New Jersey (999 days) and Florida (944 days).
Including the 2013 numbers, over the past eight years 10.9 million U.S. properties have started the foreclosure process and 5.6 million have been repossessed by lenders through foreclosure.
Lenders with the most inventory of bank-owned (REO) properties -- based on the name of the beneficiary listed on the foreclosure documents -- were the government-backed entities of Fannie Mae, Freddie Mac and the U.S. Department of Housing and Urban Development (HUD), with a combined 41 percent of all REO inventory.
Other top beneficiaries were Bank of America (11 percent of all active REO inventory), Wells Fargo (11 percent of all REO inventory), Chase (8 percent), US BankCorp (7 percent), Deutsche Bank (5 percent), and CitiGroup (4 percent).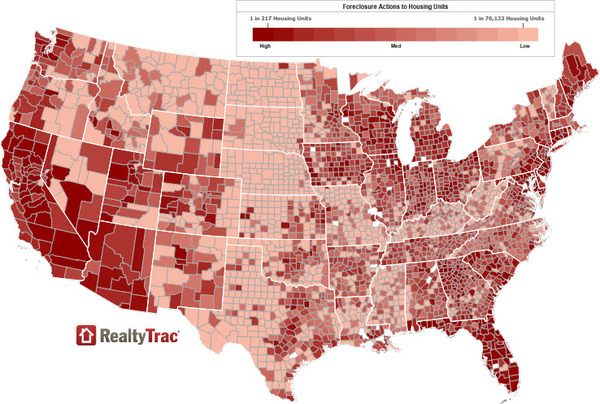 Sign Up Free | The WPJ Weekly Newsletter
Relevant real estate news.
Actionable market intelligence.
Right to your inbox every week.
---
Real Estate Listings Showcase