---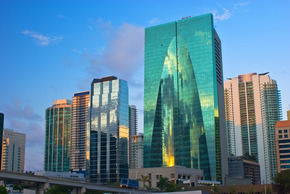 The new year should be a good one for the US hotel industry as RevPar (revenue per available room) and ADRs (average daily room rates) continue to rise at steady, sustainable levels, says Jan Freitag, senior vice president at STR in Hendersonville, Tennessee. 
Room rates in the US will increase by 4.6%, which is above inflation and is an average rate of growth, while 5% to 8% would be a strong growth rate, says Freitag. 
A number of new hotel rooms are in the pipeline and many will be completed in 2013, which means that the supply will increase by about .8% next year, says Freitag, which he thinks is a healthy rate. "There is definitely a lot more hotel construction today" than in the last few years, he says, but most of the hotel openings, won't happen until June 2013 and the new hotel rooms will be in limited service hotels, for the most part, rather than in luxury properties.   
As for the need for new hotel rooms, Freitag says "It depends on who you talk to. A developer will always say, 'My hotel is what the market needs and no other hotels should be built,' whereas owners of existing hotels will say that we don't need more. The answer is somewhere in the middle," he says. 
Of all the new hotel rooms being built, New York City will have the lion's share. There are 9500 rooms in the pipeline there today, according to STR. "Occupancies (at existing New York City's hotels) will decrease slightly as the new hotels open," says Freitag. (None of these units are replacements for hotels that may have been damaged by Hurricane Sandy, he says.) 
New York is not the only market that is about to get a significant number of new hotel rooms, according to STR. In Washington, D.C. 3,000 rooms are in the works; in Orlando, there are 2800 rooms being built; in Chicago, the number is 2000, in Nashville 1400 rooms are being developed and Denver will get 1300 new rooms, beginning in 2013. 
The new supply of hotel rooms is bound to affect existing properties, says Freitag, but the occupancy level needed to break even varies from market to market. "Lots of hotels can run occupancy rates of 50%," and still be OK, whereas with some hotels, if the occupancy rate is below 60%, they will do poorer than before the new hotels opened, he says. "But most will probably continue to do fine, especially those with a lower level of service," says Freitag. "Those (kinds of hotels) historically need lower occupancies to break even."  
New York City hotels represent a different universe, says Freitag. "They have a higher ADR and consistently have one of the highest occupancies in the US, so they are attractive for investors, he says. 
Washington, D.C. also has a higher cache, says Freitag. The JW Marriott, which will open with 1200 rooms next to the convention center in downtown, will have a ready-made market, he says. 
In Nashville, out of 1300 rooms being built there, 800 will be at the Omni Hotel next to a new  downtown convention center. "The Omni will put Nashville on the map," says Freitag. "The Music City Center, Nashville's convention center, will be attractive to meeting planners in the US," he says. 
Finally, Orlando, which is a tourist Mecca, will get a significant number of hotel rooms in 2013, 
"because it has 'the Mouse,' so it will always be attractive to family and leisure travelers and it is interesting for (organizations and corporate groups) that don't want to go to Las Vegas," says Freitag. 
"Lots of meeting planners are afraid that if they go to Las Vegas, (attendees won't) go to meetings," says Freitag. "Meeting planners understand the allure of Las Vegas, so attendance at the event is high, but not at the meetings themselves," which is why some companies steer clear of Las Vegas, he says. "In Orlando, you have to actually leave the property" to skip out on meetings. In Las Vegas, you just have to leave the meeting room, he says.
Sign Up Free | The WPJ Weekly Newsletter
Relevant real estate news.
Actionable market intelligence.
Right to your inbox every week.
---
Real Estate Listings Showcase