---
AAA Travel is now projecting that over 36.1 million Americans will travel 50 miles or more from home during the Memorial Day holiday weekend, a 1.5 percent increase from the 35.5 million people who traveled in 2013.  Kicking off the summer driving season, more than eight in ten travelers will be driving to their destinations.  The Memorial Day holiday travel period is defined as Thursday, May 22 to Monday, May 26.
Highlights from 2014 Memorial Day Travel Forecast include:
Memorial Day holiday travel volume is expected to reach a new post-recession high with 36.1 million Americans taking a trip.
The 2014 forecast is 2.6 percent higher than the ten-year historical average and the second highest travel volume since 2000
Eighty-eight percent of travelers (31.8 million) to travel by automobile, an increase from 31.4 million last year
Holiday air travel expected to increase from 2.4 percent to 2.6 million leisure travelers
Travel by other modes of transportation including cruise, trains and buses will see the largest increase, up 6.5 percent (total 1.7 million travelers)
Travelers will encounter slightly higher prices with airfares six percent higher, mid-range hotels up two percent and car rentals costing one percent more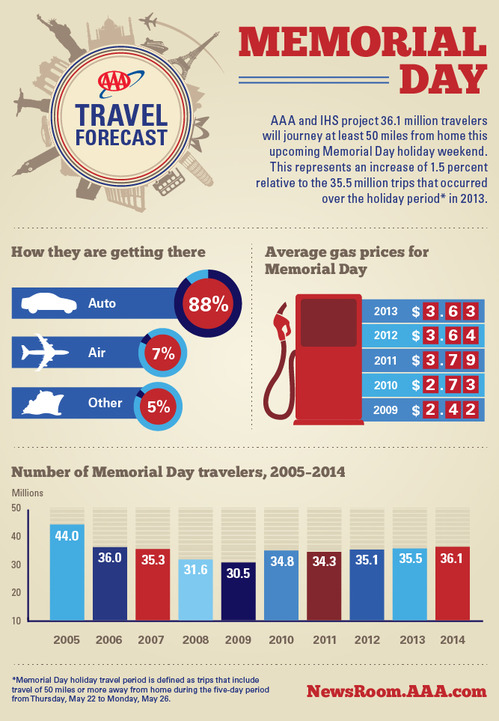 "As we enter into the summer travel season with warmer temperatures and tulips in bloom, thoughts of historic cold are still fresh in the minds of Americans in many parts of the country," said Marshall L. Doney, AAA Chief Operating Officer. "The winter blues appear to have given Americans the travel bug and a case of cruise cabin fever as travel for the holiday is expected to hit a new post-recession high."
In addition to seasonal rising temperatures, improvements in several key economic factors are driving the expectation for more holiday travelers this year. "As the economy continues to improve at a slow and steady pace consumer spending, disposable income, consumer confidence and the employment outlook are trending up which is welcomed news for the travel industry," continued Doney.
The unforgiving winter was a hindrance to economic growth at the beginning of the year but economic factors influenced by weather, such as car and home sales, appear to be resolving themselves now.  Indicative of the unusually harsh winter, AAA experienced an increase of nearly 12 percent in battery related calls this winter.
Impact of gasoline prices on travel plans
AAA expects that most drivers will pay lower gas prices by Memorial Day weekend due to rising supplies. AAA expects holiday gas prices to be relatively similar or even slightly less than last year's national Memorial Day average of $3.63 per gallon, though unexpected developments such as refinery problems or international events could result in higher costs. With many plans already made and budgets set, it is unlikely that gas prices will have a significant effect on travel plans compared to a year ago.
Travel expenses rise modestly
According to AAA's Leisure Travel Index, hotel rates for AAA Three Diamond lodgings are expected to increase just two percent from one year ago with travelers spending an average of $169 per night compared to $166 last year. The average hotel rate for AAA Two Diamond hotels has risen three percent with an average cost of $124 per night.
Weekend daily car rental rates will average $44, only one percent higher than last year. Airfares are experiencing the largest increase. The average round-trip, discounted fares for the top 40 U.S. routes have increased six percent to $227 from $215 last year.
Sign Up Free | The WPJ Weekly Newsletter
Relevant real estate news.
Actionable market intelligence.
Right to your inbox every week.
---
Real Estate Listings Showcase