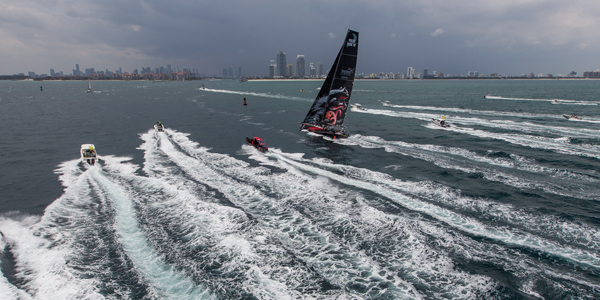 Miami Enjoys Tourism Boost From Global Volvo Ocean Race, Only North American Stop
(Miami, FL) - This week Miami welcomed the Volvo Ocean Race fleet, a global sailing event, with much fanfare. And as it turns out, Miami has a lot to be thankful for being the only North America stop-over on their global trek. Money.
Considered one of the most prestigious sail events in the world with a global following, the 14-day Volvo Ocean Race festival scheduled in downtown Miami's Bicentennial Park will be taking place from May 6th-20th, and will attract more than 200,000 visitors worldwide including tourists, locals and sailing enthusiasts alike.
Volvo Ocean Race Miami's board member and President Don Poole previously told
World Property Channel
, "Several months ago in our application to the Florida Sports Commission we indicated that we believed that our event would generate around 7,000 room nights locally. We now know that Volvo North America has booked 900 people for 4 nights, 3,600 rooms. The six Volvo Race teams have booked on average 40 rooms for 14 days and the Volvo Race Corporate organization has booked 35 rooms for at least 14 days. When you do the math you can see that we will easily reach the 7,000 room night target and that's just the booked rooms we know about now."
"Miami is well-known as a big event town, and we are honored to be one of only 10 cities in the world, and the only North American city, selected as a stop on the Volvo Ocean Race," says William D. Talbert, III, CDME, president and CEO of the Greater Miami Convention & Visitors Bureau. "The worldwide media exposure for Miami during the eight months of the race is priceless," states Talbert. "Our Miami brand and particularly Downtown Miami has been front and center since last October. We can't begin to put a figure on the value of that kind of positive media and consumer exposure."
"The Miami stop is a great opportunity for the crews and the sailing aficionados of the world who will join them to relax and enjoy the many attractions that make Miami a world-class destination," adds Talbert. "The Volvo Ocean Race Village will be a hub of excitement and activities for our visitors and residents alike for 14 days and that's fantastic business for our community."
City of Miami Commissioner Marc D. Sarnoff tells
World Property Channel
, "The Volvo Ocean Race is yet another indicator of the City of Miami's continued emergence not just as a gateway to the Americas but now as a gateway to the world. The sheer magnitude of this global event -- with millions of people watching worldwide -- will have a direct positive impact on Miami's image as will the tens of thousands of people who are expected to visit the city. I'm very proud that the VOR (Volvo Ocean Race) chose Miami as its only North American stopover and we hope to welcome them back in the future."
As for the race itself, American skipper Ken Read led his PUMA team to a second consecutive leg win on Wednesday, arriving on home soil in Miami triumphant following an epic 17-day match race with closest rivals CAMPER to confirm they are back in contention for overall victory.
Since the heartbreak of the first leg, in which their yacht Mar Mostro dismasted, PUMA have been on the up - and after scoring their first offshore success in Leg 5 from Auckland to Itajaí, Brazil, they made it two in two with glory in Leg 6.
After coming off best in an intense battle for first place with CAMPER with Emirates Team New Zealand, who at one point closed the gap to less than a mile, Read said his team were back in the fight for the Volvo Ocean Race 2011-12 trophy.
"That was about as stressful as it can get, believe me," Read said. "It was touch and go, and the guys on CAMPER sailed very well, but I couldn't be more proud of our team -- they did an unbelievably great job."
PUMA Ocean Racing powered by BERG crossed the finish line at 18:14:00 UTC, 17 days after leaving from Itajaí, Brazil, with CAMPER with Emirates Team New Zealand around an hour behind PUMA and on course to take second.
PUMA dominated the 4,800 nautical mile leg from the start, only surrendering the lead on two occasion to CAMPER and for no more than 48 hours.
A fast start to the leg in fresh conditions saw PUMA lead out of Itajaí and into several days of fast sailing up the Brazilian coast.
As winds eased the fleet split into three groups, with CAMPER and Abu Dhabi Ocean Racing closest to the shore enjoying two days at the head of the pack, while Team Telefónica and Groupama sailing team opted to head east in search of better breeze. PUMA split the difference and it paid as they got a jump on their rivals that would lay the foundations for their eventual win.
With the south-east trade winds providing near-perfect conditions for the Volvo Open 70s, a drag race began up to the Equator and through the Doldrums, which presented little problem for the fleet. But 10 days into racing, PUMA were nearly undone by storm clouds which stalled the leaders, allowing CAMPER and Telefónica to reel them in to just six miles.
Into the Caribbean Sea they enjoyed fast sailing once more until they hit tricky weather systems that once again saw the leading boats compress. Despite coming under fire from CAMPER right up until the very last minute, faultless sailing saw PUMA defend their lead to claim the win.
It's the fourth time in six legs that PUMA have finished on the podium, and they pick up an invaluable 30 points for the leg win to take their overall tally to 147.
CAMPER will be awarded 25 points for second place, their best result in the offshore series since Leg 2 from Cape Town to Abu Dhabi when they finished second behind Team Telefónica.
"It's been a long leg and PUMA have sailed very nicely, they have defended very well, but I think we have attacked well too," CAMPER skipper Chris Nicholson said as his team closed in on the finish line. "I'm pretty happy with how it's gone. We're in better shape now for the next leg."
Both teams will close the gap on overall leaders Telefónica, who were still scrapping it out for the final podium position with Groupama sailing team.
The globally recognized Volvo Ocean Race is an extreme sailing event around the world and is widely known as the 'Everest of Sailing.' The worldwide sporting event kicked off from Alicante, Spain on November 5th, and will conclude in Galway, Ireland, in July 2012. The teams are competing across 39,270 nautical miles through some of the world's most treacherous seas.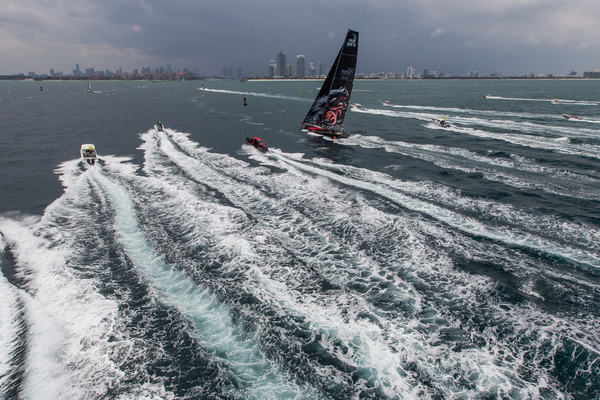 VOLVO OCEAN RACE Team PUMA entering Port Miami (Photo by Marco Oquendo)