---
According to global property consultant CBRE, Sydney is leading the national CBD retail recovery, with the city's vacancy rate declining in the first half of the year as the return to the office gathers pace.
CBRE's H1 CBRE Retail Vacancy report shows that the Sydney CBD vacancy declined 70bps to 6.9% in the first half, with the opportunistic expansion of premium and luxury retailers helping to drive demand.
Across Australia, the CBD retail vacancy rate increased 350bps to 17.4% in H1, with Sydney recording the lowest vacancy, followed by Melbourne (15.9%), Adelaide (18.0%), Brisbane (18.9%) and Perth (28.4%).
CBRE's Australia Head of Retail Leasing Leif Olson said, "We have seen a slight increase in overall vacancy this half across Australia. However, as the return to the office gathers pace in the coming months, we expect to see more retailer mandates for prime mall locations across the country. The biggest improvements are being recorded for prime stock, with vacancy rates continuing to increase in secondary, non-core locations."
Mr. Olson also noted that some new store openings had been delayed by staffing issues and access to fitout materials, pushing occupancy dates back to H2 2022 / H1 2023.
CBRE surveyed 4,834 CBD retail outlets for the H1 vacancy report, with Melbourne having the highest number of stores (1,832) due to its large CBD retail core, followed by Sydney (1,082), Brisbane (912), Perth (659) and then Adelaide (353).
CBRE Research Director Kate Bailey said, "The stubborn levels of vacancy recorded in H1 are due to the lagging effects of the pandemic and the fact that some retailers are not renewing leases. However, we expect to see the market stabilise over next six to 12 months as retailers reset their strategies and capitalise on an increase in leasing options. Vacancy levels in prime areas are expected to recover faster than secondary areas, amid an ongoing flight to quality."
Sydney
Mr. Olson noted that a return to the office and the long-term value that retailers were identifying in high street flagships was helping to drive down the CBD vacancy rate.
Prime stock, which includes retail space on Martin Place, George, Pitt, King and Market Streets, is the most sought after with secondary locations suffering higher vacancies.
"Hospitality venues are performing well, with most quality restaurants performing above historic levels, but have had problems with staffing as well as balancing workers' return to the city," Mr. Olson said.
"Mature hospitality businesses are looking at expansion with new concepts opening, such as Efendy on Carrington Street, two new concepts opening at 50 Pitt Street and another two opening at 570 George Street, in addition to Applejack Hospitality opening in the North Sydney CBD."
"We've also seen strong demand from luxury brands, as well as footwear groups, looking to secure long-term leases for flagship stores in the city."
Melbourne
While Melbourne is still feeling the lagging effects of last year's lockdowns, with clothing and soft goods retailers particularly hard hit, CBRE's report highlights that enquiry from entertainment and food & beverage retailers has experienced a resurgence.
CBRE Associate Director, Retail Leasing, Jason Orenbuch noted, "Demand for high end hospitality venues across the Melbourne CBD is also on the rise, particularly in well-established culinary locations. More broadly, enquiry for retail flagship locations in super prime locations also rose during Q2."
Mr. Orenbuch said requirements for partially or fully fitted retail spaces were in demand, particularly in the hospitality sector.
A flight to quality is evident, with prime locations proving to be resilient, while secondary locations are witnessing a slower recovery
Brisbane
Brisbane's CBD recovery was delayed in H1 as the Omicron wave and flooding challenged businesses and both the Federal and State governments wound back business support payments.
Small-to-medium clothing and soft goods retailers were hardest hit as localised spending and online retail sales surged, however CBRE's report highlights that the CBD is beginning to see an up-tick in workers, students and tourism.
CBRE Associate Director, Retail Leasing, Tanaka Jabangwe noted, "Prime locations are experiencing healthy demand from tier 1 retailers seeking flagship store locations and hospitality enquiry is surging both from local groups and interstate/national operators as Brisbane's F&B scene continues to mature.
"However, secondary CBD locations are struggling and contributing to the increased vacancy rate largely due to the flight to quality currently underway."
Mr. Jabangwe said luxury retailers such as Balenciaga and Louis Vuitton had demonstrated their confidence in the CBD by committing to high-end space in Queens Plaza, with a number of active requirements still out in the market.
Adelaide
While the overall Adelaide CBD vacancy rose in Q1, Julia Pottenger, CBRE Associate Director, Retail Leasing, noted that Rundle Mall's vacancy was the tightest it has been in almost 15 years at 4.1% - the lowest in the country.
"In the last 12 months, retailers such as Dymocks and Rebel Sport have opened flagship stores in Rundle Mall, with fashion, street and sportswear retailer Glue opening its first South Australian flagship and Japanese fashion brand Uniqlo set to follow suit late this year. This highlights the 'flight-to-quality' and 'experiential retail' trend we've seen across the country," Ms Pottenger said.
"QBD Books has also opened its first Rundle Mall store - its largest nationally - while Britain's JD Sports will soon open a CBD flagship store.
"Off-market deals for space in Rundle Mall have also surged, indicating a competitive leasing market for occupiers. International retailer demand is also increasing, with a number of brands visiting the city this year to inspect sites."
Ms. Pottenger said the overall increase in the CBD's retail vacancy had been driven by shopping centre vacancies, which rose 7.9% rise in H1.
"This increase was mainly due to accommodation being strategically vacant for redevelopment or relocations and notably within the Myer Centre where a large portion of the ground floor is vacant but under construction for the new Uniqlo store," Ms Pottenger said.
She noted that Adelaide was seeing many positive signs of recovery, recording Australia's highest hotel occupancy rate and highest monthly retail turnover growth of 1.9% in May 2022. The city also had an Australian-leading office occupancy in June, reaching 71% of pre-COVID levels.
Perth
While the Perth CBD retail market is still recovering from lengthy border and COVID restrictions leasing activity is improving, with Sephora set to open a store on the Murray Street Mall in 2023 and Chanel having relocated to a 700 sqm flagship site on Murray Street in June.
CBRE Senior Director & WA Head of Retail Fred Clohessy said a rebound in Perth's office occupancy following the relaxing of COVID restrictions had brought some much-needed relief for CBD retailers.
"In June, Perth CBD office occupancy rebounded to 65% - the second highest in the country - after dipping to 45% in March 2022 when the state borders initially opened," Mr. Clohessy said.
"Total passenger volumes have more than tripled since the borders opened, with the retail market also positioned to benefit from the state's extremely strong economic fundamentals and rising interstate migration driven by the state's relative housing affordability and employment opportunities."
Mr. Clohessy also noted that multiple development projects were set to boost inner city retail activity in the coming years, including the new Edith Cowan University (ECU) CBD campus, a new hospitality and revitalised event space at Yagan Square's Market Hall, a transformation of Carillon City by major local developer Fiveight and a $160 million office and retail project at 95-99 Barrack Street by Southern Cross Properties WA. This all follows on from the major refurbishment and relaunching of the Perth CBD's iconic Piccadilly Arcade in November 2021.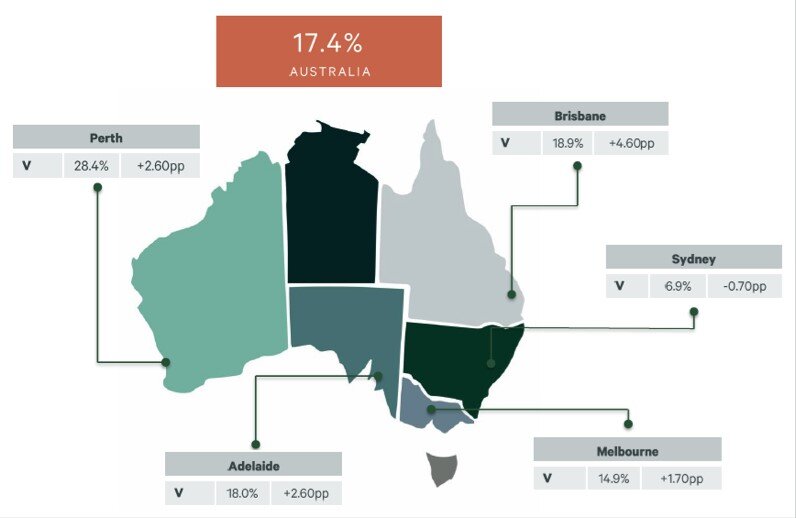 Sign Up Free | The WPJ Weekly Newsletter
Relevant real estate news.
Actionable market intelligence.
Right to your inbox every week.
---
Real Estate Listings Showcase