---
The last couple of weeks have seen concerns over the state of the Chinese economy intensify. This is not surprising given the losses incurred in the Chinese stock market, with the Shanghai Composite Index falling 25% between June 12th and July 17th 2015.
According to CBRE, the stock market is not the only important asset market in China. Arguably, the housing market is just as consequential, and here there is some good news. Figure 1 shows the year-on-year growth in house prices in China's four Tier 1 cities. The boom that took place in 2012 and 2013 can easily be seen, fueled, as it was, by the strong post-crisis bounce in economic growth and urbanisation. Also visible is the slowdown that was induced by tighter monetary policy and other "administrative" measures, such as restrictions on second home purchases and reselling. Until recently, it had looked as if these government actions had derailed a significant component of the Chinese growth model, namely urbanisation and the housing market. 
CBRE's Global Chief Economist Richard Barkham says, "Recent improvements in the Chinese housing market suggests that policy measures being implemented by Beijing, taken well before the current stock market turbulence, are starting to work, leading us to believe that China's economy is likely heading for a soft landing."  
China's growth is linked to the housing market in a number of ways. First, there is the direct link via construction activity. Official sources suggest that approximately 7% of China's GDP is construction output. This may well be an underestimate, but on the assumption that 70% of this is residential output, approximately 5% of China's GDP can be attributed to the production of housing.
By comparison, in the U.S., residential construction made up around 6% of GDP just prior to the global financial crisis. Since then, it has averaged about 2.5%. When the U.S. housing bubble burst, construction activity slumped and its failure to revive over the following five years was a significant drag on economic activity.
China has a social housing program to offset the slowdown in the private sector, and the current wave of stimulus is targeting infrastructure development. Even so, the fall in house prices has been a drag on economic growth, though the forces of urbanisation will remain in play over the long term.
It is not only the direct effect that matters. Housing activity, more specifically families moving into new homes, stimulates purchases of furniture, household appliances and insurance and brokerage services. As well as the circa 5% of GDP in residential construction, there is a further 4% to 5% of China's GDP in housing-related goods and services. Again, the slowdown in house prices, via this mechanism, has a knock-on effect on the economy.
So, the uptick in house prices in Shenzhen and Shanghai, as well as signs of stabilization in Beijing, is very good news indeed, although it will take some time for this to feed through into the economic numbers.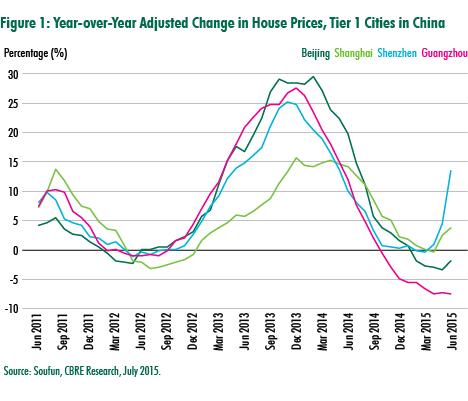 Moreover, the overall market in China is still likely headed down says CBRE. Prices tend to move up (and down) first in the big metropolitan markets and then ripple out to other urban areas. In addition, there is excess inventory to absorb in second-tier cities. However, this data suggests that the measures the Chinese government has taken to boost the economy, well before the current stock market turbulence, are starting to work. The news that Chinese GDP growth reached 7% in the second quarter also supports this notion, as does recent data from the OECD that shows that house price to household income ratio has fallen, which improves affordability.
CBRE's house view of a "soft landing" for the Chinese economy appears to be being born out. Taken alongside the recent improvement in Eurozone economic numbers, this is very supportive of world growth and suggests a stronger second half of 2015 than the first.
Sign Up Free | The WPJ Weekly Newsletter
Relevant real estate news.
Actionable market intelligence.
Right to your inbox every week.
---
Real Estate Listings Showcase