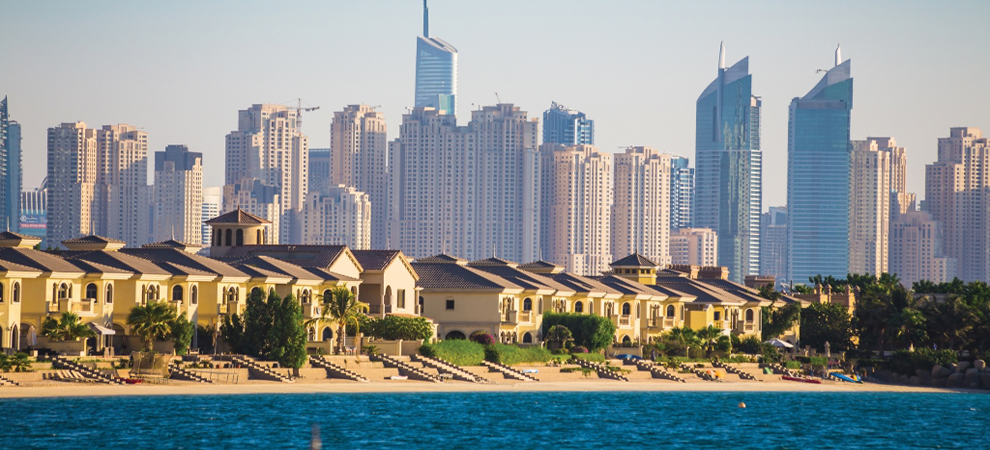 Dubai, Abu Dhabi Residential Markets Hold Their Own in Q1
According to UAE property portal Bayut, moving further away from previous year's dormant second half, UAE's real estate market remained stable in the first quarter of 2016.
Major developers, including Emaar and Nakheel, did not shy away from launching mega projects in residential, as well as hospitality sectors, showcasing their confidence in the market's future. Like we mentioned in our February round-up, there were a few welcome signs of recovery in the apartment sale market in the second month of the quarter, with some bed categories posting encouraging gains. The apartment rental category remained robust, with lucrative yields in both Dubai and Abu Dhabi keeping investors interested in the real estate markets of both emirates.
Dubai
Dubai's real estate market sailed stably through the first quarter. Not only did we see real estate developers carefully considering demand before supplying market with new units, we also saw an even distribution and movement of residents from the city center to suburbs. Maturity is the word commanding Dubai's property market right now and the slight adjustments here and there spell nothing but stability to emirate's residential sector.
Dubai Land Department reported that real estate transactions in Dubai during the first three months amounted to AED 54.78 billion through 12,568 deals. The number is impressive by any standard and part of the credit goes to strong rental yields that continue to make the market attractive to property investors. The market's price adjustment, coupled with flexible payment plans offered by numerous developers is encouraging many tenants to become homeowners.
In a comparative study of Q1'15 with Q1'16, Bayut found apartment rents falling 3% this quarter, while sale prices dropped by 6%. We feel the adjustments are subdued and signs of a market adjusting itself.
However, when Bayut compared Q1 2016 average rents with those at the end of December 2015, the average rental value was found to have increased by 3%. Apartment rental yields remained attractive at 6% and reached as high as 8% in select bed categories.
But as more and more households move to the cities suburbs, investment opportunities in areas like Dubailand and Dubai Sports City become all the more enticing. The increased popularity of these localities coupled with low property prices has resulted in rental yields as high as 9%. We think Dubai's suburbs are ideal for both new home buyers - who can still benefit from low prices - and investors, who can enjoy impressive rental yields thanks to these areas' rising popularity.
Per Bayut's comparison of Q1'16 with Q1'15, average studio apartment rents in Dubai adjusted 5% in the outgoing quarter, commanding an average of AED 60,000. Following the general trend, 1-bed and 2-bed apartments both adjusted 4% commanding AED 98,000 and AED 154,000, respectively. The larger apartments, representing luxury and high-end amenities posted the least declines. The 3-bed and 4+ bed categories experienced adjustments of 4% and 3%, respectively, fetching AED 210,000 and AED 321,000.
Considering residential supply, almost 4,600 residential units were reported to be completed in the first quarter of 2016 and 10% of there were actually projects delayed from 2015. Majority of these were located in Jumeirah Village Circle, Mohammed Bin Rashid City and Dubailand. Although our quarter-to-quarter comparison shows an average adjustment of 3%, it's encouraging to note that rental values have gone up from the end-of-2015 mark, hinting at a market getting ample demand from a rising population.
Top Localities for renting apartments in Dubai (Q1 2016)
1. Dubai Marina
2. Jumeirah Lake Towers (JLT)
3. Bur Dubai
4. Downtown Dubai
5. Business Bay
Top Localities for buying apartments in Dubai (Q1 2016)
1. Dubai Marina
2. Jumeirah Lake Towers (JLT)
3. Downtown Dubai
4. Palm Jumeirah
5. Jumeirah Beach Residence (JBR)
Abu Dhabi
With a 2% downward adjustment in apartment rents and a similar 3% adjustment in sale values in Q1'16 over Q1'15, the real estate market of Abu Dhabi stood resilient despite oil the price crunch and the constrained supply. As the lack of rental caps kept pushing rental values upwards throughout 2015, Bayut believes the adjustment is a positive development.
However, Abu Dhabi continues to be a buy-to-let heaven with rental yields that average 7% on the whole and go as high as 9% in certain bed categories.
Compared to Q1'15, average studio rents in Abu Dhabi adjusted 2% downwards to AED 64,000 in Q1'16, while rental values of 1-bed apartment held their ground at AED 98,000. Two-bed and 3-bed apartment rents fell to AED 137,000 and AED 183,000, respectively, registering marginal decreases of 1% and 3%. Rents of 4+ bed apartments adjusted the most during Q1 2016 compared with the same period last year. The rents of the said category dipped 6% and fetched AED 240,000 on average.
Average rental yields in Abu Dhabi remained lucrative as ever at 7%. Studio apartments offered impressive yield of 9% in Q1 2016, while 1-bed and 2-bed apartment returned yields of 8% and 7%, respectively. The rental yields of 3-bed apartments rose to 7%, while the 4+ bed category returned an encouraging 5% yields during the first three months of the current year.
While the emirate continues diversifying into the non-oil sector in order to reduce dependence on oil, the Law No (3) of 2015 implemented earlier this year continues to improve competitiveness, transparency and encourage further investment in the real estate market. The Cityscape Abu Dhabi 2016 has brought to light some bankable names announcing mega projects, which are likely to further boost activity in the UAE capital's realty sector.
Top Localities for renting apartments in Abu Dhabi (Q1 2016)
1. Al Reem Island
2. Al Raha Beach
3. Khalifa City A
4. Al Muroor
5. Al Khalidiyah
Top Localities for buying apartments in Abu Dhabi (Q1 2016)
1. Al Reem Island
2. Al Raha Beach
3. Al Reef
4. Al Ghadeer
5. Saadiyat Island
UAE Market Wrap Up
As the year stretches into the second quarter, real estate activity in the UAE is poised to speed up. Mega projects like Reem Mall in Abu Dhabi and The Palm Gateway Towers and Creek Harbour in Dubai continue to lead the sector's charge towards development and offering ample avenues for both investors and end users to put their thoughts and capital into. Also, a number of infrastructure projects related to Expo 2020 are slated for initiation this year and will likely result in a lot of land resources and capital changing hands in the coming months. Non-oil sectors in both Dubai and Abu Dhabi continue to grow in strength, holding immense promise for the realty sector that banks on a thriving national workforce.
Although the sector exhibited small sparks of positivity in the first quarter, Bayut is certain the UAE market will show more of the same and remain buoyant in the near future, as it continues benefiting investors with hefty returns and homebuyers with unmatched value and quality of life.