---
As real estate remains in high demand as a stable asset class worldwide, European investors are now increasingly turning their attention to castles, farm and manor houses as well as country estates.
Properties in a good to very good condition, preferably on a large plot of land, are proving especially popular. Other desirable amenities include private hunting and water rights, as well as forestry and agricultural land. Around 80 percent of buyers of such estates are still German nationals. Christoph von Schenck, Head of the business segment Castles & Manor Houses at Engel & Völkers, is witnessing a clear trend however: "The number of interested buyers from abroad is growing rapidly. In addition to enquiries from Western Europe, the former GUS nations and the Arab states, we are increasingly registering buyer requests from China. In many cases, buyers from abroad already have a residence or business premises in Germany." Alongside the desire to invest in Germany for reasons of political and economic stability, Christoph von Schenck sees this high level of international demand as a sign of commitment to the preservation of cultural and historical values.
"Properties with a valuable heritage that are also located within close reach of a major city are proving particularly desirable - both with German and foreign interested buyers. We are registering a very strong level of demand in northern Germany, for example in the region surrounding Hamburg," said Christoph von Schenck. A number of historic estates have come onto the market in recent years in the German states of Schleswig-Holstein, Mecklenburg-Western Pomerania and the northern part of Lower Saxony. Therefore, although the level of demand is high, Christoph von Schenck remains optimistic that prospective buyers have good chances of fulfilling any desire to buy in northern Germany.
A valuable heritage site: Altfresenburg manor house
In the county of Stormarn, for example, only around 45 minutes' drive north of Hamburg's city centre, Altfresenburg manor house is currently for sale. In 1791, the landowner Hugo von Buchwaldt, a descendent of the Holstein region's ancient nobility, had the house built near Oldesloe as the family seat by Christian Frederik Hansen. The property is regarded as the last remaining mansion to be preserved in its original state as designed by the Danish architect, who is arguably the most influential proponent of Classicism in northern Europe. In addition to Christiansborg Palace in Copenhagen and other archetypal buildings, some of the finest classical-style private residences on Hamburg's Palmaille and the legendary Elbschaussee were also designed on Hansen's drawing board. Altfresenburg manor house dates back more than 200 years and stands as testimony to the unostentatious architectural style so typical for Hansen. Inside however, it is endowed with stucco ornamentation preserved in its entirety, as well as elaborate supra-portals and decorative pilasters. "This is very rarely found nowadays, and makes the property as valuable as an antiquity," said Christoph von Schenck.
The particular level of international interest and admiration still enjoyed by Hansen to this day becomes apparent every time a property designed by him comes onto the market. Significant buyer interest emerged as soon as Altfresenburg manor house in Schleswig-Holstein appeared in Engel & Völkers' property portfolio - not only from Germany but on an international scale as well.
Historical properties open up a variety of potential uses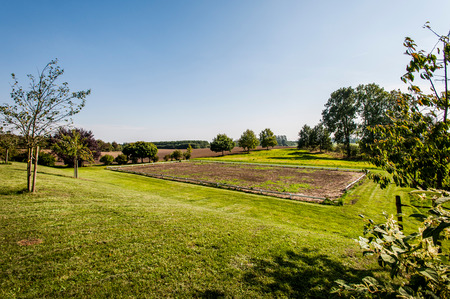 Motivations for acquiring an historic estate like Altfresenburg are as varied as the prospective buyers themselves. Investors and project developers seek out properties with historic flair specifically for commercial purposes. These include usages such as prestigious company premises, restaurants, hotels, conference and seminar centres, as well as the creation of impressive event venues or conversion into outstanding holiday apartments. However, Christoph von Schenck is also well aware of the motives of private individuals who are perhaps fulfilling a lifelong dream with the purchase of such a property. "Many clients have a particularly strong sense of tradition. They recognise the opportunity that an historical estate presents to acquire an ostensive piece of history. They might also be inspired by the opportunity arising of leading the mythical life of the lord of the manor, as in bygone eras. There are cases where such a vision has certainly become a reality," said the heritage expert.
Differentiations in the price structure
Significant variations can be identified in the value of historic properties. In addition to the state of repair, it is location - as with all other properties - that constitutes the most important valuation factor. Castles and manor houses that lie within the catchment area of large cities are more likely to find a buyer more easily than estates located in rural regions. Sale prices vary according to the various assessment criteria. Castles in Germany in a very good state of preservation can easily achieve sales prices of up to 20 million euros. Due to the fact that many such estates are listed for their special historic interest, capital investors and private owners alike can profit from tax deduction allowances through funding set aside for monument preservation.
Beyond this economic benefit, Christoph von Schenck has identified a non-material motivation associated with the commitments of estate holders: "Maintaining a listed property is always a cultural and historical undertaking as well, placing it in the public interest as a result. Many of the new custodians find modernisation of the heritage property entrusted to them, by proper means and methods, to be an exceedingly appealing and satisfying challenge."
Sign Up Free | The WPJ Weekly Newsletter
Relevant real estate news.
Actionable market intelligence.
Right to your inbox every week.
---
Real Estate Listings Showcase