---
According to JLL, Poland saw record total demand of over 2 million sq m, with 1.4 million sq m attributable to net take-up. Developers were quick to react - 1 million sq m of new stock was delivered to the market last year.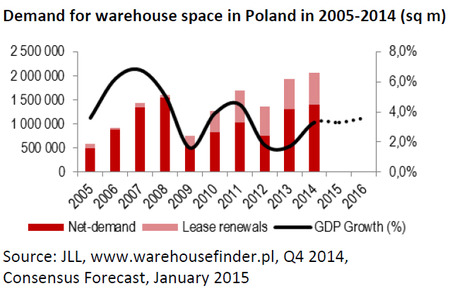 Tomasz Olszewski, Head of Industrial CEE, JLL, said, "2014 was a very intensive year for both tenants and developers on Poland's industrial market. Despite the lack of spectacular new entries in 2014 and lease agreements, such as Amazon's in 2013, demand for industrial space in Poland peaked for the second consecutive year. Total demand reached 2.06 million sq m, which is the best ever result for the Polish industrial market and is 6% higher than 2013. Furthermore, net take-up accounted for 1.4 million sq m, which means a 7.5% increase y-o-y. The confident mood in the market can be credited to a number of factors, such as the general economic improvement, development of road infrastructure, as well as the expansion of e-commerce, retail chains, production and manufacturing firms."
What is interesting is the fact that the distribution pattern of demand has slightly altered when compared to 2013, with the Warsaw Suburbs regaining their position as the most sought-after region.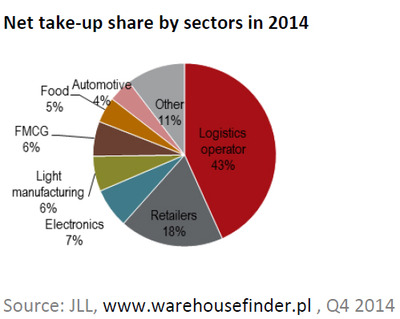 The largest new lease agreements in 2014 were signed by Czerwona Torebka (54,000 sq m in MLP Poznań Zachód), ID Logistics (46,000 sq m in Point Park Mszczonów) and GE (45,000 sq m in Panattoni's BTS scheme in Bielsko-Biała). The most significant renegotiation involved Carrefour, who renewed their 46,000 sq m lease in Distribution Park Będzin, and P&G, who renegotiated their lease of 38,000 sq m in Prologis Park Sochaczew.
The volume leased by logistics operators doubled 2013's total, with nearly 607,000 sq m leased over 2014, accounting for 43% of net take-up.
Vacancy rate down
According to warehousefinder.pl, at the end of 2014, a total of 834,000 sq m was immediately available to tenants. This figure translated into a vacancy rate of 9.8%, down by 1.6 p.p. on Q4 2013. Among the major markets, the largest share of unleased space was found in Central Poland - 15.8%, Warsaw - 11.2% and Upper Silesia - 11.1%. A high vacancy rate (14.3%) was also registered in the Tri-City, though it should be noted that it refers to a modest 35,000 sq m.
The lowest availability of warehouse space is to be found in Western Poland. The current availability in Poznań totals a mere 32,000 sq m (2.6% of existing stock). The Wrocław region has a vacancy rate of 5.7% as of Q4 2014. This translates into 66,700 sq m of available floor space.
The Warsaw Inner City area has seen a significant depletion of available floor space - from 22.3% in Q4 2013 to 14.6% by the end of 2014.
Supply - million sq m of new industrial space in 2014
At the end of 2014, warehouse stock on the Polish market reached a level of 8.54 million sq m and remained the largest in the Central and Eastern European region. 92% of this stock is concentrated in the five main regions, namely Warsaw, Upper Silesia, Poznań, Central Poland and Wrocław. What is interesting is the fact that other locations, acting mainly as local support, have the chance to witness the development of new schemes over the next months.
"In 2014 developers completed 1.02 million sq m of space - the third highest volume in the history of the Polish industrial market. This was also much higher compared to the previous year's total of 305,000 sq m. The largest volume of new space - 355,000 sq m - was delivered in Wrocław, and as a result this region hit the 1 million sq m of total industrial stock last year", Tomasz Olszewski explained.
The pace of expansion was fastest in Wrocław and Poznań, with the two cities registering new supply of 355,000 sq m and 268,000 sq m respectively. These were followed by Central Poland, where 138,000 sq m was delivered. A large portion of new supply was attributable to Amazon, for whom Panattoni and Goodman delivered three buildings with a total floor space of nearly 370,000 sq m (in Wrocław and Poznań).
Among the major industrial regions, the lowest developer activity was registered in Warsaw. But this does not alter the fact that Warsaw remains the largest market in terms of stock (over 2,67 million sq m distributed over two zones - the Warsaw Suburbs and the Warsaw Inner City).
With over 462,000 sq m of completed space, Panattoni was again the most active developer. Goodman has been the second most active, having completed 215,000 sq m, followed by Prologis with 85,000 sq m.
"Developer activity has not shown any signs of slowing down. On the contrary, 687,000 sq m is currently in the pipeline as part of 30 construction projects across Poland. Importantly, speculative projects are becoming more popular. Over 184,000 sq m of industrial space not secured by lease agreements is under construction. This is a clear response from developers to both decreasing level of space available to hand and increasing demand," Tomasz Olszewski added.
The largest volume under construction is in Poznań.
Again, it is Panattoni who leads in terms of the current development activity with nearly 252,000 sq m in the construction stage, followed by Goodman who is delivering 212,000 sq m. Unsurprisingly, these two companies are also the largest speculative developers.
Rents
Owing to their urban location and smaller size, Small Business Units (SBU) typically feature higher rents than the larger distribution parks. During 2014 the headline rents in such facilities were stable in Warsaw and Łódź, with Wrocław recording only a minor drop from €3.7-4.0/ sq m / month to €3.5-4.0/ sq m / month.
Large distribution parks are predominantly located outside cities and feature considerably lower rents. During 2014, headline rents remained stable in the Warsaw Suburbs (€2.7-3.6/ sq m /month), Upper Silesia (€3.0-3.7/ sq m / month) and Central Poland (€2.6-3.3/ sq m / month). Minor downward pressure was registered in Wrocław, where the rental band dropped from €3.0-3.8 q m / month to €3.0-3.6/ sq m / month. A more significant rental decrease applied in the case for Poznań. Over the course of the year, the rental band dropped from €3.3-3.8/ sq m /month to €2.9-3.5/ sq m /month. This can be put down to the acute competition between developers seeking to secure large new construction projects or replenish occupancy in existing buildings. Effective rents were stable in the Warsaw Suburbs (€2.1-€2.8 / sq m /month), Upper Silesia (€2.4 - €3.3 / sq m /month) and Central Poland (€2.1 - €2.8 / sq m/month). In Poznań and Wrocław effective rents decreased and, by the end of 2014, stood at €2.15 - €3/ sq m /month and €2.5 - €3.1/ sq m /month respectively.
Industrial land - return of speculative purchases
Agata Zając, Land Transactions Coordinator, JLL, commented, "A notable change in the approach of developers was witnessed in 2014. With increasing industrial demand anticipated in the coming years they no longer feel restrained when it comes to speculative land acquisitions. Such activity has not been seen since 2007. Companies were interested not only in the major established industrial regions, but also some less obvious locations such as Lublin, Rzeszów, Bydgoszcz, Toruń and Białystok. An additional factor shaping the industrial land market in 2014 and generating interest in plots, especially within Special Economic Zones, concerned a change in the rules relating to regional aid. New rules, effective from July 2014, increased the interest in plots of land in H1. The most sought-after regions in 2014 included the Poznań and Lower and Upper Silesia regions. In 2015, we expect the Warsaw Suburbs to also gain momentum".
Investment market
The Investment market showed further buoyancy in 2014 with the transacted volume reaching an historic peak of €744 million. The largest deal was the acquisition of logistics parks by PZU FIZ Sektora Nieruchomości 2 for ca €140 million.
Ownership became more concentrated with four players together controlling 54% of the stock: Prologis (26%), SEGRO (11%), Blackstone/Logicor (11%) and Goodman (6%).
2015 Outlook
"Considering the positive economic forecasts, we expect that demand for industrial space will be similar to results registered in the past two years, however, achieving new peaks may prove to be difficult. Developer activity is likely to remain high as well and even one million sq m of new industrial space can be completed in 2015. We expect an increase in both developer and tenant interest in industrial markets in Eastern Poland - Lublin, Rzeszów and other locations, such as Szczecin or Toruń. Rents will mostly remain stable, with an eventual upward pressure in the regions with a low amount of available space", Tomasz Olszewski summarized.
Sign Up Free | The WPJ Weekly Newsletter
Relevant real estate news.
Actionable market intelligence.
Right to your inbox every week.
---
Real Estate Listings Showcase