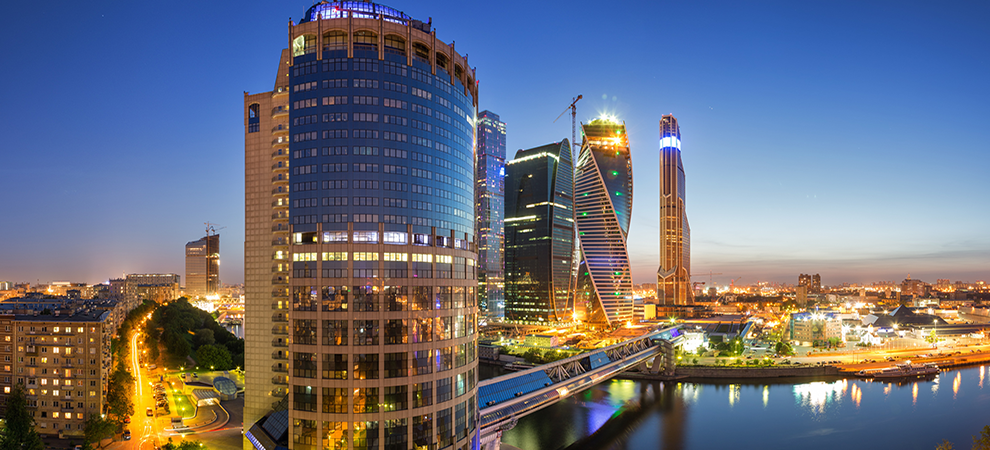 Downtown Moscow Office Rents Poised to Rise 25 Percent by 2020
According to JLL, the Central Business District office market of Moscow contains a hidden imbalance, which is represented by a shortage of large offices. This will raise landlord confidence and stimulate rental rents growth in the near future.
"The new supply is limited and construction is often delayed. In 2016, only three buildings have been completed in CBD, totalling 44,514 sq. m (of which 40,247 sq. m is Class A). This has marked a ten-year low of construction activity", says Olesya Dzuba, Head of Research, JLL, Russia & CIS. "Only one Class A business centre, Oasis, is expected in CBD in 2017. Taking into account announced and under construction projects, CBD office completions in the next few years will be significantly lower than take-up levels. Moreover, the majority of new projects will appear at the CBD border or beyond."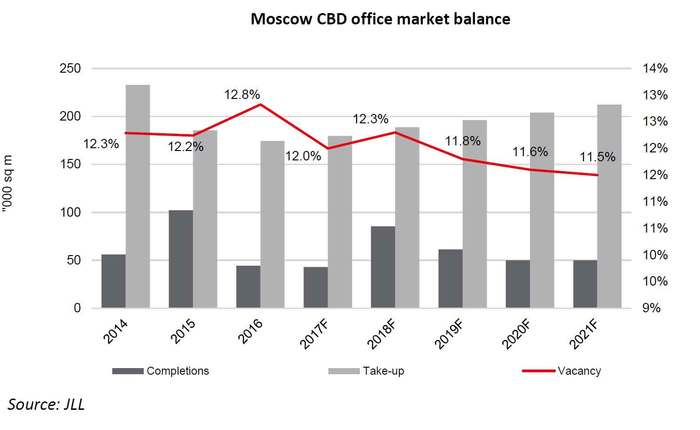 The attention of tenants is focused on Class A premises. CBD locations are traditionally favoured by domestic and international corporations and by local medium size firms. Demand for Class A offices in the city centre is already recovering; take up in H1 2017 grew 23% YoY to 41,200 sq. m. The correction of rental rates in 2015-2016 and a resulting narrower difference between Class A and Class B+ rates encourage tenants to improve leasing conditions by relocating to higher quality premises in the CBD or outside the Garden Ring, without paying extra.
Low new supply and stable demand in Class A offices lead to declining vacancy rate, down by 3.5 ppt to 14.4% from end 2014 to H1 2017. This boosts landlord confidence.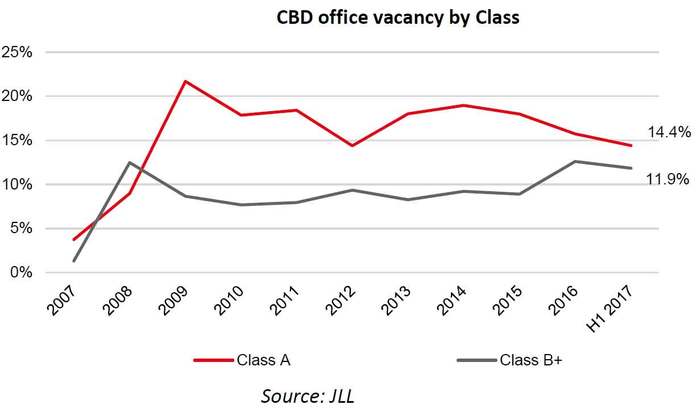 In the near term, the on-going economic recovery will support further office demand expansion. This is expected to reduce the vacancy to 11.5% in 2021. A larger impact is expected in Class A.
The narrowing selection of quality offices will stimulate rental growth: JLL experts predict 7-25% increase in Class A by the end of 2019. This will raise Class A rental rates to $500-800 per sq. m per year from $400-750 in 2017. Rental rates in Class B+ will rise as well, reaching RUB28,000 versus RUB26,000 in 2017.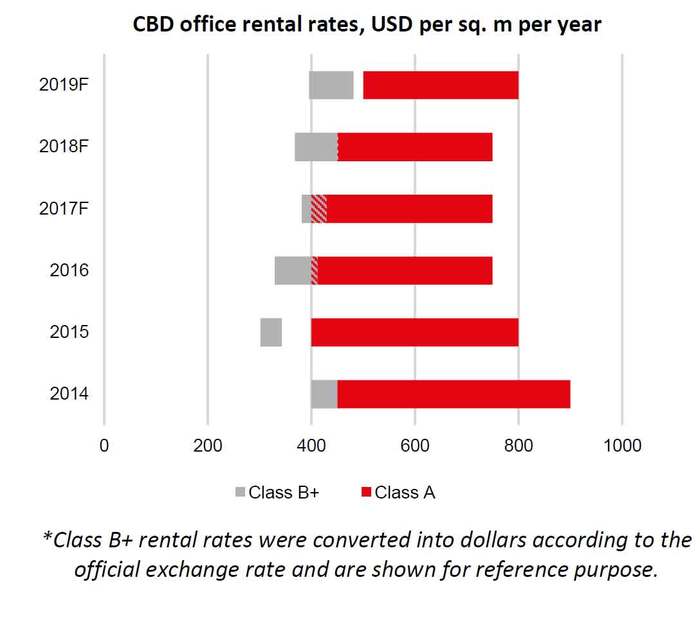 "Small size tenants can always find office premises that meet their requirements. For large companies, it is becoming a challenge to find an appropriate office in the CBD. Shrinking availability and expected rental growth will force tenants to consider under construction projects and to pre-lease premises there, or to seek a compromise on rents in their current location", concludes Elizaveta Golysheva, National Director, Head of Office Agency, JLL, Russia & CIS.