According to Singapore-based Edmund Tie & Company, private residential property prices in Singapore continued to increase in Q2 2018, with the Urban Redevelopment Authority (URA) private residential property price index increasing by 3.4 per cent quarter-on-quarter (q-o-q).
This significant increase in price is partly supported by displaced owners searching for replacement homes. Due to the new cooling measures effective on 6 July 2018, the rise in Additional Buyer's Stamp Duty (ABSD) rates and reduction in loan-to-value ratio for residential properties will impact on property sales in the immediate term as buyers adopt a wait-and-see attitude. Some developers are introducing price discounts and other incentives to facilitate sale after the implementation of the cooling measures.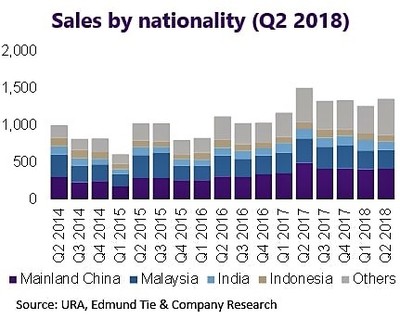 Notwithstanding, some newly-launched developments continue to attract buyers reflecting the underlying demand. For example, Twin Vew sold the highest number of units, with a take-up rate of 85.4 per cent. Of the total 520 units, 444 units were sold in Q2 since its launch in May 2018. Sales were mainly driven by singles, young couples, families and investors drawn to the potential of Jurong Lake District, positioned as "the second CBD". Likewise, the secondary market also faced significant growth, as landed home sales grew by 8.4 per cent q-o-q and non-landed home sales increased by 18.0 per cent q-o-q.
Non-Singaporean purchases for residential properties remained relatively strong due to Singapore's economic stability and foreign ownership restrictions of residential properties in other markets such as New Zealand and Australia. This was evident from the q-o-q increase of 7.7 per cent of non-landed home purchases by Singapore Permanent Residents (SPRs) and Non-Permanent Residents (NPRs) to 1,354 units in Q2 2018. The number of non-landed homes bought by SPRs increased by 9.5 per cent q-o-q to 995 units while NPRs purchased 359 units, which was a 3.2 per cent q-o-q growth.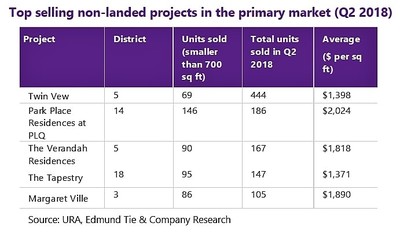 The SPRs preferred projects which were nearer to commercial clusters or transportation nodes, such as Twin Vew, The Tapestry and The Verandah Residences. On the other hand, the NPRs preferred projects which were proximate to the city centre or provided desirable views such as the sea. Such developments include Marina One Residences located in the heart of the CBD, Seaside Residences and Amber Skye, situated near the East Coast Park.
Foreign transactions by the mainland Chinese and Malaysian nationals increased slightly by 0.7 per cent and 1.2 per cent q-o-q to 407 and 257 units respectively. On the other hand, Indian and Indonesian nationals faced q-o-q decline in the number of acquisitions, with purchases by Indians falling by a larger 17.5 per cent q-o-q to 113 units in Q2 2018. With the implementation of the cooling measures, foreign sales are expected to decline in the short term as foreign buyers will need to pay a larger ABSD for their home purchases.
Chief Executive Officer, Ong Choon Fah, commented "The residential market remained relatively resilient as the aspiration to own a private home remains strong among residents. For foreign investors, Singapore's status of a gateway city to Southeast Asia and a financial hub, coupled with rising prices in other gateway cities, will continue to attract them to the Singapore residential market. Developers are also very mindful in ensuring that their products such as The Tre Ver, are creatively conceptualized with buyers in mind, to enhance their living experience."