Overall sales volume improved due to frantic buying specifically on July 5th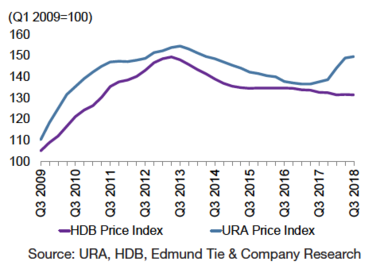 According to Singapore-based real estate consulting firm Edmund Tie & Company, Singapore's private residential market was affected by the latest round of Government cooling measures, which was announced on July 5th, 2018 and took effect on July 6th.
Edmund Tie & Company further reports that after a surge in sales volume of private residential properties in Q2 2018, there was a quarter-over-quarter decline of 21.0 per cent to 5,569 units for the secondary sales in Q3. This can be attributed to the implementation of new cooling measures, resulting in buyers being more cautious.
Despite the decline in total sales volume, new sales increased from 2,302 units in Q2 to 2,960 units in Q3. This was mainly due to the frantic buying of homebuyers on the evening of 5 July, where developments such as Riverfront Residences, Stirling Residences and Park Colonial were launched.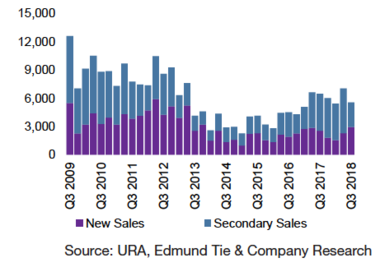 Effects of the cooling measures were felt for landed homes in the secondary market as well, as sales volume declined significantly by 38.4 per cent q-o-q and 31.9 per cent y-o-y to 368 units in Q3 2018. This may be due to the higher price quantum of landed properties, in comparison to non-landed homes, resulting in homebuyers being even more cautious. As such, price growth slowed down, with the URA landed price index increasing by 2.3 per cent q-o-q in Q3, compared to the 4.1 per cent in Q2. In the secondary market, newly completed developments were favored by buyers. Out of the top five selling projects in the resale market, three developments were completed after 2017. Additionally, due to price sensitive buyers, leasehold developments in the suburban areas were preferred for the irrelatively lower prices.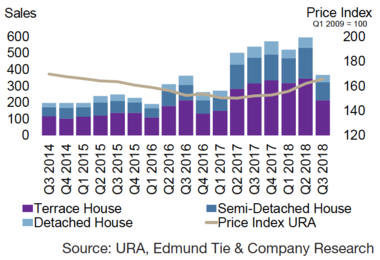 The increase in Additional Buyer's Stamp Duties (ABSD) and tightening of loan-to-value (LTV) limits acted as a deterrent to Singapore Permanent Residents (SPRs) and Non-Permanent Residents (NPRs), as home purchases by them reduced by 26.4 per cent and 17.9 per cent q-o-q to 754 and 307 units respectively. In terms of housing preferences, projects that were popular among Singaporeans were also favored by SPRs. These projects include Riverfront Residences, Stirling Residences, Park Colonial and Jadescape, which were among the new launches in Q3. The NPRs favored developments that are either in prime areas or near to the Central Business District (CBD), with Marina One and Martin Modern being in the top five selling projects for NPRs.
Out of the four major foreign nationalities of non-landed homebuyers, the cooling measures deterred Indian nationals the most. Their purchases declined by 49.2 per cent q-o-q to 61 units in Q3. Acquisitions by Mainland Chinese nationals fell by 37.6 per cent q-o-q to 291 units while that of Malaysian buyers decreased by 28.1 per cent q-o-q to 197 units. Due to the cooling measures, foreign buyers have become even more price-conscious in their purchases.
Chief Executive Officer, Ong Choon Fah tells
The World Property Journal
, "Despite the recent measures, the residential market remains attractive as Singapore continues to be a gateway to the fast developing ASEAN region and Asia. While sales momentum has slowed in the secondary market, developer sales continue to be encouraging. The measures have signaled to stakeholders that the residential market will continue to be supported by fundamentals, attracting buyers taking a longer-term perspective.