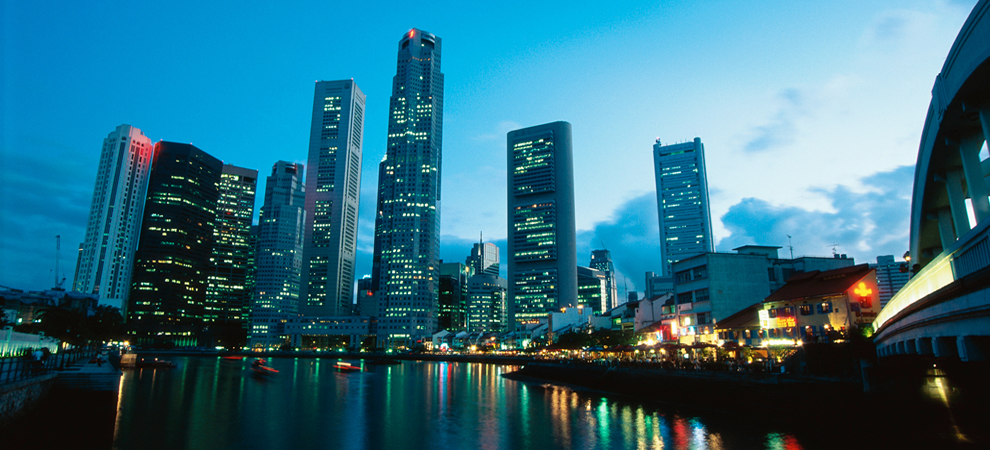 Singapore's Commercial Property Market Hit Hard by COVID-19
Singapore-based property consultant EDMUND TIE is reporting that with COVID-19 expected to persist through 2020 or beyond, real estate across all market segments in Singapore have weakened in response to the economic fallout triggered by the coronavirus outbreak.
Notwithstanding a slew of support measures introduced by the Government through its Unity Budget, Resilience and Solidarity Packages, transactions have fallen across the investment sales, office, industrial, retail and residential sectors, alluding to a highly cautious stance, says EDMUND TIE.
Singapore Investment sales
Q1 2020 recorded S$3.3bn worth of investment sales, down a substantial 34% from the S$5.0bn of Q4 2019, before the "circuit breaker" came into force. While the private sector was the primary driver of investment sales in Q4 2019 - accounting for 95.3 per cent of total investment sales in the last quarter of 2019 - in Q1 this year, it only accounted for 52.6 per cent.
Transaction quantum's have also dropped: from 14 transactions exceeding S$50m in Q4 2019, Q1 2020 witnessed only four transactions of such magnitude, and among those, two were arising from related party transactions. Cross Street Exchange (formerly known as China Square Central) and Alexandra Technopark, which respectively transacted at S$648m and S$606m, were transactions between Frasers Commercial Trust and Frasers Logistics & Industrial Trust.
Bucking the trend, however, the GLS program awarded five residential sites in Q1 2020, up from only one award in Q4 2019, and collectively accounted for some S$1.4bn.
Ms. Alice Tan, EDMUND TIE's senior director of research and consulting said, "While caution remains the prevailing sentiment, as seen in the small number of bids in February and March, there is still a long-term need for developers to replenish their land banks, and companies, especially the listed developers with strong holding power and robust financials, are anticipated to continue bidding for good sites."
Ms. Ong Choon Fah, EDMUND TIE's chief executive officer added, "While the COVID- 19 pandemic is a 'black swan' arising out of public health which is disrupting our lives and businesses, and even as many countries are still struggling to contain the pandemic, we must at the same time prepare for a time of recovery. In every crisis, there are opportunities. While the real estate market has slowed significantly, we continue to see some transactions. Those with a medium to longer term view and the risk appetite will continue to look for opportunistic buys and for owner occupation."
The Office Market
Office demand in Q1 2020 remained subdued, as companies adopt a wait-and-see stance while reviewing their strategies, operations and expansion plans.
Though occupancy rates of office developments trended upwards island wide by 0.4 percentage points quarter-on-quarter (q-o-q) to reach 98.4 per cent, that was primarily due to leases that were concluded in earlier periods - which then materialized into physical occupancy in the first quarter.
However, pending a successful containment of the viral outbreak and lifting of the "circuit breaker" measures, downward pressure on occupancy rates, rents and net absorption is expected to keep this sector subdued for the time being.
With many businesses having to close temporarily due to the Government's "circuit breaker" measures, commerce has slowed and sentiment turned cautious, and the full impact of these disruptions on the office sector may only be felt in the next few quarters.
Ms. Tan further remarked, "As companies activate their business continuity plans and implement remote working arrangements, firms may realize the possibility of rationalizing their office footprint. This could in turn lead to employers factoring work-from-home and other flexible arrangements to promote agility, or trigger new ideas in technology support and office design to further support existing work formats, so as to promote safety and the well-being of the workforce."
"The work-from-home movement accentuates the importance of company culture, collaboration and innovation, promoting new ways of working which will shape how office, retail and industrial real estate can be utilized in a new world order," she continued.
The Retail Market
Having seen tentative signs of recovery in the final quarter of 2019, any optimism in the retail sector was unfortunately dashed by the coronavirus pandemic.
Travel restrictions imposed by many countries (Singapore included), have caused visitor arrivals to plummet, while on the domestic scene, residents have been foregoing trips to malls in favor of online shopping.
Establishments in Chinatown, a prominent tourist destination, had reported sales going down by as much as 80 per cent in February, while business in Jewel Changi Airport contracted by as much as 70 per cent in the same month.
A silver lining in this otherwise gloomy scenario is that the demand for online shopping has surged, as people turned to e-commerce in lieu of physical stores: in February, online retail sales accounted for 7.4 per cent of total retail transactions, up from 5.5 per cent in January.
Ms. Ong said, "The pandemic will fast-track the adoption of technology, from omnichannel retailing to greater use of data analytics to better understand consumers and their preferences. New and creative ideas will emerge when the situation stabilizes and we enter a new normal. The diversification of revenue streams arising from adopting an omnichannel approach will make retailers more resilient over the long term."