---
"Going Green" is going taller with Taipei 101 skyscraper earning the title this week of world's Greenest tall building.
CBRE and TAIPEI 101 have ushered in a new era for international green buildings, becoming the highest scoring LEED v4 project in the world to-date, and the first to reach the 90 points threshold. TAIPEI 101 appointed CBRE's Sustainability Asia team to act as LEED consultant to guide them through the process of recertifying its existing LEED v2009 Platinum certification in September 2014.
Leadership in Energy and Environmental Design (LEED) is a green building rating system developed by the US Green Building Council (USGBC) that has gained prominence on a global scale. Across Asia some 6,700 projects of varying types, from interior fit outs to neighborhood developments, have been registered to-date. More than 2,100 projects have gone on to be LEED-certified as green buildings.
Rise of LEED-certified Buildings in Asia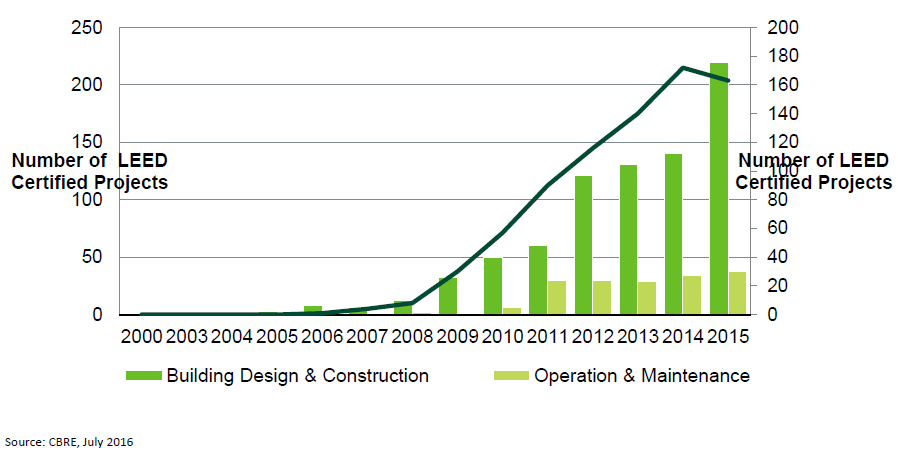 However, while green buildings are increasingly common in Asia and around the world, the newer, more stringent v4 version of LEED--that was achieved by TAIPEI 101--has been slow to be adopted by the industry.
"The majority of projects continue to pursue the now familiar LEED v2009 rating system. However, LEED v4 has significantly raised the bar to help the real estate industry move towards the levels of green building performance we need to achieve. TAIPEI 101 management's keenness to embrace the challenge of this higher standard; to looking at new ways of integrating sustainability into real estate, and the leadership shown by their property management and engineering teams truly sets a new benchmark for the industry," said Tim Shen, Head of Sustainability, CBRE Asia.
Since the launch of LEED v4 in 2013, 66 buildings around the world have been certified with the system and of those, 24 have used the LEED O+M (operations and maintenance) rating system. In that time in Asia, LEED v4 projects represented around 17% of new registrations.
"We continue to see a strong increase in demand for green building and sustainable real estate practices from institutional investors, and the third-party verified performance that LEED O+M provides helps meet that. TAIPEI 101's achievement is especially significant given the size and scale of the building, the number of tenants, and the fact that this has taken place in Asia. We believe that this will encourage others to make the leap from LEED v2009 to LEED v4, and marks a turning point in the greening of buildings worldwide. This could have a truly transformative impact on cities," Mr. Shen added.
CBRE was able to help TAIPEI 101--a supertall building with more than two million sq. ft. gross floor area, 101 floors and 126 different tenants--increase their LEED score from the original 82 points achieved in 2011, with 100% of submitted points being awarded and no points being procured through the purchase of renewable energy offsets, despite the use of the harder system, which was a key requirement set out by the project team initially.
"LEED v4 O+M Platinum recertification in the height of our financial performance is solid evidence that excellent management is able to bring landlord and tenant interest in perfect alignment to further the cause of sustainable leadership. It is also the ethically right thing to do to mitigate the impact of built landscape on our global climate," commented Joseph Chou, Chairman of TAIPEI 101.
"TAIPEI 101 plays a crucial role in the global green building movement and is a shining example of LEED projects that are consistently raising the bar for our built environment," said Mahesh Ramanujam, Chief Operating Officer, US Green Building Council and President of Green Business Certification Inc. "Through achieving LEED v4 certification at the Platinum level--the highest green building standard in the word--TAIPEI 101 has demonstrated their commitment to remaining at the forefront of the green building movement and created a space that is better for the environment and healthier to live, work and play in. TAIPEI 101 truly embodies the excellence in performance that LEED v4 is all about and by re-certifying, TAIPEI 101 has become the best-known LEED v4 Platinum project in the entire world."
Sign Up Free | The WPJ Weekly Newsletter
Relevant real estate news.
Actionable market intelligence.
Right to your inbox every week.
---
Real Estate Listings Showcase