---
A decade ago, sister towns of West Baden Springs and French Lick (located one mile apart) were in trouble. Jobs were scarce, local shops were closing, and the younger generation was moving away for better opportunities and a brighter future. Locals were not naïve, they knew they had a problem. For years, citizens would caravan to the state capitol in Indianapolis to ask for help. Their goal: to convince politicians to grant a gambling license to a developer who would rebuild and restore French Lick Resort.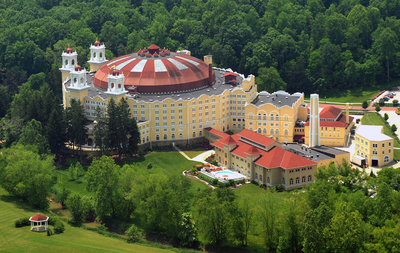 In order to cut through political divisiveness, countless rallies were held and petitions distributed. Most fell on deaf ears.
"I hand it to the citizens," said State Representative Tom Saunders. "They really pushed their case and tried to get our attention. Their towns are in Orange County, Indiana. They would show up wearing orange shirts and handed out fresh oranges to plead their case. Unfortunately, their request for a gambling license was blocked by lack of bipartisan support."
A Man's Best Friend To The Rescue
Geneva Street, a feisty, red-headed beautician in French Lick, was one of the most vocal supporters. In a deft move, she realized State Senator Larry Borst, a practicing veterinarian, was the logjam. So, she made an appointment for her dog to receive a check-up with veterinarian Borst.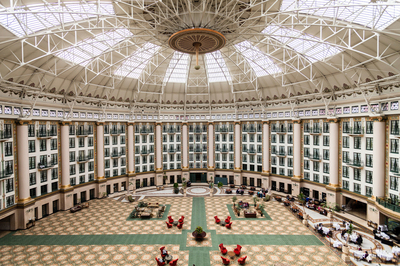 "It was inventive and effective," stated Saunders. "Although Senator Borst probably felt hoodwinked by the ruse, it worked."
With a gaming license in hand, the challenge now lay to find a steward, with deep enough pockets and resolve, to rebuild the resort.
Several developers, including Donald Trump, evaluated the proposition. Cook Medical, a family-owned company with roots in Indiana for over 50 years, stepped up to the plate. Cook Medical, founded by Bill Cook with nothing more than a needle, wire, and catheter; now manufacturers 16,000 medical devices, operates in 135 countries, and employees 12,000 people. It is a true American success story. The company produces over 25 million devices per year for medical procedures performed around the world.
"The success of French Lick Resort is an example of Hoosier values," lauded Saunders. "Media typically portrays the worst in collaborative public and private endeavors. Here we have the best of the best."
The Most Ambitious, Private Restoration Project In America
French Lick Resort is comprised of two hotels: the West Baden Springs Hotel and French Lick Springs Hotel.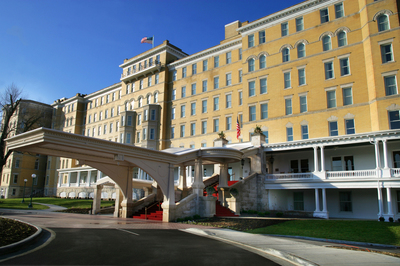 "When I first toured the West Baden Springs Hotel, about an hour south of our global headquarters in Bloomington, Indiana, I was dismayed to see its decay and disrepair," sighed Steve Ferguson, Chairman of the Board at Cook Group. "One look at the fabled domed lobby of the hotel and I felt it was an important part of Indiana and America's history that needed to be saved. It had been vacant since the closure of Northwood Institute in 1984.
"Our company has a long history of historic preservation. We mandate adaptive reuse to restore important buildings to their original splendor and make them self-supportive which, in turn, guarantees their future viability."
Cook Medical's initial restoration commitment was $12 million. "When we do things, we do them right. A decision was made to purchase both West Baden Springs Hotel and French Lick Springs Hotel. It began the largest private restoration project completed in America," said Steve. "The restoration began in 1996 and was completed in 2007. To date, we have committed $600 million to the resort.
"The key to the success of the restoration was strong leadership and a feeling of trust among government officials, our company, and local citizens. When we all come together, good things happen. Yes, conflicts and disagreements will occur, but if everyone has a common goal, with no hidden agendas, it is easier to achieve the ultimate goal."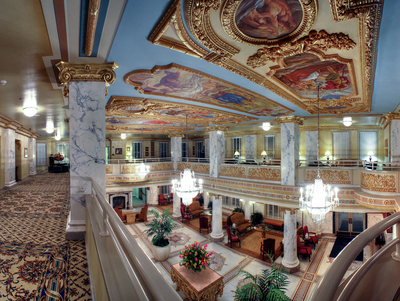 This enormous undertaking required both hotels to remain closed for over a year of heavy construction. Employees were paid full salaries and assigned other job responsibilities or were allowed to enroll in local community colleges for continuing education classes.
"We knew if we took care of our employees and their families, they would, in turn, take care of future customers," said Steve. "I was overcome with emotion when one of our employees broke down in tears of gratitude after completing his GED [general education degree]."
The Largest Meeting Space In The Midwest
The transformation of the two hotels at French Lick has been remarkable.
French Lick Springs Hotel is an American classic. Amenities include a full-service casino with 1,100 slot machines and 40 table games; a full-service spa; a 163,000 square-foot conference and event center; indoor tennis, pool, and basketball courts; a shopping gallery; a bowling alley; the Kidsfest Lodge; horse stables; and walking access to the Valley Links Golf Course.
West Baden Springs Hotel offers the essence of European luxury. It was fashioned after the great mineral spa of Baden-Baden in the Black Forest of Germany. Its 200-foot diameter atrium, referred to as the eighth wonder of the world, is a popular gathering spot and photo opportunity. The pet-friendly hotel features 243 luxury rooms and a relaxing spa.
"In addition to our record-breaking restoration project, we have invested in new amenities," said Steve. "Six seasons ago, we opened a new Pete Dye Golf Course [site of this year's Senior PGA Championship and Legends Championship] and in January, we opened the doors to our new $20 million convention center. With 163,000 square feet of flexible meeting space, French Lick Resort offers the largest convention center in the Midwest."
Don't Be Someone We Are Not
Restoring a historic site is often more expensive than building fresh from the ground up. "After we completed the heavy construction, we were careful to preserve the feel of the original interior design," explained Connie Ferguson. "I wanted the palette of colors to blend with the original floor plan. It was important that it wouldn't be abruptly different.
"Our first challenge was to match the look of the Pete Dye Clubhouse to the resort's history. It wasn't easy. I scoured for 'finds' in antique shops all around the Midwest and got lucky!" revealed Connie.
Records show notorious mobster Al Capone was married in the town of French Lick but the owner at the time of the French Lick Springs Hotel wouldn't let him spend his wedding night on property.
"At an antique store, I stumbled upon a stately oak bar from a speakeasy that Al Capone frequented in Chicago. The bar even has a notch in the wood marking where patrons had to sit when Capone was bellied-up for a drink. I knew the bar would tie into our history nicely and become the centerpiece in the clubhouse," said Connie.
Both Connie and Steve Ferguson are strong minded and passionate about civic duties.
"We met during an event marking the renovation of Fountain Square Mall in Bloomington, Indiana, back in 1986," recalled Connie. "He asked me to dinner and I initially said no. I admit I played hard to get. Our first dinner together was amazing. We clicked immediately."
That's not to say Connie and Steve have identical personalities. "I tend to be more methodical and Steve is more direct," said Connie. "When we were evaluating the carpeting pattern and color scheme for the Hoosier Ballroom at French Lick Springs Hotel, I waffled back and forth over a dozen combinations. Steve looked at the sample swatches and immediately said, 'this is it.' I was a little perturbed by his quick decision. But, ultimately, his choice was the best decision. To this day, I don't think I ever told him he was right!" winked Connie.
Sign Up Free | The WPJ Weekly Newsletter
Relevant real estate news.
Actionable market intelligence.
Right to your inbox every week.
---
Real Estate Listings Showcase