---
Ever since Captain James Cook discovered Hawaii in 1778, visitors have been in love with this dreamy paradise in the Pacific. For full disclosure, I have prejudice towards this pocket of paradise seeing that my family has lived in Hawaii since 1977 and I'm a proud graduate of the University of Hawaii. 
Personal connections notwithstanding, whether it's the lovely year-round weather, lush tropical settings, pleasant Polynesian culture or world-class beaches and resorts, the Islands offer a certain allure that resonates on many levels to millions of people who live here year-round or visit the archipelago on a regular basis. Case in point is the record 8.2 million tourists who visited Hawaii in 2014. 
Unbeknownst to many is the Hawaiian archipelago actually comprises 137 islands and 6,423 square miles.  Of course, the top attractions are Hawaii's six main islands, in order of size:  Hawaii, or the Big Island as it's commonly called, Maui, Oahu, Kauai, Lanai and Molokai. 
Perhaps the neatest aspect of the main islands, which are located approximately 2,400 miles from the California coast, is each one has unique characteristics. 
Here's a sampling of the Aloha State's uniquely appealing nature: 
Oahu, where I grew up, is the bustling "big-city' main island, where more than 70 percent of the state's 1.36 million people reside. This is the home to world renowned Waikiki Beach and its several miles of top-rated resorts, historic Pearl Harbor and famous North Shore surfing spots such as Pipeline, Waimea Bay and Sunset Beach.
The Big Island, roughly the size of Connecticut with 4,028 square miles, boasts the majority of the world's climate zones and a relatively small population base of just 186,738. It might be the only place on the planet where one can lay on a black sand beach in the morning, see a live flowing volcano at Kilauea later in the day, then go snow skiing on the world's tallest mountain (Mauna Kea, as measured from the ocean floor).
Kauai, known as the Garden Island, is the oldest and greenest of Hawaii's major islands and the site of Captain Cook's first landing. Many movies with South Seas settings have been filmed here, including Jurassic Park. Some popular images are stunning Waimea Canyon, or the "Grand Canyon of Hawaii," and Waialeale, one of the wettest spots in the world with average rainfall of 444 inches.
Maui, the state's second largest island at 727 square miles, is the fascinating winter playground for the world's humpback whale population. Well-known Haleakala Crater, the Road to Hana and first-rate resorts along the Wailea "Gold Coast" are just a few of the attractions that draws more than 2.2 million annual visitors - whales not included.
Molokai and Lanai, are the least visited of the main islands but special in their own right. Molokai is old Hawaii and underdeveloped, best known as a one-time leper colony. Lanai, known as the Pineapple Isle, is the youngest island of the neighbor island chain at an estimated 140 square miles. Once known for being one of the world's leading producers of pineapple, the island is now privately controlled by billionaire Larry Ellison and recognized for its two Four Seasons resort properties: the Lodge at Koele and Manele Bay.
Now, it might make a little more sense why Mark Twain described Hawaii as the "loveliest fleet of islands that lies anchored in any ocean." If this is starting to whet your appetite as a future place to visit, here's my "Hawaii 5-0" of top neighbor-island resort properties to see (Oahu will be covered in the next issue of this ongoing series of Top Resorts Revealed). 
Kukio, Big Island, Hawaii
The Big Island might be the biggest of Hawaii's island, but it long played in the shadows of the more popular, smaller islands of Oahu and Maui when it came to tourism and high-end real estate. That's not the case anymore.
In recent years, the Big Island has seen a boom in ultra-luxurious golf and resort-style developments, especially along the island's western Kona-Kohala coastline regarded as the Gold Coast. One of the more exclusive projects is Kuki`o, a low-density private development about seven miles north of the Kona Airport.
Among Kukio's features:  the state's first Tom Fazio-designed golf course, an additional nine-hole short course designed by Fazio and an authentic Hawaiian-styled beach club - all on more than 1,000 acres of prime oceanfront property. Kukio is adjacent to the sprawling Four Seasons Resort Hualalai at historic Ka'upulehu, perennially ranked one of the world's preeminent resorts.
Kukio developer Mike Meldman of Discovery Land Company, was a longtime homeowner at Hualalai and describes the Four Seasons as the finest resort hotel in the world. His goal at Kuki`o was to rival, if not better, the Four Seasons experience with one notable distinction: Kuki`o will always be enjoyed in a private, intimate setting.
"What we do is develop private communities that have resort amenities without the resort," says Meldman, who also developed acclaimed Estancia and Mirabel golf clubs in Scottsdale, Ariz., Iron Horse in Whitefish, Mont., and the Madison Club in La Quinta, Calif., to name a few. The Kukio concept was a smashing success with home sites selling for $1 million to more than $10 million in its early years.
Among the private club's resident members are computer tycoon Michael Dell, whose 18,500-square-foot Raptor Residence sprawls across three prime oceanfront lots. Recently assessed at $64.7 million, the crown jewel of Kukio boasts seven bedrooms, seven full baths and five half-baths. Dell is also a part-owner in Four Seasons Resort Hualalai, which he acquired via his private investment firm in 2006.
Four Seasons Resort Hualalai, Big Island, Hawaii
Ke'olu, the Tom Weiskopf-designed members-only golf course at luxurious Four Seasons Resort Hualalai, is named for the "gentle breeze" that brings a sense of calm and coolness to the Hualalai Club's "mauka" or mountaintop setting. The name is befitting because Hualalai's ultra-exclusive private residential enclave has been more than a breath of fresh air for Hawaii's high-end residential real estate market.
Case in point was another banner year for real estate sales at in-house Hualalai Realty. Led by longtime director of sales Rob Kildow, Hualalai reported $158 million in resort-wide sales in 2014, its best year since the then-record-breaking year of 2007 ($141 million was brokered by Kildow's team).
Situated along the renowned Kona-Kohala Coast where multi-million dollar home sites dot a 40-mile stretch of pristine oceanfront real estate, 865-acre Hualalai is home to just 500 families and the perennially ranked AAA/Five Diamond Four Seasons Resort. The resort's private residential enclaves, home to billionaires and celebrities alike, make Hualalai one of the world's most distinguished addresses.
Current villa home products being marketed are 2-bedroom "flats" starting at $1.525 million, 3-bedroom townhouses at $2.15 million and 4-bedroom condo-residences selling for $4.55 million. Single-family detached homes range in list price from $4.2 million to $10.9 million for 3- and 7-bedroom residences. In one of the newest sections for vacant lots, Pu'ukole Estates, a half-acre lot with stunning views of Maui and the Kohala shoreline, is listed at $2 million.
Among Hualalai's high-net-worth resident members are George Roberts of private equity giant KKR, who has a $22 million-plus estate with panoramic ocean views from the prime point of Hualalai, Charles Schwab and Warren Buffett's sister, Bertie Buffett. Apparently Bertie Buffett has the same investment touch as her brother. She reportedly paid $3.2 million in 1997 for her lot that overlooks the Jack Nicklaus-designed Hualalai Golf Course, and subsequently built a 6,815-square-foot home now worth more than $17 million.
"At Hualalai it's more than about sticks and bricks," Kildow says. "It's the people that make this resort community so special. I have billionaires tell me there's no other place as comfortable as Hualalai. They tell me half don't know who I am and the other half don't care. They can walk out to the club in their sandals and enjoy whatever it is they want."
For many, it starts with that gentle breeze called Ke'olu. 
Kukui'ula Kauai, Hawaii
Kukui'ula, a private 1,000-acre master-planned development on the southern coastline of Kauai, is one of the first major new luxury communities in Hawai'i in over a decade - joining the storied ranks of Wailea and Kapalua on Maui, and Mauna Lani and Hualalai on the Big Island.  The community is being developed by Kukui'ula Development Company LLC, an affiliate DMB Associates, Inc. of Scottsdale, Ariz., and A&B Properties, Inc., a subsidiary of Alexander & Baldwin, Inc., one of Hawai'i's largest private landowners.
The Club at Kukui'ula's $100 million clubhouse serves as the social and recreational centerpiece of the community and includes the main clubhouse, known as The Plantation House, a spa, the Kukui'ula Golf Club, a Tom Weiskopf-designed 18-hole championship golf course and an elaborate array of swimming pools.  The club also includes a community farm and 20-acre fishing lake.
Like Hualalai, Kukui'ula also had a banner year in 2014, recently announcing a total of $84 million in closed contracts and under-contract activity, including 23 new properties sold during the year.
The past year saw several nationally acclaimed architects and builders announce projects at Kukui'ula, continuing to bring a diverse new collection of designs and inventory to the community. Seventeen homes are currently under construction, adding to the 40 completed homes in the project, with additional construction starts planned for 2015, including the second offering of the Club Villas.
"We continue to see strong buyer demand at Kukui'ula." says Kukui'ula President Richard Albrecht. "The Club Villa product has had a tremendous response, with six residences selling before construction started. Our down-to-earth island community is attracting individuals and families looking to enjoy the very best of Kaua`i. Kukui'ula is known for the extraordinary friendliness of the staff and their Kaua`i style of caring for the residents."
Based on Kukui'ula's recent first-quarter 2015 earnings report, real estate activity appears to be getting even more robust with three more closed sales and $41 million in binding contracts for 14 units in escrow. Said Alexander & Baldwin Inc. CEO Stan Kuriyama during the May 7 call: "Sales at Kukui'ula have nearly depleted available built inventory and as result, we are expanding our home construction program."
According to president/chief operating officer Chris Benjamin, two vacant lots closed during the quarter for $3 million and $2.3 million, and one club cottage closed for $2.9 million. Additionally, he said two of the club's original buyers traded their lots for larger home sites with one of the lots setting a new "high-water mark for a vacant lot at a sales price of $3.8 million."
"This increasing activity on lot sales is a very positive sign, as it means more and more buyers are willing to design and build custom homes, " he said. "Something we did not see for several years. In fact, 18 members are currently planning, permitting or building homes at Kukui'ula."
Makena Beach & Golf Resort, Maui, Hawaii
One year after getting Maui Planning Commission approval, Discovery Land Company is committed to delivering another high-end private golf and beach club community to the islands. Their newest project, a $230 million project with resort owner ATC Makena Holdings, is the bankrupt Makena Resort and Maui Prince Hotel property formerly controlled by Maui developer Everett Dowling and Morgan Stanley Real Estate.
The South Maui property stretches over 1,800 acres from famed Haleakala's slopes, across dryland forests and over lava-rock expanses to beaches. As part of the approved entitlements, Discovery Land plans to turn the existing 310-room hotel into 46 fee-simple luxury apartment units and add a new 76-room hotel, 12 condominium units, nine beach cottages, 5 spa hales, 8 lots and 8 additional estate-size oceanfront lots. 
ATC Makena Holdings is made up of New York-based real estate investment firm and fund manager AREA Property Partners, Honolulu-based hotel investor and operator Trinity Investments LLC and developer Stanford Carr's Honolulu-based Stanford Carr Development.
Discovery Land Principal Steve Adelson said the lower-end of the real estate will be around $3.5 million and the upper end will be about $15 million for largest estate lots and big penthouse units. Adelson is ecstatic about his company's newest Hawaiian gem in the making, located on the far end of the ultra-luxurious Gold Coast of Wailea, where a preceding string of resort properties are highlighted by the Grand Wailea, Four Seasons and Fairmont Kea Lani.
"Maui's always been the most popular island," said Adelson, whose company is also teaming up on a new private club project in Princeville, Kauai. "We had a lot of success on the Big Island. We're very very proud of Kukio and that allowed us to look at opportunities throughout the islands. ... The great thing about Makena, besides being on Maui, is there's no private community on Maui. Everything's resort based.
"In our opinion, we're on the best part of the island. The weather is very very consistent and it's like we've got this hidden gem at the end of the road. Then, once you get there and look out at all the other islands in the distance, and Molokini in the foreground, you've got this great depth and scale as you look out the windows. So it's not just open waters. It's magnificent." 
Kapalua Resort, Maui, Hawaii
This 1,650-acre master-planned resort community, showcased each year during the PGA Tour's season-opening Hyundai Tournament of Champions, is one of Hawaii's top resorts. Overlooking Kapalua Bay on Maui's Northwest coast and set amidst a 23,000-acre working pineapple plantation and the West Maui Mountains, Kapalua is highlighted by the 548-room Ritz-Carlton, the new oceanfront Montage Kapalua Bay, three championship courses, a string of stunning white sand beaches, two marine sanctuaries, and some of Hawaii's most exquisite residences.
One of the resort's newer residential offerings are the Kapalua Bay Montage Residences. Located on Kapalua Bay with gorgeous oceanfront vistas, the Kapalua reports record closings since last July. Among the sales were a 3-bedroom, 3 ½-bath unit that sold for $4.3 million last July; another 3-bedroom, 3-bath unit for $4.8 million (unfurnished) and three subsequent closings for larger 4-bedroom condos priced from $7.5 to $8.25 million. Pricing for Montage units start at $3.4 million.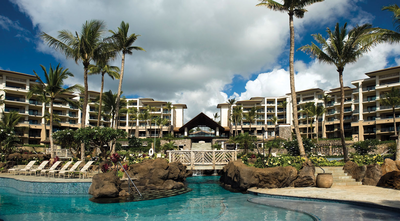 Elsewhere at the resort, in-house Kapalua Realty has older condominiums listed for sale as low as $600,000 for fee-simple 1-bedroom, 2-bath units and larger 2-bedroom fee-simple oceanfront units with views of the island of Molokai as high as $1.85 million.
Meanwhile, a prime 15.35-acre westerly view property in the gated Plantation Estates and Honolua Ridge section is listed for $1.795 million, featuring unmatched Maui sunsets and views of the islands of Lanai and Molokai. A single-family 3-bedroom estate with approximately 3,000 interior square feet in the prestigious Pineapple Hill neighborhood is for sale at $2.75 million, while another 3-bedroom 4 ½ bath home overlooking four holes on the Plantation Course can be purchased at $5.85 million.
Sign Up Free | The WPJ Weekly Newsletter
Relevant real estate news.
Actionable market intelligence.
Right to your inbox every week.
---
Real Estate Listings Showcase