---
According to a new survey by loanDepot, nearly half (46%) of all U.S. homeowners with a mortgage expect their equity will increase in 2016, even though three out of five (60%) report equity in their homes has already increased during the last three years of the housing recovery. 
Of those who expect their equity to change this year, 85 percent expect it to rise as much as 10 percent, with a quarter (27%) expecting it to rise between 6 to 10 percent. More than half (58%) are expecting an equity bump between one and five percent. Industry-wide reports forecast 2016 annual price gains to range between 2.3 and 4.7 percent. Only 3 percent of homeowners expect their equity to fall in 2016, and 27 percent expect it to remain the same. 
More than 100 U.S. housing experts forecast home values will reach an average annual growth rate of 3.65 percent through the end of 2016.  Today, more than 49 million homeowners - or 66 percent of all homeowners - hold a mortgage on their home. 
EQUITY BOOM: PERCEPTION VS REALITY
The loanDepot research also found that while 57 percent of homeowners believe their home's value has appreciated in the past three years, the majority (80%) underestimate the amount of value their home has gained throughout the housing recovery.  Of those who believe their home's value has increased since 2013, one in four (27%) believe it increased between one and five percent since 2013. The Case Shiller 20-city index shows prices rose twice that much, in fact 10 percent from Nov 2013 to Nov 2015.
"Homeowners who bought during the housing boom are regaining equity many thought was lost forever, yet too many are not aware of the equity they have gained or they are unclear about how to determine changes in their equity," said Bryan Sullivan, chief financial officer of loanDepot, LLC. "People who bought after the housing boom when prices were low are realizing homeownership can be a great investment and an asset that they can now leverage through equity to realize many dreams. Whether they choose to leverage their home equity now or reserve it for future needs, millions of homeowners have choices today not available just a few years ago." 
TIMING IS EVERYTHING - PRE- VERSUS POST-BOOM HOMEOWNERS
The 2001 - 2006 housing boom and subsequent 2007 - 2009 bust were watershed events that changed the way millions of homeowners think about equity. The loanDepot research reveals homeowners who bought before and during the boom - and watched their equity wash away from 2007 to 2009 - have very different views on equity compared to those who bought when prices were lower, post 2009. The research found: 
More buyers who purchased after 2009 (64%) believe their home has gained value since 2013 compared to 58 percent of pre-2009 owners.
More buyers who purchased after 2009 (50%) expect to gain more equity this year compared to 43 percent of pre-2009 buyers. Newer buyers may be more bullish on equity gains because they did not experience drastic losses of equity like their pre-2009 counterparts.
More pre-2009 owners (65%) believe they have adequate equity now to take out a home equity loan compared to just over half (52%) of post-2009 buyers.
Post-2009 owners are more conservative on using their equity. A majority of owners from both periods say they have always been conservative about accessing their equity, but post-2009 buyers are more so by a margin of 62 to 55 percent.
HOW MUCH IS ENOUGH?
Three out of five homeowners (59%) report they now have enough equity to take out a home equity loan, while nearly one in seven (16%) do not know how much equity they would need to qualify for a loan. Another nine percent do not know how to calculate the equity in their home.  Only 16 percent of all owners with a mortgage, including 19 percent of post-2009 owners, say they do not yet have enough equity to take out a home equity loan. 
Home remodeling (39%), consolidating high interest rate debt or credit cards (29%), and saving for retirement (18%) top the list of ways owners would use funds from a home equity loan. The Harvard Joint Center for Housing Studies projects annual spending growth for home improvements will accelerate from 4.3 percent in the first quarter of 2016 to 7.6 percent in the third quarter. 
THE EQUITY CONSERVATIVES
When it comes to their equity, all homeowners tend to be conservative, knowing equity can help them weather downturn economic cycles. While more than half (58%) said they have always been conservative about their equity, 14 percent said the housing crisis has made them even more conservative about touching their equity. 
At the same time, nearly one in five (19%) said they have no concerns about accessing their equity as long as they stay current on their mortgage. Just over five percent (5.7%) do not believe keeping a high level of equity in their homes would protect them from another housing crash, while three percent say they have waited a long time to get cash back from their homes.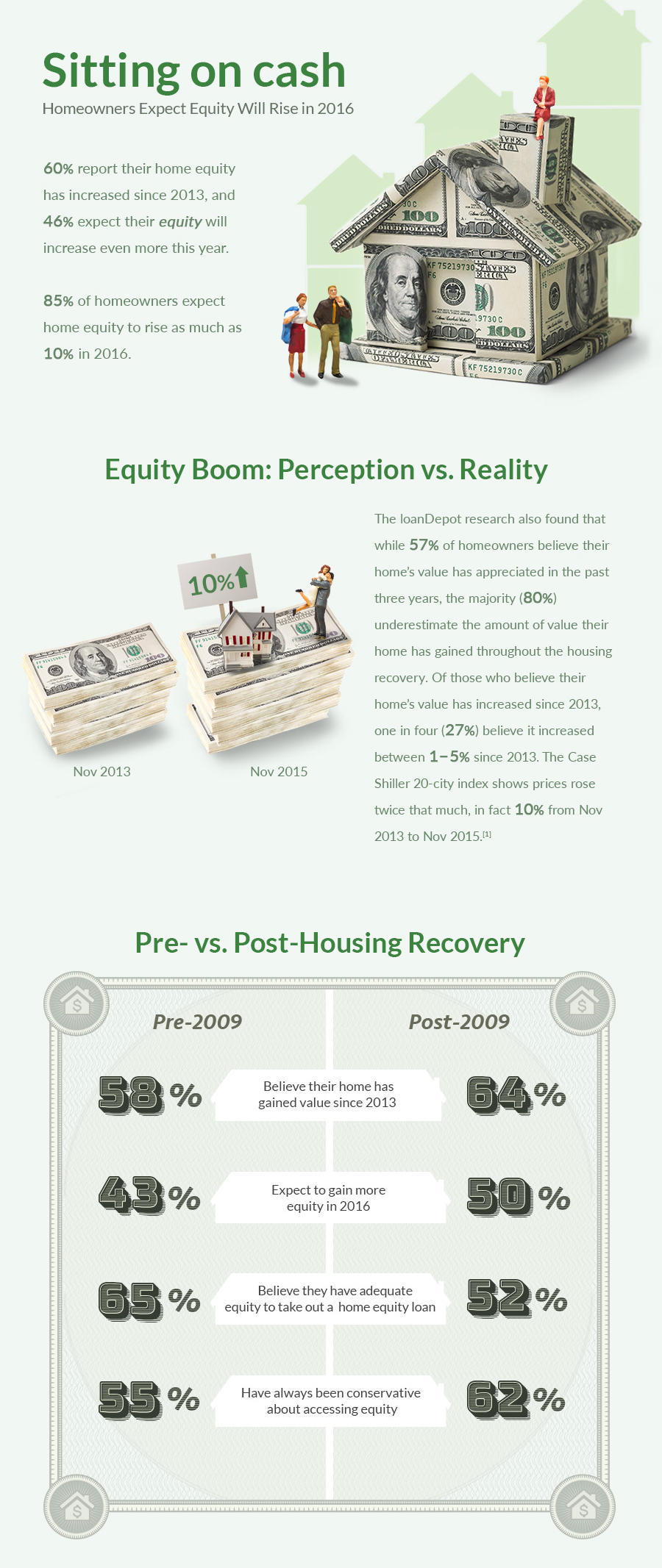 Source: loanDepot
Sign Up Free | The WPJ Weekly Newsletter
Relevant real estate news.
Actionable market intelligence.
Right to your inbox every week.
---
Real Estate Listings Showcase