---
According to the California Association of Realtors, California existing home sales fell from the previous year in April 2016 as tight housing inventory continues to impede the housing market. April marked the second worst start to a spring home-buying season since the housing recovery began in 2009.
Closed escrow sales of existing, single-family detached homes in California totaled a seasonally adjusted annualized rate of 406,800 units in April, according to information collected by C.A.R. The statewide sales figure represents what would be the total number of homes sold during 2016 if sales maintained the April pace throughout the year. It is adjusted to account for seasonal factors that typically influence home sales.
High-level California April Home Sales Stats:
Existing, single-family home sales totaled 406,800 in April on a seasonally adjusted annualized rate, down 2.6 percent from March and 5.4 percent from April 2015.
April's statewide median home price was $509,100, up 5.3 percent from March and 5.1 percent from April 2015.
The supply of available homes on the market is operating at roughly 60 percent of normal inventory levels.
The April figure was down 2.6 percent from the revised 417,580 level in March and down 5.4 percent compared with home sales in April 2015 of a revised 430,030. The year-to-year decline was the first in five months and the largest sales drop since August 2014.
"The statewide median home price rising above $500,000 for the first time in nine years will undoubtedly exacerbate housing affordability for California home buyers," said C.A.R. President Pat Zicarelli. "As home prices continue their upward trend, especially in high-cost, major metropolitan regions, home buyers are looking to maximize their housing dollars by moving to even further outlying regions. For example, Bay Area buyers who were previously seeking homes in areas adjacent to San Francisco, such as Solano and Sonoma counties, now are looking even further in Sacramento, Stanislaus, and San Joaquin counties, as Bay Area adjacent counties become less affordable."
An imbalance between supply and demand pushed the median price of an existing, single-family detached California home 5.3 percent higher in April to $509,100 from $483,280 in March. April's median price was 5.1 percent higher than the revised $484,370 recorded in April 2015. The median sales price is the point at which half of homes sold for more and half sold for less; it is influenced by the types of homes selling as well as a general change in values. April marked the first time in nine years that the median price has risen above the $500,000 level; it is still below the pre-recession peak of $594,530 reached in May 2007.
"Thin housing supplies were the driving force behind April's sales drop with the most inventory constrained markets feeling the largest declines," said C.A.R. Vice President and Chief Economist Leslie Appleton-Young. "In the San Francisco Bay Area, sales were down in eight of the region's nine counties, with only Napa - which had a five-month supply of homes for sale - posting a modest 1 percent gain. As home buyers continue to move inland to find affordable housing, inventory will eventually be depleted, putting upward pressure on home prices."
Other key points from C.A.R.'s April 2016 resale housing report include:
C.A.R.'s Unsold Inventory Index, which indicates the number of months needed to sell the supply of homes on the market at the current sales rate, slipped to 3.5 months in April from 3.6 months in March. The index stood at 3.4 months in April 2015. The negligible year-over-year improvement was driven entirely by the reduction in home sales as listings fell even further from their 2015 levels. The long-run average home supply is 6.1 months. Even with the minimal annual increase, inventory levels are running at roughly 60 percent of normal.
The median number of days it took to sell a single-family home fell in April to 27.7 days, compared with 29.9 days in March and 28.8 days in April 2015.
According to C.A.R.'s sales-to-list price ratio*, tight inventories also appear to be driving final sold prices closer to listing prices, with sales prices rising to 99.3 percent of listing prices statewide in April from 98.8 percent in March.
The average price per square foot for an existing, single-family home statewide was $244 in April 2016, up from $227 in March and $234 in April 2015.
San Mateo had the highest price per square foot in April at $832/sq. ft., followed by San Francisco ($829/sq. ft.), and Santa Clara ($635/sq. ft.). The counties with the lowest price per square foot in April include Siskiyou ($109/sq. ft.), Madera ($124/sq. ft.), Tulare ($125/sq. ft.), and Kings ($125/sq. ft.).
Mortgage rates dipped slightly in April, with the 30-year, fixed-mortgage interest rate averaging 3.61 percent, compared with 3.69 percent in March and 3.67 percent in April 2015, according to Freddie Mac. Adjustable-mortgage interest rates slipped, averaging 2.83 percent in April, down from 2.9 percent in March and 2.73 percent in April 2015.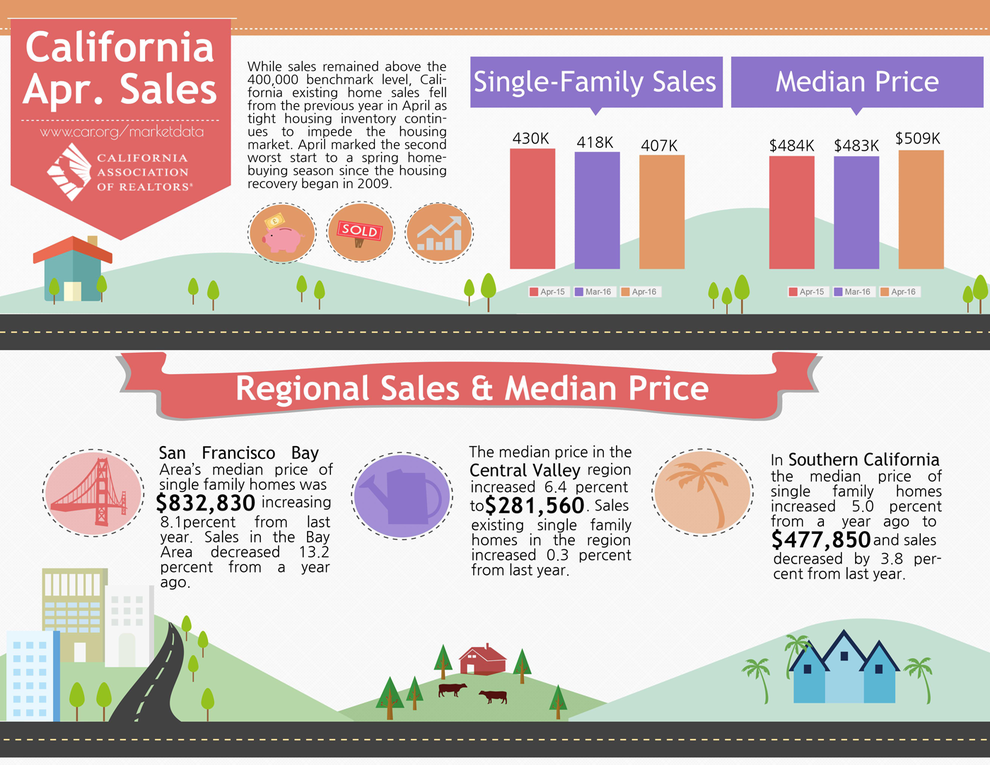 Sign Up Free | The WPJ Weekly Newsletter
Relevant real estate news.
Actionable market intelligence.
Right to your inbox every week.
---
Real Estate Listings Showcase