---
Port Markets Command Highest Lease Rental Premiums
According to the CommercialEdge latest U.S. industrial market report, despite elevated levels of new supply coming online over the past few years, the continued demand for industrial space is keeping market fundamentals healthy across the U.S. The national average rent for in-place leases stood at $7.12 per square foot in February, growing 6.9% over year-ago figures.
While most industrial markets tracked by CommercialEdge registered sustained growth, port markets with limited space for new development continued to post the most extreme trends. Southern California remained the hottest industrial market, with climbing rents and falling industrial vacancy rates across the region. As a result -- despite the economic uncertainties driven by high inflation and borrowing costs -- the Inland Empire attracted the most capital year-to-date through February, with sales accounting for more than one-fifth of all sales volume nationwide.
Rents and Occupancy: New Lease Premium Highest in Port Markets
National in-place rents for industrial space averaged $7.12 per square foot in February, up 6.9% year-over-year and two cents higher than January, according to the CommercialEdge. Growth of in-place rents was highest in port markets adjacent to a shipping port, led by the Inland Empire (15.6% year-over-year), Los Angeles (11.6%), Boston (10.7%), Orange County (9.2%), Bridgeport (9.0%) and New Jersey (8.7%).
The national vacancy rate was 3.9%, a decrease of 10 basis points over the previous month. More than a billion square feet of new stock has been delivered over the last ten quarters, yet vacancy rates continued to stay historically low. Port markets and inland logistics hubs have the lowest levels of available stock to lease. The lowest industrial vacancy rates in the country were recorded in Columbus (1.1%), the Inland Empire (1.7%), Phoenix (2.3%) and Indianapolis (2.5%).
New leases signed in the last 12 months averaged $9.09 per square foot, $1.97 more than the average for all leases. The largest spreads between the average rate for all leases and the rate of a lease signed in the last 12 months were in port markets, both on the East and West coasts.
In Los Angeles, new tenants paid $7.16 more per square foot than the market average, $6.69 more in the Inland Empire and $5.39 more in Orange County. On the other side of the country, new leases cost $4.40 more per foot in New Jersey, $3.33 in Miami and $3.16 in Bridgeport.
Supply: More Than 73 million Industrial Space Delivers in the First Two Months of 2023
Nationally, 667.5 million square feet of new industrial supply were under construction as of February, accounting for 3.7% of total inventory. So far this year, developers delivered 73.4 million square feet of industrial space across the U.S.
As most markets have so far been able to absorb the record levels of new supply, developers are expected to continue to expand the national industrial stock. According to the CommercialEdge industrial property outlook, the U.S. industrial footprint could increase by around 8.9% over the next five years.
Thanks to the lack of geographical constraints, its proximity to the ports of Los Angeles and Long Beach, as well as the push for increased semiconductor production in the U.S., Phoenix continued to be the country's hottest market for industrial development, with 54.1 million square feet of space under construction in February, representing 15.6% of stock.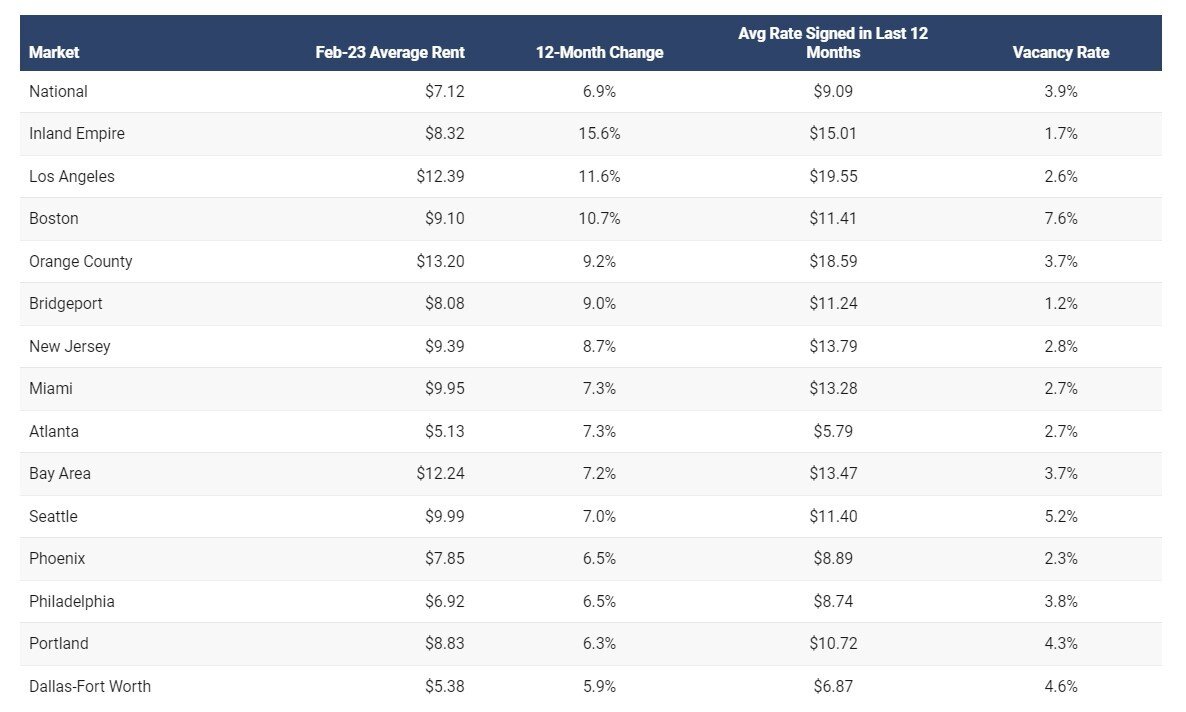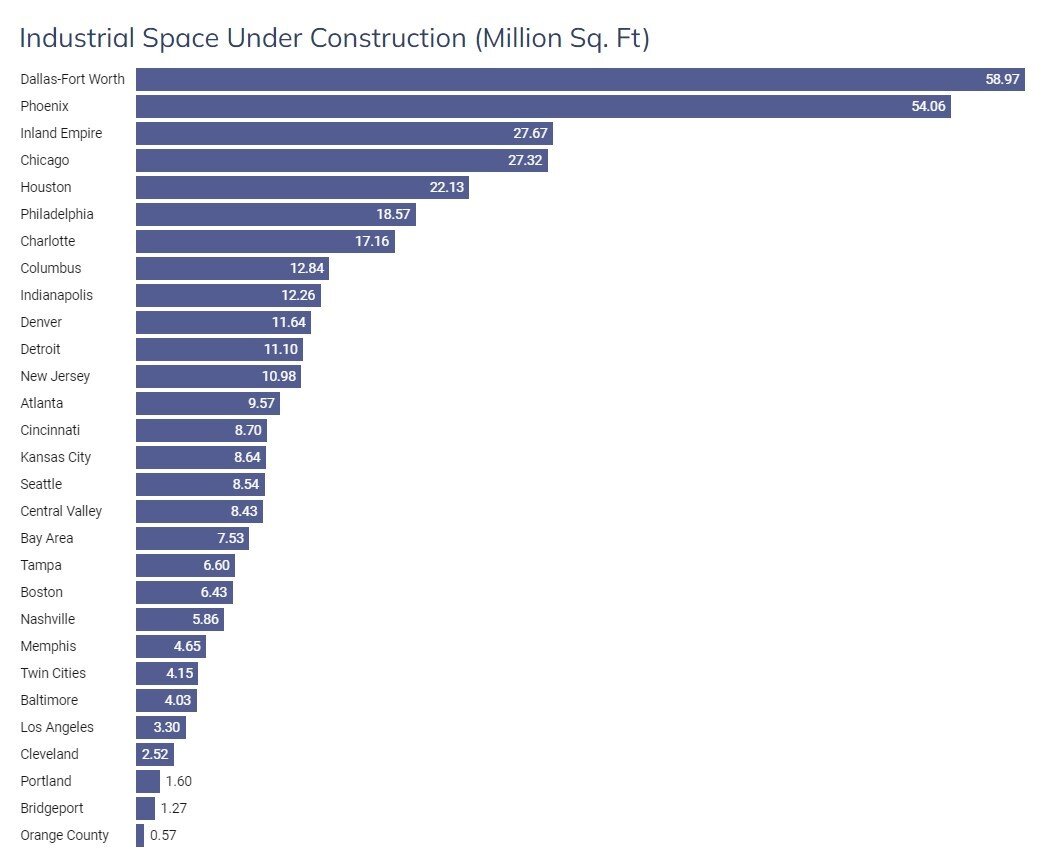 Sign Up Free | The WPJ Weekly Newsletter
Relevant real estate news.
Actionable market intelligence.
Right to your inbox every week.
---
Real Estate Listings Showcase