---
Home sales fell for the fourth consecutive month
According to the California Association of Realtors, persistently high mortgage rates continue to hobble California's housing market as home sales fell for the fourth consecutive month in September 2023, while the median price rose from the year-ago level for the third straight month to record its largest year-over-year gain in more than a year.
Closed escrow sales of existing, single-family detached homes in California totaled a seasonally adjusted annualized rate of 240,940 in September, according to information collected by C.A.R. The statewide annualized sales figure represents what would be the total number of homes sold during 2023 if sales maintained the September pace throughout the year. It is adjusted to account for seasonal factors that typically influence home sales.
September's sales pace was down 5.4 percent on a monthly basis from 254,740 in August and down 21.5 percent from a year ago, when a revised 307,000 homes were sold on an annualized basis. Sales of existing single-family homes in California remained below the 300,000-unit pace for the 12th month in a row. The monthly decline was the fourth consecutive decrease, and the annual decline was the 27th straight drop.
With the market being less competitive, there are greater opportunities for consumers who need to purchase a home for personal reasons or those who can qualify to purchase at today's interest rates," said C.A.R. President Jennifer Branchini.
"More sellers are making concessions as homes are taking longer to sell, fewer homes are selling above asking price, and there are more homes to choose from."
Home prices rose again from the year-ago level for the third straight month, as the statewide median price recorded its largest year-over-year gain in 15 months. California's statewide median price dipped 1.9 percent from August's revised $859,800 to $843,340 in September and rose 3.2 percent from $817,150 a year ago. While September's median price took a step back from the 15-month high recorded in August, the month-to-month decline was in line with the long-run August-to-September price adjustment of -1.8 percent observed in the last 44 years. Prices are likely to experience monthly declines in the next couple of months, following the traditional seasonal pattern. Positive year-over-year price growth is expected to persist through the remainder of the year as housing supply is expected to remain tight.
"As mortgage rates surge to new highs not seen in more than two decades, home sales are being tested and are likely to remain tepid for the next few months," said C.A.R. Senior Vice President and Chief Economist Jordan Levine. "With the Fed planning on holding rates higher for longer, the cost of borrowing will remain elevated and may not come down much in the near term. Housing affordability will continue to hinder sales activity for the rest of the year, especially in the low- and mid-price ranges."
Other key California market highlights include:
At the regional level, all major regions experienced a sales decrease in September on a year-over-year basis, with all five major regions dropping more than 20 percent. The San Francisco Bay Area region recorded the biggest annual sales decline at -23.7 percent, followed by the Central Valley (-22.5 percent), the Far North (-22.3 percent), Southern California (-21.7 percent) and the Central Coast (-20.8 percent).
Forty-six of the 52 counties tracked by C.A.R. registered a sales decline from a year ago in September, with 43 counties dropping more than 10 percent and 28 counties falling more than 20 percent from last year. Home sales in Siskiyou (-52.4 percent) fell the most, followed by Mariposa (-46.7 percent) and Lassen (-39.1 percent). Five counties posted a sales increase from last year, with Mono (50 percent) gaining the most, followed by Sutter (14.5 percent) and Madera (10.3 percent).
At the regional level, home prices increased from a year ago in all five major regions. The San Francisco Bay Area's median price (6.6 percent) improved on a year-over-year basis for the second consecutive month and was the region with the biggest annual gain last month. Five out of nine counties within the region recorded an annual gain, with Santa Clara registering the highest growth of 9.0 percent from the prior year. Southern California (4.7 percent), the Central Valley (3.4 percent), Central Coast (3.3 percent) and the Far North region (1.4 percent) also posted mild annual increases.
Home prices continued to improve in many counties across the state, but 21 counties still registered a year-over-year decline in their median prices in September. Lassen posted the biggest price decline with a drop of -32.6 percent from last September, followed by Lake (-23.4 percent) and Mendocino (-16.3 percent). Twenty-nine counties recorded an annual increase in median price, with Mariposa (26.4 percent) recording the biggest jump in its median price, followed by Calaveras (19.4 percent) and Tulare (14.9 percent).
Housing supply in California continued to shrink from a year ago in September as mortgage rates remained elevated. The statewide unsold inventory index (UII), which measures the number of months needed to sell the supply of homes on the market at the current sales rate, was 2.8 in September 2023. It increased 16.7 percent on a month-over-month basis and was unchanged from last September.
Active listings at the state level continued to dip on a year-over year basis for five straight months, with the decline in each of the last six months all registering more than 20 percent year-over-year. With rates remaining high and the market transitioning to the low season, active listings will not likely improve much, if at all, before the end of the year.
Active listings declined in more than two-thirds of all counties from a year ago, with 26 counties dropping more than 10 percent on a year-over-year basis. Contra Costa (-49.5 percent) posted the biggest annual drop in September, followed by Sacramento (-42.5 percent) and Alameda (-41.5 percent).Fifteen counties recorded an annual gain, with Mariposa registering the largest yearly gain of 38.2 percent, followed by Amador (27.3 percent) and Siskiyou (24.0 percent). On a month-to-month basis, 11 counties experienced a drop in active listings in September, while 44 counties followed the seasonal pattern, increasing monthly from August as the market transitioned into the low home buying season.
The median number of days it took to sell a California single-family home was 18 days in September and 27 days in September 2022.
C.A.R.'s statewide sales-price-to-list-price ratio* was 100 percent in September 2023 and 97.6 percent in September 2022.
The statewide average price per square foot** for an existing single-family home was $417, up from $401 in September a year ago.
The 30-year, fixed-mortgage interest rate averaged 7.20 percent in September, up from 6.11 percent in September 2022, according to C.A.R.'s calculations based on Freddie Mac's weekly mortgage survey data.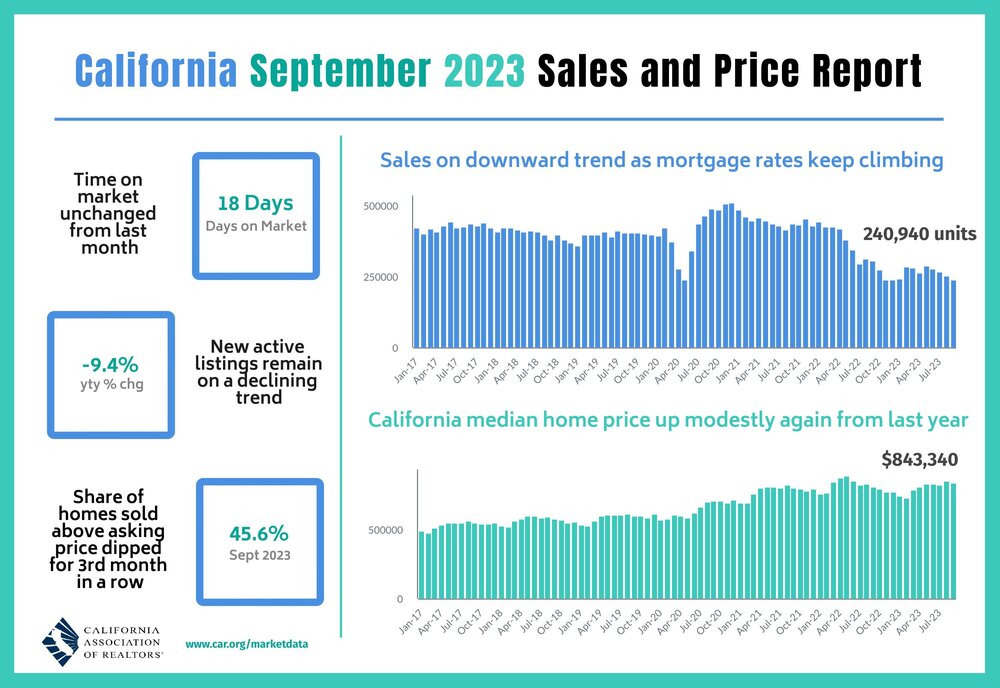 Sign Up Free | The WPJ Weekly Newsletter
Relevant real estate news.
Actionable market intelligence.
Right to your inbox every week.
---
Real Estate Listings Showcase