---
Florida led the nation with 86% more corporations moving their HQ to the state
According to a new report by Hire a Helper that analyzed recent Securities and Exchange Commission filings, whether to cut costs, gain a more beneficial tax rate, or be closer to a target market, about 9% of corporations in the United States moved their headquarters within the past fiscal year -- the highest percentage since 2017.
States like New York and cities like Seattle are seeing corporate headquarters move away, while smaller cities outside large urban centers are becoming new homes to big companies in tech and pharmaceuticals.
On the Move: Corporate Relocation Rate Highest in Seven Years
According to the most recent SEC figures, 593 (or 8.9%) of the roughly 6,700 publicly traded corporations in America moved their HQs in the past fiscal year (i.e., March 2022-March 2023).
2022-2023 had the highest rate of corporate headquarters relocation in seven years, and it's been on the rise since it took a dip to below 7% in 2020 (likely due to the pandemic).
Comparing the absolute number of companies moving their offices year-over-year, the 593 corporations moving HQs in 2022-23 represents a 29% growth over the fewer number of companies (458) that relocated in 2021-22.
Hire a Helper's report, it is also the highest year-over-year bounce in a decade, besting even the post-pandemic return to activity in 2021-22. That was a banner year, where the number of corporations relocating their HQs went up by 25%.
Top States that won HQ moves
Not only are corporates moving in high numbers, but as many as 24% of those that moved chose to relocate their headquarters to a different state entirely. Here's the breakdown.
Florida had 86% more corporations move their HQ there, compared to the number of companies that chose to move their head office out of Florida -- the highest net gain of any state!
Texas, the state that in the last year has officially moved their welcomed Hewlett-Packard and Caterpillar Inc, among other companies, saw the second highest net gain (71%).
Two other states had notably strong showings, Arizona (+65%) and Utah (+57%), both saw very impressive growth in the number of HQs of America's corporations they now host.
Top States that lost HQ moves
Office moving trends appear to be relatively similar to individual people's moving trends, at least in the sense that leaving places like New York and California is a popular idea.
The state that corporations were most likely to abandon was, surprisingly, Washington, with 83% more companies leaving it than moving in. Notable departures include media company Arena Group, and Clearsign Technologies, a developer of emission control solutions.
New York (-51%) and California (-46%) aren't far behind Washington, ranking second and third among the states that lost the most corporate HQs, respectively.
Among the companies that left New York are Philip Morris International and the financial firm Assurant, Inc. California's noteworthy departures include the coworking space giant WeWork and clinical nutrition company Guardion Health Sciences.
Top Destination Cities
When it comes to specific destinations for corporations looking for a new HQ, Waltham, MA saw the highest corporate net growth across cities over the past fiscal year (+175%). (Five companies moved to this relatively small city on the outskirts of Boston, and not a single one left.)
Noteworthy new corporate residents of Waltham, MA include biotech and pharmaceutical firms such as Cogent Biosciences and CinCor Pharma.
Burlington, MA (+133%) and Spring, TX (+100%) are second and third in growth, respectively. Burlington's newly headquartered corporations are software companies and biotech firms, while Spring, TX is where Hewlett-Packard moved their headquarters in a widely publicized move.
Meanwhile, three cities in Florida are among the 10 with the highest net gains: Jacksonville, FL (+67%), Tampa, FL (+49%), and Miami, FL (+33%).
Which U.S. cities are corporations leaving?
Unexpectedly, the city that lost the most corporate HQs compared to the number it gained is Cambridge, MA (-40%).
This famous college town next to Boston, MA has long been a mecca for many biotech and pharma firms, which seemingly doesn't leave room for previous industry giants.
Just beneath Cambridge, Seattle (-37.5%), as well as multiple cities in the Bay Area of California, lost multiple company headquarters over the past fiscal year compared to the number they gained. New York City (-13.4% ) also makes an appearance in the 12th spot.
It is worth noting that despite the net losses, dozens of companies still established their new headquarters in New York City within the past year, as well as in other net loss cities, like San Jose and San Francisco.
Top Reasons for HQ Relocations
Based on Hire a Helper's moving study, Americans mostly move for new or better housing, or for a new job. But what are the main reasons behind corporate relocations?
One commonly presumed reason is the desire to cut costs, which can mean moving to areas where taxes are lower. This might explain why Florida and Nevada are seeing more corporations move in versus out.
Of note, the Tax Foundation's 2023 State Business Tax Climate Index measures, among other things, how burdensome state taxes are on businesses. It lists Florida and Nevada among the 10 least tax-burden states. Meanwhile, Texas -- a state without a corporate tax -- is not too far behind in 12th place.
Another reason for corporate relocation is that the cost of office space is too high. Looking at office rent levels across the country, most cities that registered net losses of corporate HQs (e.g., New York City and San Jose) are among the most expensive for business rental costs.
The cost of office space is a problem that's also been exacerbated by the rise of remote work in the pandemic years. America's biggest cities continue to struggle with high office vacancy rates, as companies remain remote, or adopt a hybrid work arrangement.
In support of this trend, Hire a Helper's analysis of 2022-23 SEC filings showed that 62% of corporates that relocated their HQ in the past year moved to cities with smaller populations, and in turn, more affordable rental rates.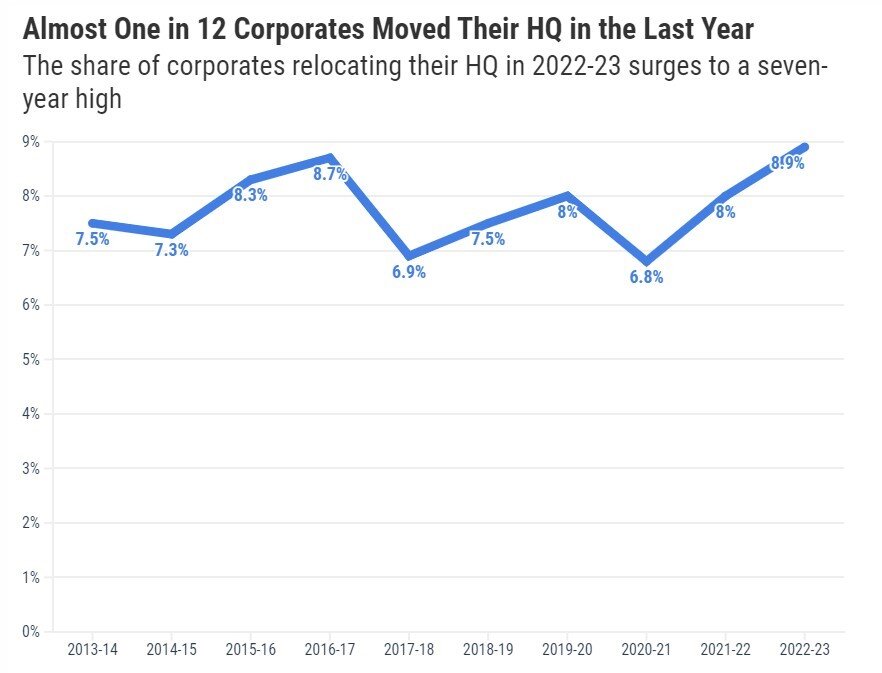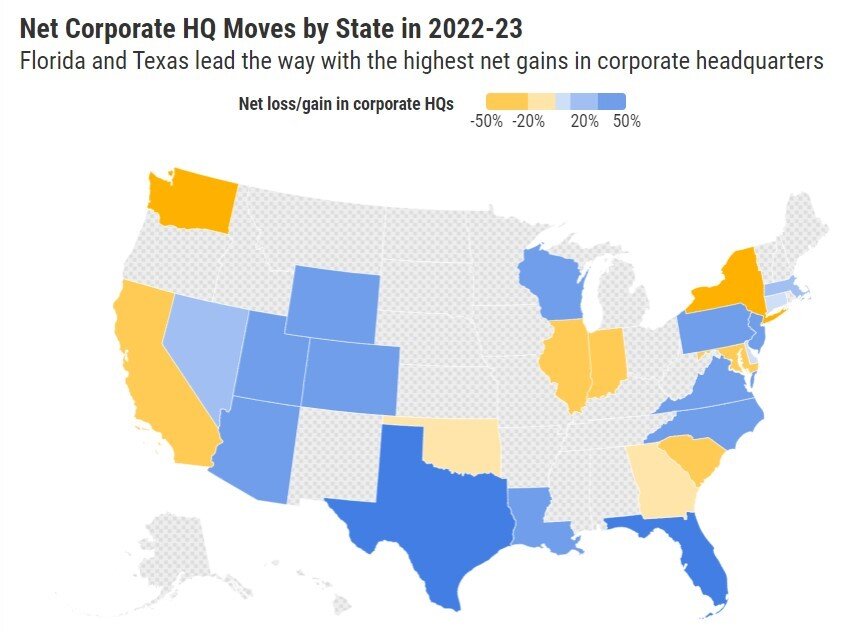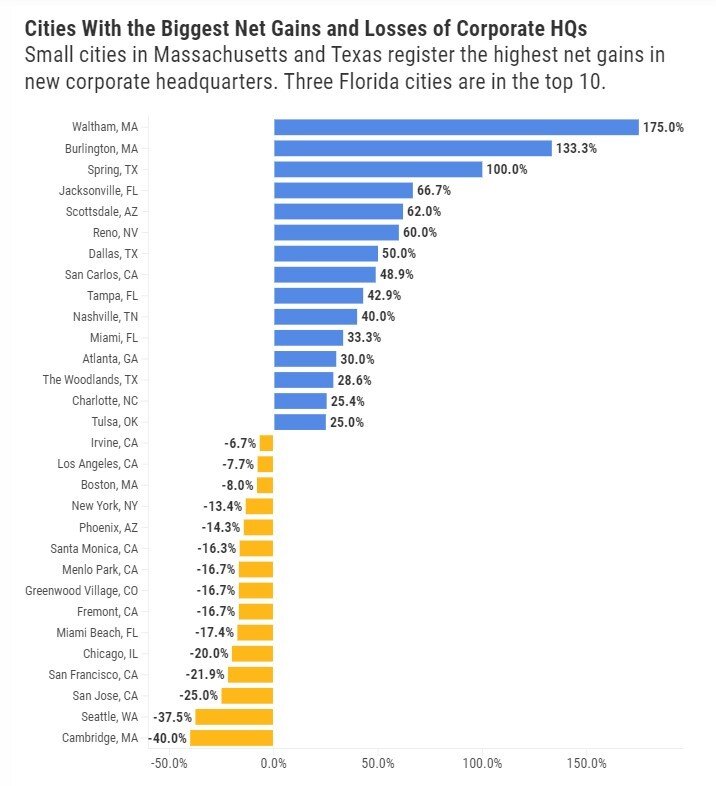 Sign Up Free | The WPJ Weekly Newsletter
Relevant real estate news.
Actionable market intelligence.
Right to your inbox every week.
---
Real Estate Listings Showcase