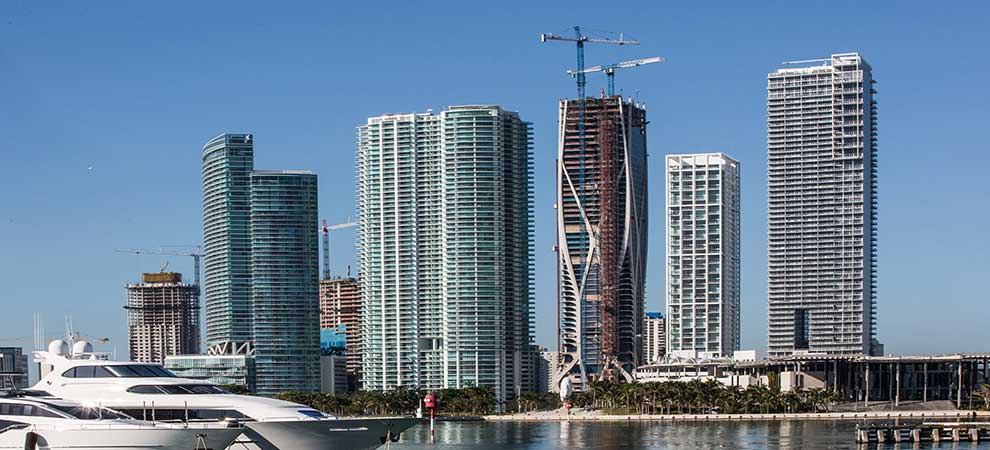 Miami's Most Architecturally Complex Condo Tower Tops Out
One Thousand Museum Tower Construction Reaches 62 Stories
This past week Miami developers Louis Birdman, Gregg Covin, Kevin Venger and Regalia Group along with New York-based Plaza Construction announced that the highly anticipated One Thousand Museum luxury condo tower by Zaha Hadid Architects has topped out.
The 62-story tower with 83 half and full-floor residences marks the late Pritzker Prize winner's first and final residential skyscraper in the Western Hemisphere. This milestone is paired with a rendering release of the amenity spaces, revealing new architectural details and further insight into Zaha Hadid's vision. The project is on track for an early completion in late 2018.
The developers celebrated this accomplishment and topped-out of the structure with an elegant private event on the rooftop of the recently completed Frost Science Museum, located in the adjacent Museum Park which offers a direct view of One Thousand Museum and the Downtown Miami skyline. The evening celebration offered guests an unobstructed view of the tower, passed hors d'oeuvres and flowing champagne.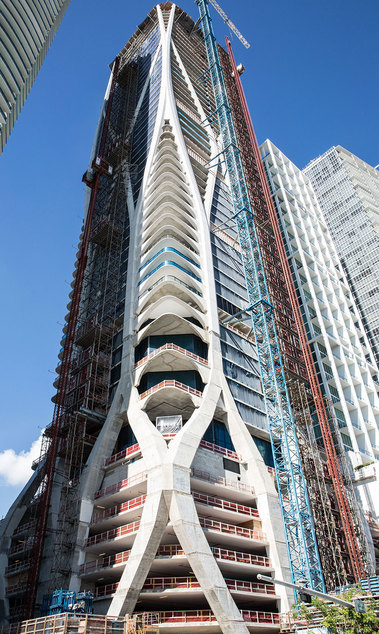 "We're now one step closer to revealing Zaha Hadid's forward-thinking design," says Louis Birdman, one of the co-developers on the project. "Even in its current state, the building already stands out as the most iconic architectural work on Miami's skyline. We're excited to have developed something so unique and special for Miami."
One Thousand Museum tower will showcase a Sky Lounge as well as the double-height Aquatic Centre with indoor pool, and the Lifestyle Centre and Spa, which overlooks the tower's Sun and Swim Terrace level. Additional amenities in the impressive portfolio include a private on premise, bank-quality vault, multimedia theatre and private dining room. The building will also offer a most unique asset: a private helipad available for residents on-demand to take them to nearby destinations, which is currently the only planned helipad on a private residential skyscraper in all of Florida. Interior construction has already started for the amenity spaces, also designed by Zaha Hadid Architects. Unit interiors include kitchens and closets by Poliform, appliances by Gagganeau and Sub-Zero, interior LED lighting by Apure and home automation by Crestron. The developers recently unveiled a fully finished model residence outfitted by Brazilian furnishing company, Artefacto, as a preview of what's to come.
"This is a project that will not only enhance Miami's skyline, but also redefine the standard of luxury for residential projects," said Brad Meltzer, President of Plaza. "We do not shy away from challenging projects, as such we were immediately interested when we saw the overall complexity of the job. To date, the project team has faced some major tests, but the project has remained on schedule and we're looking forward to the successful completion."
Making it arguably one of the world's most challenging builds, the project's curved exoskeleton is comprised of 5,000 pieces of lightweight glass-fibre reinforced concrete (GFRC) manufactured in and imported from Dubai. This is first skyscraper in the world to utilize GFRC as a permanent formwork in the construction of the tower's structure. The unique structural exoskeletal design allows for maximized open space and spans between columns as expansive as 40 feet. The methods of construction and the complexity of design were so unique and challenging that the process of building One Thousand Museum has been detailed in the new documentary series titled "Impossible Builds," airing on PBS on February 7th, 2018. One Thousand Museum is one of only a few projects worldwide that will be featured in this series.
Completion is expected in late 2018, and individual condo prices will range from $5,800,000 up to $49,000,000.