---
Miami and New York City have most homes at risk of storm surge damage
According to CoreLogic's recently released 2022 Hurricane Report, nearly 7.8 million U.S. homes with more than $2.3 trillion in combined reconstruction cost value (RCV) are at risk of hurricane-related damages. The report also revealed nearly 33 million homes with nearly $10.5 trillion in combined RCV are at risk of hurricane-force wind damages. The National Oceanic Atmospheric Association (NOAA) forecasts an above-normal 2022 hurricane season with as many as 21 named storms and up to 10 hurricanes, three-to-six of which could be major hurricanes.
"This hurricane season could be particularly severe for the U.S. Gulf Coast due to warmer-than-average Atlantic Ocean temperatures, an ongoing La Niña, and a stronger than average loop current in the Gulf of Mexico," said Dr. Daniel Betten, Chief Meteorologist at CoreLogic. "Although La Nina events typically occur once every three years, this fall will likely be the fifth La Nina event over the last seven years."
Insurers play an important role in supporting community resilience by ensuring adequate home and flood insurance as hurricanes affect local communities well beyond the immediate damage aftermath. The storms take a toll on the U.S. housing economy with noticeable spikes in mortgage delinquency rates and loss in housing inventory. After Hurricane Ida made landfall in August 2021, 30-day mortgage delinquencies in Houma, LA, rose from 1% to 7%. The Houma economy had already been hurt in the early months of the pandemic by a drop in oil prices. With the additional strain of Hurricane Ida, home prices recovered slowly, and rents weakened as workers and families relocated to other areas.
A Closer Look at Hurricane Risk Data
CoreLogic evaluated the storm surge and hurricane wind risk levels for both SFRs and MFRs from Texas to Maine for the 2022 hurricane season. The data includes the total estimated RCV, which is calculated using the combined cost of construction materials, building equipment and labor, and assumes total 100% destruction of the property. It is worth noting the extreme unlikelihood that all risk-prone properties will be impacted or that all homes will be 100% destroyed during a hurricane season. These figures provide a point of reference and do not indicate what will occur this season.
Metro Area and State Implications
CoreLogic examined the top 15 metropolitan areas and states with the greatest number of SFRs and MFRs at risk for storm surge and wind damage:
The New York City metro area has the greatest risk, with nearly 900,000 homes with more than $432 billion in RCV at risk of storm surge damage and more than four million homes with more than $2.2 trillion in RCV at risk of wind damage.
The Miami metro area follows, with nearly 770,000 homes with nearly $193 billion in RCV at risk of storm surge damage and more than two million homes with more than $500 billion in RCV at risk of wind damage.
At a state level, Florida, Louisiana and Texas have the greatest number of homes at risk of storm surge damage with more than three million; nearly 911,000; and more than 542,000 homes at risk, respectively.
Texas tops the list for hurricane wind risk with more than 8.8 million homes at risk.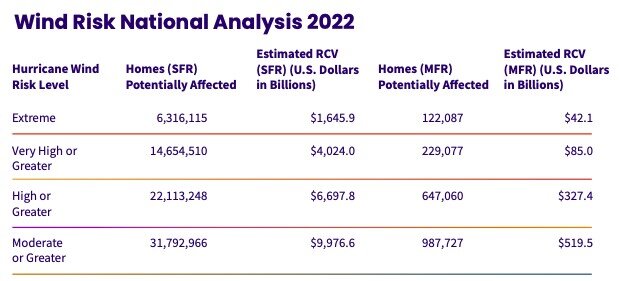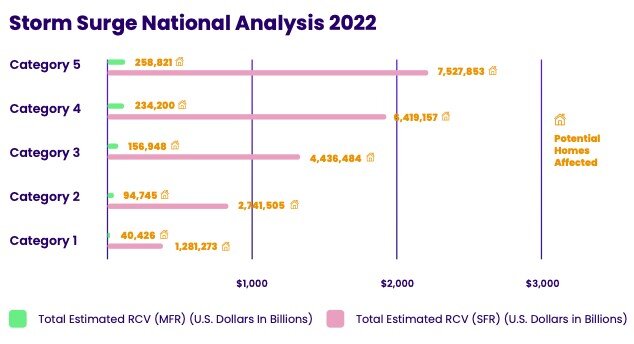 Sign Up Free | The WPJ Weekly Newsletter
Relevant real estate news.
Actionable market intelligence.
Right to your inbox every week.
---
Real Estate Listings Showcase