Despite recent reports showing a drastic oversupply of luxury condos in Miami in 2018, a condo at Echo Brickell in the Brickell area just sold at a record-breaking price per square foot. The transaction highlights a strong demand for condos that are strategically positioned to attract the right buyer.
The 1,625-square-foot unit, #4102, sold for $2.31 million, or $1,421 per square foot, said Justin Rubin, a principal with Miami-based Rubin [+] Morr at Douglas Elliman Real Estate, who represented the seller along with business partner Jeff Morr. The deal closed on Aug. 13, 2018.
The seller was Von Schlieffen Holdings. The buyer is an individual from South America who currently lives in the UAE.
According to the square feet shown on property tax records, the two-bedroom unit fetched the highest re-sale price per square foot out of all of the condos built after the Great Recession, essentially any building completed after 2010, in Greater Downtown Miami.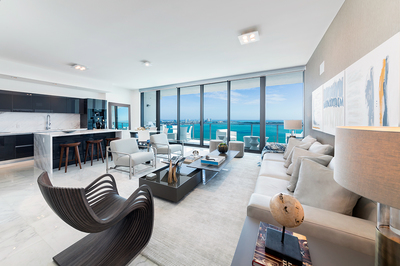 On a price per square foot bases, this sale shatters the records in all of Brickell, Downtown, Edgewater, and Midtown, said Rubin, whose team researched this data using the Multiple Listing Service. The $1,421 per square foot sale nearly doubled that paid for the highest previous transaction in the Echo Brickell building, #1903, which sold for $752.77 per square foot earlier this month.
"The fact that we achieved such a record-breaking price in a buyer's market is a good sign for anyone that currently owns property in Miami," Rubin said. "With these current market conditions, sellers need to understand that their properties must be positioned properly to get the attention of the right buyer. The time, effort, strategy, and execution that our amazing team put into this sale made it stand out from all the other properties on the market. In the end, the seller was happy and it all worked out for the best."
Echo Brickell, at 1451 Brickell Ave, was completed in 2017 by Property Markets Group.
Prior to this transaction, the highest re-sale prices per square foot in all of the post-recession condo towers in Greater Downtown Miami belonged to 2 units at SLS Brickell, which closed at $879.51 and $846.99, respectively. This is followed by Icon Bay's $829.03 and Brickell Heights - East Tower's $784.09 per square foot sales.