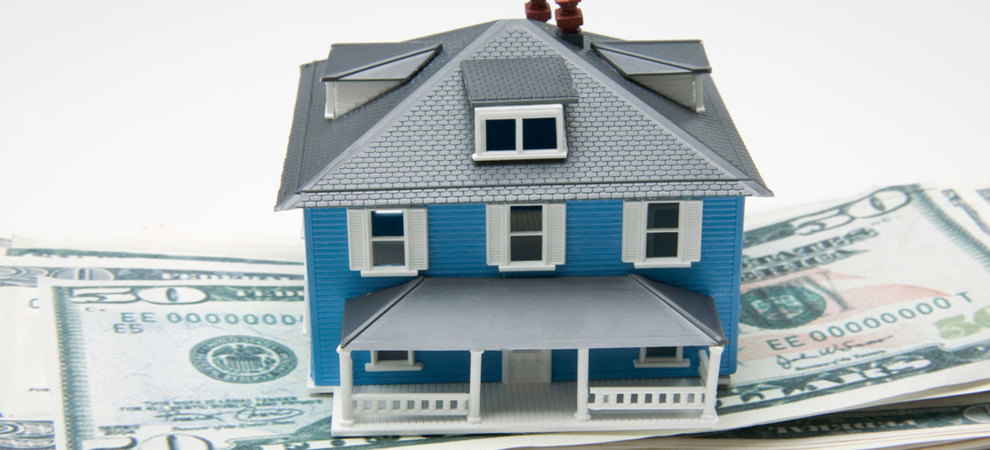 U.S. Mortgage Credit Availability Increases in March
According to the Mortgage Credit Availability Index (MCAI), mortgage credit availability increased in March 2015.
The MCAI increased 2.3 percent to 121.4 in March. A decline in the MCAI indicates that lending standards are tightening, while increases in the index are indicative of a loosening of credit. The index was benchmarked to 100 in March 2012.
"A number of factors contributed to a loosening of credit in March: Freddie Mac's introduction of their 97 LTV program (Fannie Mae's was implemented in December), additional loosening of parameters on jumbo loan programs, an increase in offerings of cash-out refinance loans, and continued expansion of the FHA streamline refinance and VA Interest Rate Reduction Refinance Loan (IRRRL) programs," according to Mike Fratantoni, MBA's Chief Economist. "As a result of these changes, all four component indexes of the MCAI increased last month: jumbo, conforming, conventional, and government. Although credit remains tight by historical standards, this increase in availability, coupled with low rates and job market strength, should lead to stronger home purchase activity this spring."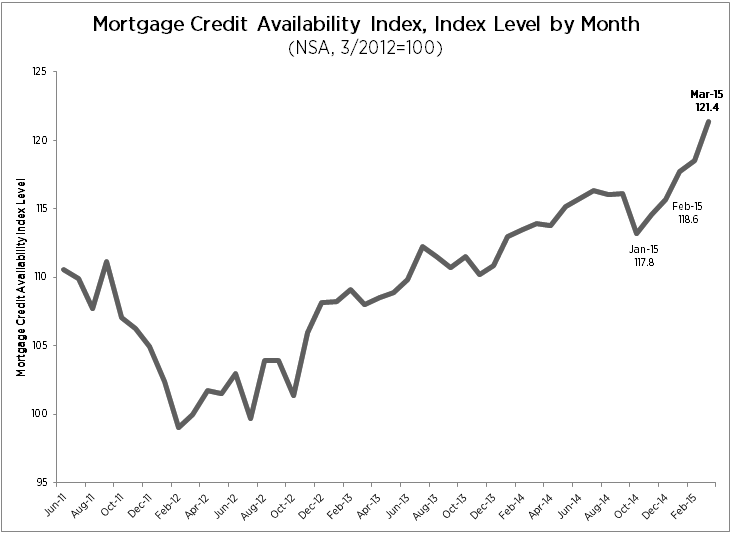 CONVENTIONAL, GOVERNMENT, CONFORMING, AND JUMBO MCAI COMPONENT INDICES
MBA now reports on five total measures of credit availability as part of the monthly MCAI release: the Total Mortgage Credit Availability Index, the Conventional Mortgage Credit Availability Index, the Government Mortgage Credit Availability Index, the Conforming Mortgage Credit Availability Index, and the Jumbo Mortgage Credit Availability Index, with historical data back to 2011.
Of the four component indices, the Conforming MCAI saw the greatest easing (up 3.0 percent over the month) followed by the Conventional MCAI (up 2.4 percent). The Government MCAI and Jumbo MCAI both increased 1.8 percent over the month.
The Conventional, Government, Conforming, and Jumbo MCAIs are constructed using the same methodology as the Total MCAI and are designed to show relative credit risk/availability for their respective index. The primary difference between the total MCAI and the Component Indices are the population of loan programs which they examine. The Government MCAI examines FHA/VA/USDA loan programs, while the Conventional MCAI examines non-government loan programs. Similarly, the Jumbo MCAI examines everything flagged as "Jumbo" while the Conforming MCAI examines loan programs that fall under conforming loan limits.
The Conforming and Jumbo indices have the same "base levels" as the Total MCAI (March 2012=100), while the Conventional and Government indices have adjusted "base levels" in March 2012. Using data from the MCAI and the Weekly Applications Survey, MBA calibrated the Conventional and Government indices to better represent where each index might fall in March 2012 (the "base period") relative to the Total=100 benchmark.