---
Manhattan Office Sales Hit $2.9 Billion in Q3, Down 34 Percent Annually

According to a new report by Commercial Café and Yardi Matrix Data, despite picking up some steam in the third quarter of 2019, Manhattan office sales still fell short of 2018 values.

The total dollar volume dropped 34% year-over-year, closing out Q3 at $2.9 billion. However, the average sales price reversed its downward trend and rose significantly, reaching $1,676 per square foot--the highest value in four years.

Overall asking rents continued to increase, with trophy office space rates leading the way. Vacancy in office buildings equal to or larger than 25,000 square feet fell slightly compared to the previous quarter, reaching 7.1% overall. Non-traditional office space accounted for 3.4% of the total office inventory, encompassing nearly 17 million square feet. Additionally, a little more than 3 million square feet of new office space is slated for delivery in Q4.

Manhattan Office Sales Drop 34 Percent Y-o-Y in Q3

Following a sluggish first half of the year, sales activity in the Manhattan office market seems to be gaining some traction. At the close of Q3, office sales amounted to nearly $3 billion. On the surface, this marks a 49% increase in volume across roughly the same number of deals as Q2. However, the double sale of The Coca-Cola Co. Building, represented 64% of the total dollar volume. Also, the substantial surge in the average price per square foot masks the lowest total square footage traded on the market in the past four years. Eight deals encompassing a total of 1.7 million square feet closed during Q3.

Year-over-year, Q3 2019 failed to measure up to Q3 2018, and the total office sales volume dropped by 34%. This is not surprising, as one year ago the top two deals alone--the sales of Kushner Cos.'s 666 Fifth Avenue and Walt Disney Co.'s ABC Upper West Side headquarters complex--amounted to just under $2.5 billion. If sales activity doesn't pick up steam in Q4, the market might be looking at the weakest year in terms of office sales since 2013.

Office Sale Prices Reach $1,676 per Sq.Ft., Highest in Four Years

After dropping to a five-year low in Q2, average office prices rose 130% year-over-year and 201% compared to the previous quarter. Resting at $1,676, the price per square foot not only recovered from the slump, but it also reached its highest value in four years. While the double sale of The Coca-Cola Co. Building contributed significantly to the uptick in average price, it's important to note that Q3 2019 also reversed a downward trend that started early last year. The price per square foot surpassed the $1,000 mark for the first time in five quarters.

Average Asking Price for A+ Office Space Leases Reaches $101/Sq.Ft.

The overall average asking rent for full-service office leases in Manhattan has also increased, reaching $82 per square foot at the end of September, 6% higher than it was at the close of Q2. As in the previous quarter, A+ office space saw the most significant surge in rents. Closing the quarter at $101 per square foot, the price increased by 7% compared to June. While Class A asking rents decreased slightly last quarter, they recovered in Q3. At $73 per square foot, the price is approaching values not seen since the beginning of 2018. Conversely, class B was the only category that saw a slight decrease in average asking rent, going from $63 per square foot at the end of June to $62 per square foot at the end of September. Class C office asking rents averaged $51 per square foot at the close of Q3.

Overall, office vacancy was 7.1% at the close of this year's Q3, down from 7.5% in the previous quarter. The most notable increase in occupancy was seen with trophy office space. Class A+ properties went from 7% vacancy in Q2 to 5% at the end of Q3. Class A and Class C properties both decreased their vacancy rates, as well, wrapping up the third quarter with 9% and 6%, respectively. Class B properties, on the other hand, increased their vacancy by 0.3% to land at 7%.

Manhattan Coworking Office Space Inventory Nears 17 Million Square Feet

Shared and coworking office space in Manhattan is steadily approaching 17 million square feet, reaching 16.8 million in mid-October, according to Yardi Matrix data. This marks a 4% increase since mid-July, when the category amounted to roughly 16.2 million square feet. The share of non-traditional office space within the Manhattan office market's total inventory has also gone up slightly, now resting at 3.4%.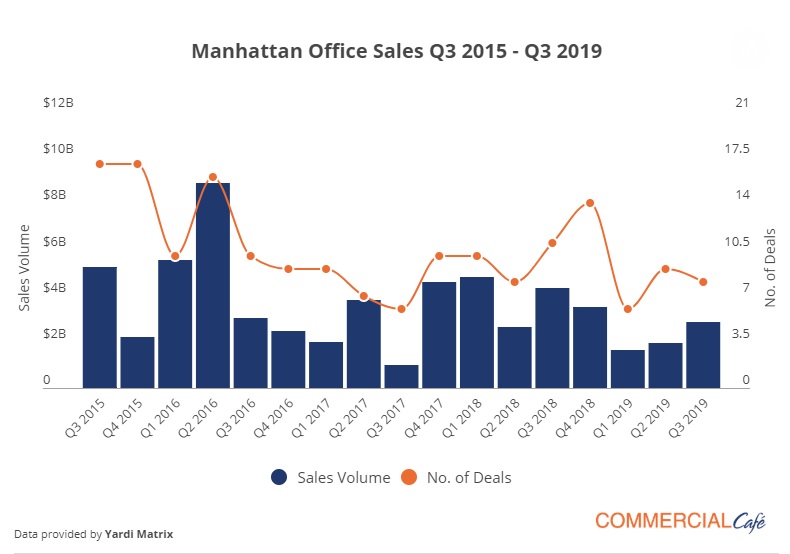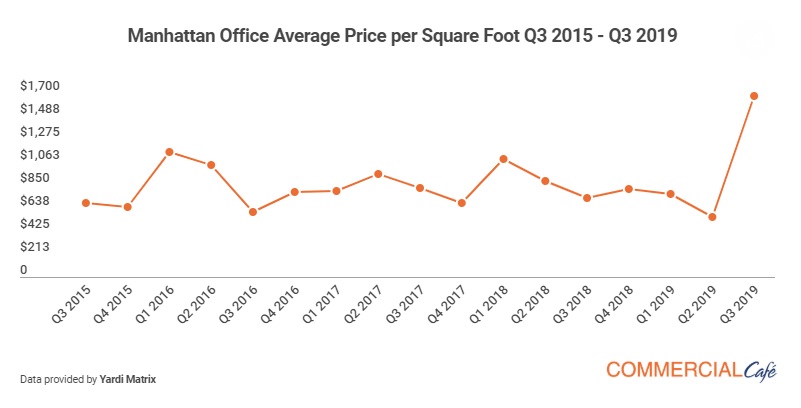 Sign Up Free | The WPJ Weekly Newsletter
Relevant real estate news.
Actionable market intelligence.
Right to your inbox every week.
---
Real Estate Listings Showcase