---
Investments that will dramatically reshape their property footprints
According to JLL's new 2023 Banking and Finance Outlook, the current landscape is guiding financial services organizations to accelerate their digitization efforts to combat challenges. These companies are anticipated to spend an additional $31 billion worldwide by 2025 on artificial intelligence (AI), meaning the banking and financial services industry will deliver the largest AI investments in 2023.
"Banks are actively enhancing their digital strategy by adopting new automated solutions to improve efficiency and provide better experiences for both clients and employees," said Giles Wrench, Vice-Chairman, Financial Services, JLL. "AI and machine learning are transforming the banking industry and enabling organizations to remain competitive and relevant.
Despite rising operating expenses, there has been enormous growth in the adoption of technology, data platforms and AI systems to optimize costs, define new growth models and enhance the customer and employee experience. Many organizations have already incorporated AI tech into their daily business operations and are employing tools like AI-powered virtual assistants for customers.
Technology helps banking and financial services organizations stay ahead of regulatory changes, evolving customer needs and growing competition since accelerating digital innovation improves operational efficiency and unlocks new sources of value. As such, a strong real estate strategy that provides the necessary infrastructure to support advanced technologies is vital.
"The right real estate strategy can enable banks to attract and retain top tech talent, provide the necessary infrastructure to support advanced technologies and create a flexible and agile workplace that can adapt to changing business needs," said Bobby Magnano, President, Financial Services, JLL. "By aligning real estate strategy with broader corporate goals, banks can ensure that their real estate portfolio is optimized to support their tech transformation and other strategic priorities. Ultimately, the success of a bank's tech transformation will depend on a holistic approach that includes not only technology but also real estate strategy, talent management and other key factors."
Attracting top talent with workplaces that foster innovation
To keep up with the rapid pace of AI advancements, financial institutions are prioritizing hiring objectives to gain expertise in cloud computing, AI, machine learning and programming. Software developers are now one of the most in-demand roles in the industry, and since 2018, the largest banks have increased hiring for software developers and data scientists by 90%. In addition to software development, cybersecurity and risk management are in high demand as banks face increasing regulatory pressures from the U.S. Federal Reserve and FDIC to improve risk infrastructure and internal governance.
"While most of the largest financial services organizations contracted since the onset of the pandemic, leading firms also restructured their real estate portfolios to support their future state operations, selectively expanding in key markets that offer scalability and affordability of diverse tech talent," Wrench added.
Finding that talent is getting more difficult. A global shortage of key talent is higher in North America (51%) than other regions and the worldwide average (45%). Dallas has seen the biggest increase in financial services employment jobs (14%) since 2019 outside of New York, followed by Miami (12.5%) and Detroit (7.6%).
"New York City undoubtedly remains the epicenter of the global financial services industry," said Sarah Bouzarouata, Senior Manager, Research, JLL. "However, there has been a shift in financial services employment to more cost-effective and growing markets such as Dallas, Phoenix, Atlanta and Miami. The key question is whether the growth in these markets is sustainable and if they have the necessary infrastructure to attract and retain long-term talent. We believe they are well-positioned to do so."
The technology transformation has already been a main driver of footprint expansions for banks looking to differentiate their talent pool.  TD Bank and BNP Paribas both expanded into Miami; Bank of Montreal, Comerica Bank, Goldman Sachs and PNC all expanded into Dallas; and Capital One expanded their presence in Atlanta and Philadelphia.
Another way financial services firms attract talent is by offering leading amenities, such as LEED buildings, connections to mass transit, neurodiversity support, finishes that create calming environments, energy efficiency, open and collaborative areas, quiet spaces and cafes with healthy snacks. Firms are also adapting to new hybrid work models to help manage operating costs and maximize space efficiency.
"A workplace that fosters innovation will require the right technology to inform data-backed decisions on work design and functionality," Magnano added. "Financial services organizations that center the workplace ecosystem around the employee experience will influence performance and growth while attracting and retaining top talent."
Even in the face of uncertainty around future space needs, financial services organizations signed longer leases in the first quarter of 2023 than pre-pandemic, reflecting their commitment to the role of the office in supporting long-term corporate goals. The average lease term length reached 8.4 years in Q1, exceeding the reported length in 2019 of 8.2 years. Finance recently surpassed technology in office leasing activity.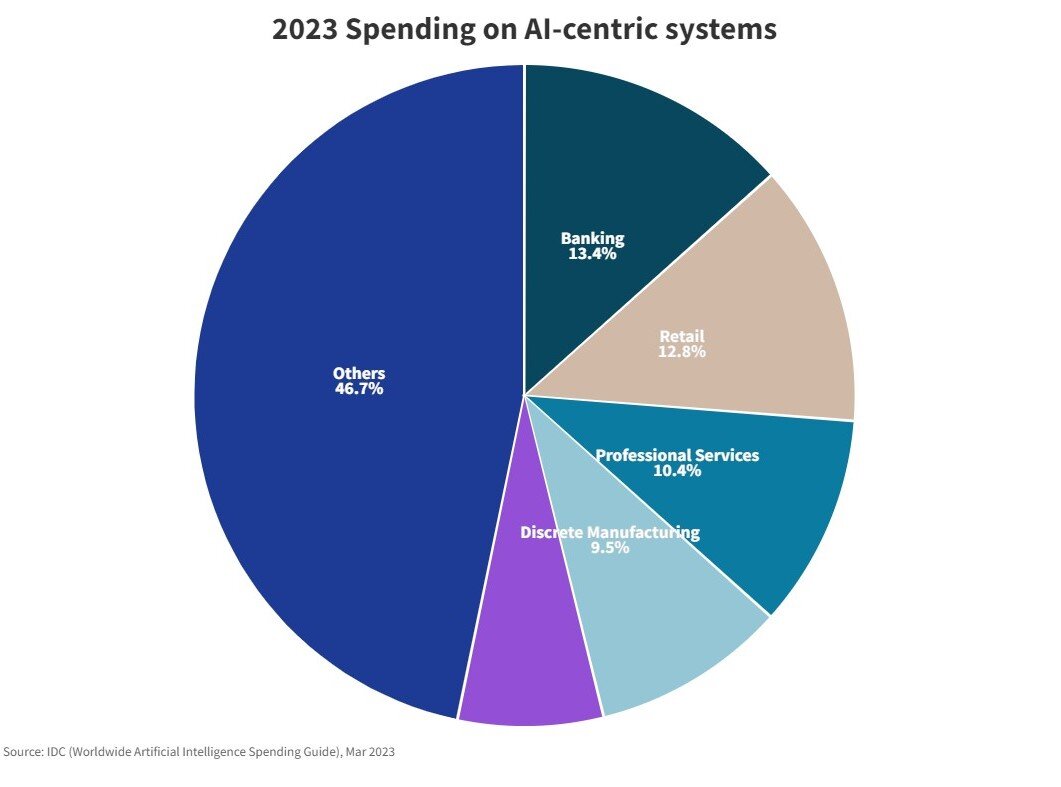 Sign Up Free | The WPJ Weekly Newsletter
Relevant real estate news.
Actionable market intelligence.
Right to your inbox every week.
---
Real Estate Listings Showcase