---
According to the American Automobile Association, this year Americans are traveling in record numbers during the Holiday Season.
AAA forecasts 107.3 million Americans will take to planes, trains, automobiles and other modes of transportation during the year-end holiday period from Saturday, Dec. 23 2017 through Monday, Jan. 1, 2018.
This will be the highest year-end travel volume on record and a 3.1 percent increase in travel volume compared with last year. 2017 marks the ninth consecutive year of rising year-end holiday travel. Since 2005, total year-end holiday travel volume has grown by 21.6 million, an increase of more than 25 percent.
"More expensive gas prices are not swaying holiday revelers to stay home," said Bill Sutherland, AAA senior vice president, Travel and Publishing. "In fact, across the board this year, travel has increased year-over-year for every major holiday weekend - Memorial Day, Independence Day, Thanksgiving - and we project the same for the year-end holiday period. We've seen the strong economy and growing consumer confidence fuel holiday travel all year long."
For the 97.4 million Americans traveling by automobile, INRIX, a global transportation analytics company, in collaboration with AAA, predicts travel times during the holiday week could be as much as three times longer than the normal trip.
By the Numbers: 2017 Year-End Holiday Travel Forecast
Automobiles: The majority of travelers - 97.4 million - will hit the road (a 3 percent year-over-year increase).
Planes: 6.4 million people will travel by air, a 4.1 percent increase and the fourth year of consecutive air travel volume increases.
Trains, Buses, Rails and Cruise Ships: Travel across these sectors will increase by 2.2 percent to 3.6 million.
Holiday Headache Hotspots
Based on historical and recent travel trends, INRIX expects drivers will experience the greatest amount of congestion before the holiday week - on Wednesday, Dec. 20 and Thursday, Dec. 21 - in the late afternoon as commuters leave work early and mix with holiday travelers. For example, drivers in New York City could see travel times peak at three times a normal trip between 3:30 and 5:30pm.
"With record-level travelers hitting the road this holiday, drivers must be prepared for delays in major metros," says Dr. Graham Cookson, chief economist & head of research at INRIX. "Our advice to drivers is to avoid peak times altogether or consider alternative routes."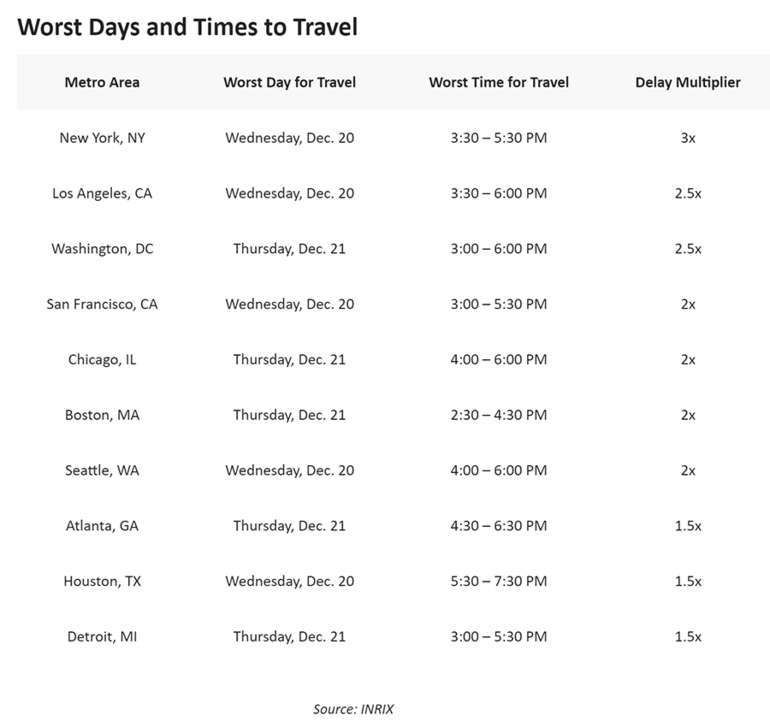 Pricey pump prices to decrease
The 90 percent of holiday travelers choosing to drive will find the most expensive year-end gas prices since 2014. This December's national average price is $2.47 (Dec. 1-13), which is 28 cents more than last December. The good news is that AAA does expect the average to drop at least another five cents by year-end, saving motorists a few pennies at the pump.
Airfare and hotel rates trend cheaper, car rentals increase year-over-year
Holiday airfares are nearly 20 percent cheaper than last year. At $165, the average end of year holiday airfare for a round-trip flight for the top 40 domestic routes is at a five-year low, according to AAA's Leisure Travel Index. On average, 2017 airfares are 5 percent less expensive compared to 2016. Overall, competition, capacity over-expansion and lower oil prices are contributing to the decline. Travelers can also find savings at AAA Two and Three Diamond Rated hotels. On average, a Three Diamond hotel nightly rate is $156, a two percent year-over-year decrease. The Two Diamond nightly average rate is $121, a five percent decrease from last year.
Similar to Thanksgiving, car rental rates are more expensive on the year. At $74, the daily car rental rate increased 11 percent. This sets a new five-year record high rate for year-end holiday travel. The increase is on par with the rate increases seen at Thanksgiving.
Sign Up Free | The WPJ Weekly Newsletter
Relevant real estate news.
Actionable market intelligence.
Right to your inbox every week.
---
Real Estate Listings Showcase