---
According to CBRE's latest Prime Multifamily Underwriting Survey, both going-in and exit cap rates for prime multifamily assets were little changed in Q2, leading to a record-low spread between the two.
This pause in cap rate expansion mirrors the Fed pausing interest rate increases in June. Since the Fed is expected to raise the federal funds rate by a quarter-point later this month, multifamily cap rates likely will see some additional modest expansion. However, we expect that cap rates will expand more slowly than interest rates will rise, meaning that cap rates are very near their peak.
After increasing between 20 and 40 basis points (bps) in each of the past three quarters, the average prime multifamily going-in cap rate increased by only 1 bp in Q2 to 4.73%. Exit cap rates fell by 5 bps. Underwriting expectations for annual asking rent growth over the next three years remained unchanged in Q2 at 2.90%.
CBRE further states unlevered internal rate of return (IRR) targets showed slower expansion, increasing by just 23 bps in Q2 to 7.22% and creating the widest spread between going-in cap rates (249 bps) since the survey began in 2014.
For the seventh consecutive quarter, Austin had the lowest risk requirements on an underwriting basis among the 15 prime multifamily markets tracked by CBRE. Miami, New York, San Francisco, Atlanta and Phoenix saw slightly improved risk requirements or no change from the prior quarter. Other markets saw lower declines, which suggests markets are stabilizing.
Four of the 15 markets (Atlanta, Chicago, Philadelphia and Seattle) recorded additional going-in cap rate expansion in Q2, while two markets (Boston and Dallas-Ft. Worth) saw going-in cap rate compression for the first time in seven quarters. The remaining nine markets had no change. Exit cap rates were unchanged in 11 of the 15 markets and lower in Boston, Dallas-Ft. Worth and Miami. Only New York had slightly higher exit cap rates.
Since Q1 2022, the average prime multifamily going-in cap rate has increased by 137 bps to 4.73%, eclipsing the pre-pandemic (2018 - 2019) average by 52 bps. Though further expansion could occur after an expected Fed rate hike this month, underwriting assumptions for prime multifamily assets will likely peak in Q3. Even as exit cap rates have seen a slight pull back, the spread between going-in and exit cap rates is a slim 21 bps and appears to be stabilizing. Average exit cap rates are not expected to compress significantly in the near-term, so it is unlikely that an inversion occurs between the two. However, markets such as Chicago, New York, Philadelphia and Phoenix are either experiencing an inversion or parity between cap rates, says CBRE.
Underwriting assumptions for prime multifamily annual rent growth for the next three years did not change in Q2 after several quarters of deceleration. Although gateway markets have a slightly better average rent growth outlook, secondary markets are picking up the pace and could surpass gateways later this year. The long-run average for rent growth assumptions is approximately 3.1%, slightly higher than the 2.9% expected as of Q2 2023. As markets stabilize, rent growth assumptions likely will drift higher and eventually settle near the long-run average.
CBRE says multifamily investors remain cautious in the current environment, though many markets are seeing little additional fundamentals degradation. Once interest rates stabilize, there should be an increase in activity by buyers, sellers and lenders.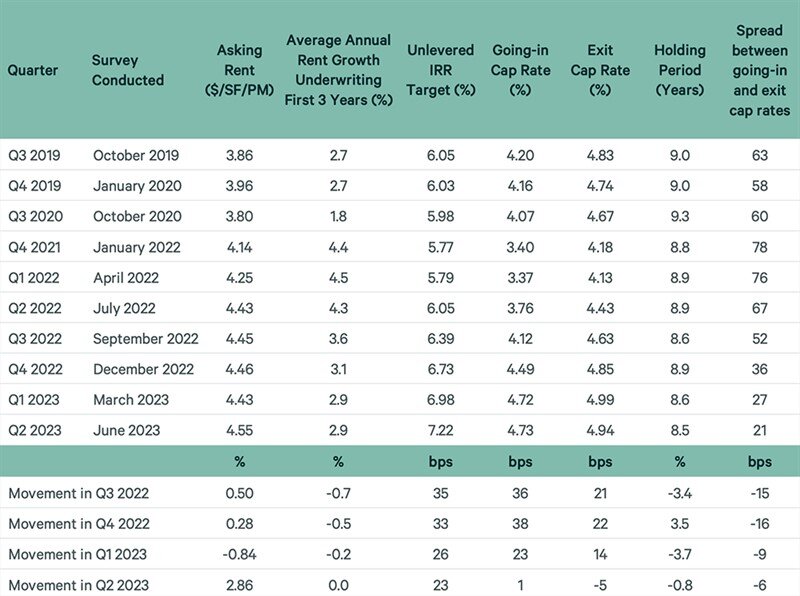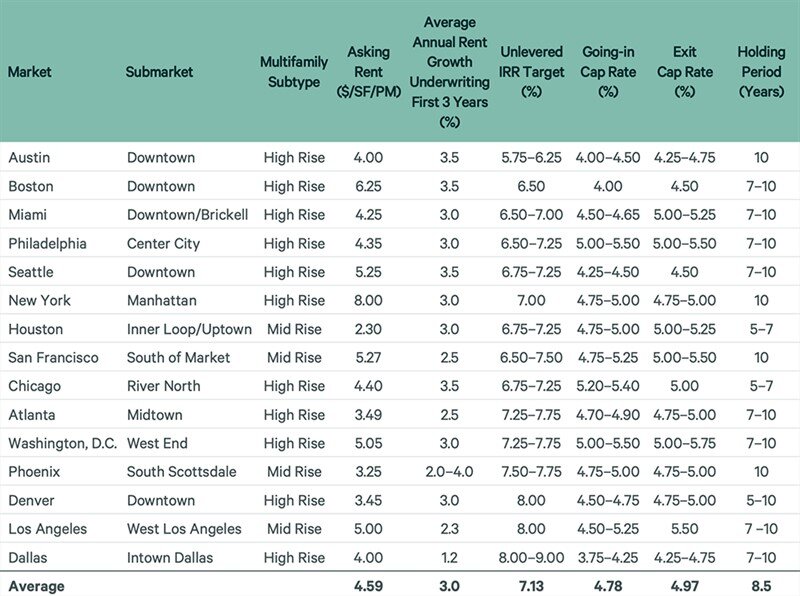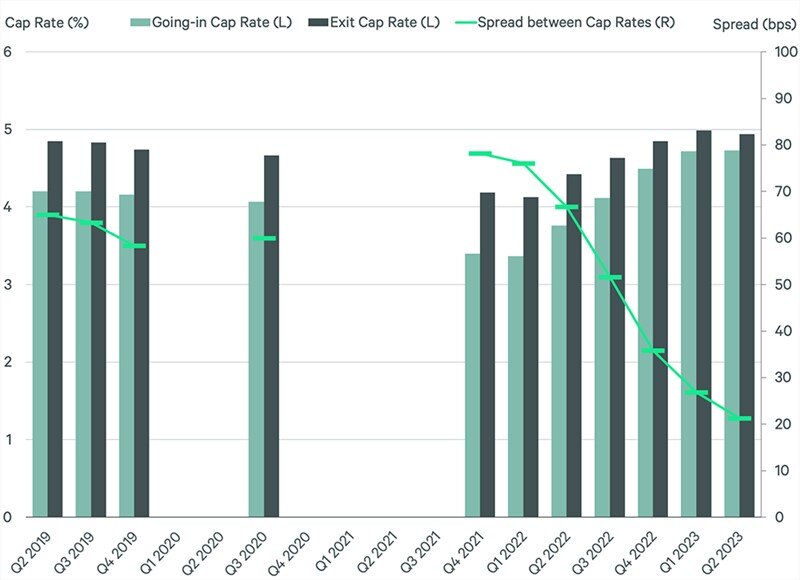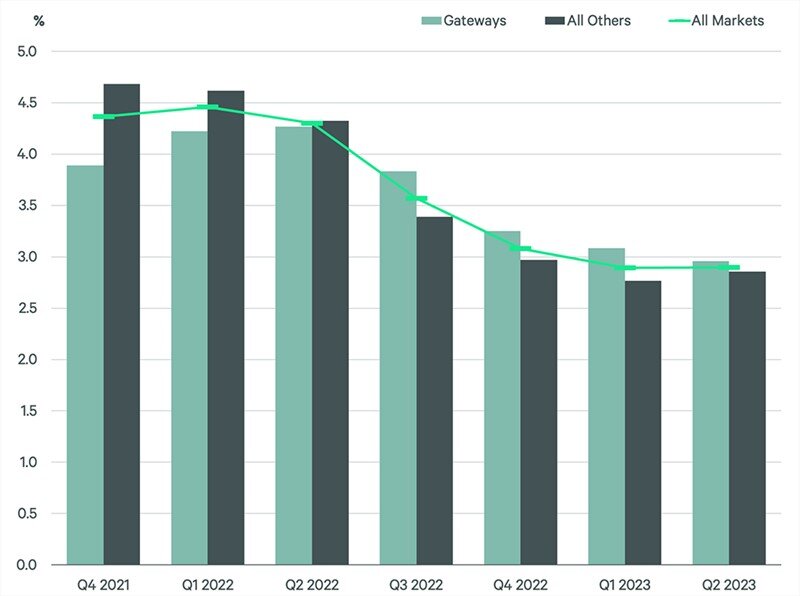 Sign Up Free | The WPJ Weekly Newsletter
Relevant real estate news.
Actionable market intelligence.
Right to your inbox every week.
---
Real Estate Listings Showcase