---
According to Knight Frank's new
Global Wealth Report for 2015
, London is still the most important global city for the world's ultra-high-net-worth individual (UHNWI), followed by New York and Hong Kong, but changing fortunes across the global over the past 12 months has seen Hong Kong and Singapore continue to slug it out for pole position in Asia.

Yet Miami, over the last decade, has quietly moved further up the list of the 'Top 40' most important global cities for the world's super rich. In 2015, Miami now is ranked number six worldwide, ahead of cities like Paris and Dubai.
Liam Bailey, head of global research for Knight Frank further reports Hong Kong has also edged ahead, moving from fourth to third position in Knight Franks' global top 10 cities.
With Shanghai maintaining its steady rise, Asia holds four of the top 10 slots in our list. Although Geneva loses ground this year, Zurich's strengthening helps maintain European representation.
Focusing purely on the population of wealthy residents, Knight Franks data confirms that London remains the single biggest centre for global UHNWIs, followed by Tokyo, Singapore and New York. Ten years hence and the expectation is that London will retain its top spot, but Singapore will have closed the gap with a 54% growth in its population of UHNWIs over that period.
With the exception of London, European cities will see a relative decline in their rankings based on the size of their UHNWI populations over the next decade, despite an average 27% growth in wealthy residents.
Europe's relative, if not absolute, decline is reflected in North America, Australasia and even the Middle East, with one standout reason - the dramatic growth of wealth in Asia. On average, cities across that region will see a 91% growth in their UHNWI populations over the next decade.
The most rapid growth in wealth will be seen in the likes of Ho Chi Minh City, Jakarta, Mumbai and Delhi. One-fifth of the cities assessed are expected to see greater than 100% growth over the next decade, all of which are in Asia or Africa.
Geographic concentration of wealth remains a key facet with 10% of all additional growth in UHNWIs taking place in just five cities - Singapore, Hong Kong, New York, London and Mumbai - over the next decade.
Knight Frank further states when they focus on the broader measure of dollar millionaires, or HNWIs, rather than UHNWIs, we see some resilience in the performance of cities in the developed world.
Tokyo contains the biggest single cluster of HNWIs today. At 466,000 the HNWI population is nearly a fifth larger than the number two city, New York, with a little under 400,000.
In 10 years there will be a reversal, with New York expected to be home to the biggest global total, with over 520,000 HNWIs, and Tokyo slipping to second place with 508,000.
By this point Beijing will sit in third position, with 350,000 dollar millionaires, a rise of 55% over the decade.
Despite the US and Japan hanging on with the two biggest city counts, growth even at this wealth level will be dominated by Asian centers, with six of the 10 biggest growth cities in absolute terms being in Asia.
Collectively they are expected to add 600,000 new HNWIs to their populations over the period to 2024. In Mumbai alone forecast growth is a phenomenal 125,000 - a 128%.
Knight Frank's Attitudes Survey points to the cities that UHNWIs believe will yield the best investment opportunities in 2015 - led by New York, London, Berlin and Los Angeles.
Looking to the future, Knight Frank says one constant remains: the rise of the Asian powerhouse cities, the relative decline of the European centers and the tussle between the two global behemoths - New York and London, with New York expected to be the most important city for global UHNWIs in 2025.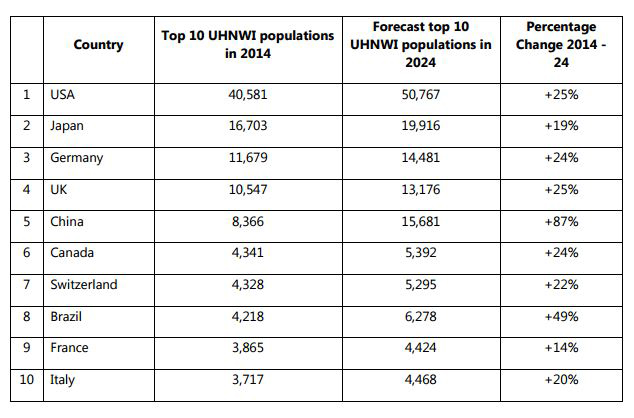 Source: Knight Frank
Sign Up Free | The WPJ Weekly Newsletter
Relevant real estate news.
Actionable market intelligence.
Right to your inbox every week.
---
Real Estate Listings Showcase