---
According to CBRE, Canada is the unrivaled global investor in U.S. real estate with nearly $10 billion of direct investments in 2014, ahead of Norway, China, Japan and Germany. 
Global direct investment in U.S. real estate totaled $41 billion in 2014, about 11% of all investment in U.S. property assets. This represents a 6% increase in global investment when compared to 2013. 
Canada was the lead global buyer of U.S. real estate last year with 26% of direct foreign investment - $9.7 billion. Canadian investors have already transacted a significant $2.75 billion in U.S. real estate as of mid-January 2015. Canadian real estate investment in the U.S. was one of the largest cross-border capital flows in the world in 2014 after U.S.-to-U.K. and Hong Kong-to-China capital flows.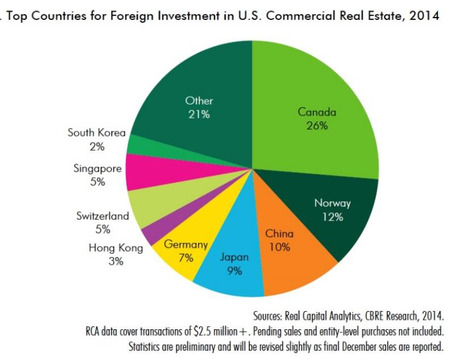 Norway was the second largest global investor in U.S. real estate in 2014 with 11% of direct foreign investment--$4.4 billion and a 120% increase year-over-year. China and Japan reached total investment levels in the U.S. of $3.8 billion (+6%) and $3.5 billion (+397%), respectively, each representing 9% of the global total. German buyers transacted $2.9 billion (+5%) in U.S. real estate, representing 7% of the global total. 
"While we have seen rapidly rising Chinese global investment and oil-rich countries in the Middle East or Norway increasing their allocations to global real estate, Canadian buyers continue to dominate foreign investment in the U.S. and should remain on the radar screens of American investors and owners of U.S. real estate," said Chris Ludeman, Global President, CBRE Capital Markets. 
"Canadians, other global investors and Americans share the same challenge--finding attractive opportunities with reasonable pricing that can produce a favorable risk-adjusted return. That said, we expect the investment climate to remain brisk and U.S. volumes will continue rising in 2015." 
The U.S. is by far the largest destination for Canadian global capital. Of the $22 billion that Canada invested outside of its borders in 2014, 44% went to the U.S. The next highest shares--17% and 14%--went to Australia and the U.K., respectively. It should be noted that the U.S. market share of Canadian global investment dropped below its 2007-14 average of 48% in 2014. 
"Canadian investors find U.S. real estate attractive for many of the same reasons that other countries do. The U.S. offers opportunities for value creation, healthy cash flows and favorable risk-adjusted returns," said Ross Moore, CBRE's Director of Research for Canada. "The level of Canadian investment is highly correlated with the health of the American economy and exchange rates, but the overriding motivation is that Canadian institutional investors need to look beyond their borders to find product and achieve greater diversification." 
Canadian investment is more geographically widespread across the U.S. than other global capital. This should not be surprising given the magnitude of Canadian investment, its high degree of familiarity with U.S. markets beyond the gateway cities, and the relatively low cost and time commitment for Canadian investment professionals to travel to U.S. markets. 
For all property types combined, as with total global capital flows into the U.S., New York is the leading destination for Canadian real estate capital, followed by Boston and Broward County in Florida, which made the list due to a significant hotel acquisition. Seattle is somewhat unusual for global capital, but not unusual for Canadian capital given its proximity to Canada and, in particular, Vancouver.
Sign Up Free | The WPJ Weekly Newsletter
Relevant real estate news.
Actionable market intelligence.
Right to your inbox every week.
---
Real Estate Listings Showcase