---
Based on Zillow's latest research, Housing Choice Vouchers are failing to keep up with rising rents, exposing rent-burdened households to economic uncertainty or homelessness.
Zillow found nearly 10 times more qualified voucher recipients than vouchers in most large U.S. metros. The analysis also found voucher values grew at less than half the pace of typical rent during the pandemic.
"Renters across the country are struggling as costs have skyrocketed and vouchers have failed to keep up," said Orphe Divounguy, senior economist at Zillow. "Better calculating for voucher values and more funding are good short-term solutions, but building more homes is the long-term answer."
Zillow research found there was not a single large metro area with enough vouchers to meet demand. Across the country, there were nearly 10 times as many eligible voucher recipients as there were vouchers. In addition, there were nearly four times more severely cost-burdened households than voucher recipients.
Several metros in Florida stand out for their extreme mismatches between vouchers and those who need them. Orlando had the highest mismatch in the nation, with 12 severely cost-burdened households for every available voucher.
Between February 2020 and February 2022, the typical U.S. rent grew by an astonishing 18%, but voucher values grew by only 7%. Counties with the biggest disparity between rent growth and voucher values were scattered throughout the country, but Florida -- a state that experienced among the fastest rent increases in the country -- stood out again with several counties suffering the largest gaps. In Miami-Dade County, rent growth outpaced voucher values by almost 50 percentage points in those two years.
How vouchers work
The Housing Choice Voucher Program is a critical rental assistance program provided by the U.S. Department of Housing and Urban Development (HUD), and is sometimes referred to as Section 8. The program pays landlords a portion of the rent directly on behalf of the tenant, and the tenant pays the difference.
Eligibility for a housing voucher is based on income and family size. In general, a family's income may not exceed 50% of the median income for the county or metropolitan area in which the family chooses to live. Typically, a voucher holder pays about 30% of their income as rent and the program pays the rest, up to a ceiling determined by HUD as the fair market value.
Recent Zillow research found that it would take four full-time minimum wage workers to reasonably afford a two-bedroom rental, illustrating the daunting financial challenges many renters face today. With voucher values eroding, voucher holders will have fewer options for places to rent and will likely be forced farther away from neighborhoods with amenities and job centers. The increase in rents leaves many rent-burdened families exposed to eviction, health crises and homelessness.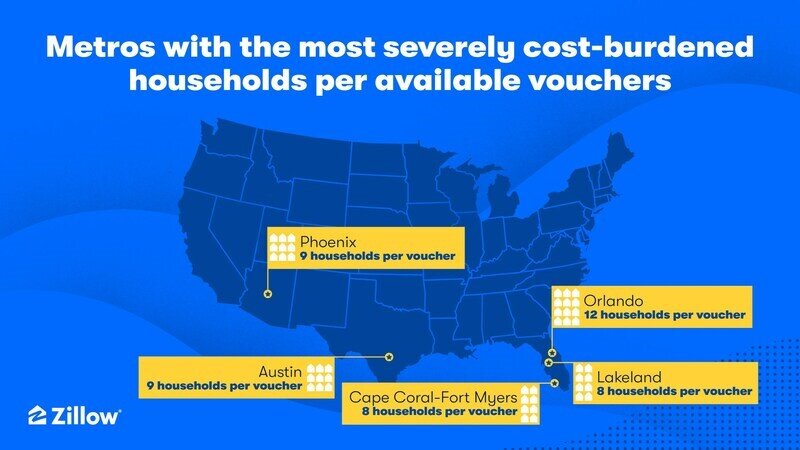 Sign Up Free | The WPJ Weekly Newsletter
Relevant real estate news.
Actionable market intelligence.
Right to your inbox every week.
---
Real Estate Listings Showcase