---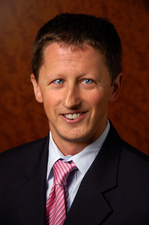 According to a new report by Jones Lang LaSalle, U.S. office vacancy levels decrease for second consecutive Quarter, driven by continued expansion of energy and high tech sectors.
As an indication that the commercial real estate sector is in a slow but steady recovery, the U.S. office market recorded its fourth consecutive quarter of occupancy gains with 4.5 million square feet of space absorbed in the first quarter of 2011. Markets with heavy energy and high-tech sectors continue to lead the recovery with Boston, Houston, Seattle and Silicon Valley recording the most activity during first three months of the year. Additionally, after trailing the overall U.S. office market recovery, demand levels and occupancy gains were as high in the suburbs around the country as they were in the Central Business Districts (CBDs) in the first quarter, a sign that a full throttle recovery is underway, according to Jones Lang LaSalle's First Quarter 2011 United States Office Outlook. Jones Lang LaSalle's quarterly outlook tracks 43 U.S. markets and provides an overview of supply, demand and pricing conditions, statistical analysis and an outlook.
Office Highlights
Office-using employment has more than tripled in recent months and is growing at an annual rate of just above 3.0 percent.
Significant amounts of space leased in the first quarter in New York, Seattle and Silicon Valley will continue to drive higher occupancy rates in future quarters as tenants move into that space.
Most major indicators of a recovering office market are up including tour velocity, leasing activity and sales volume, while concessions decreased rents stabilized and construction starts remained neutral.
Absorption gains continued for four consecutive quarters, with 4.5 million square feet absorbed in the first quarter. Baltimore, Boston, Houston and Seattle all recorded more than 500,000 square feet of net absorption.
Vacancy rates decreased for the second consecutive quarter from their cyclical high of 18.7 percent to the current level of 18.4 percent at the end of the first quarter.
"Renewed business confidence, strong corporate balance sheets and near-record profit margins have led to substantial employment gains in recent months," said John Sikaitis, Director of Office Research, Jones Lang LaSalle. "Employment in the professional and business service sector, which comprises the largest share of office-using employment, has more than tripled its gains in the overall employment markets in recent months, growing at an annual rate of just above 3 percent. We expect this to continue and get stronger throughout the year, which will lead to enhanced demand for office space in coming quarters."
Full Year of Recovery
The U.S. office market recovery is now entering its first full year, driven by organic growth of technology, biotech, energy firms and the start of some expansions within the financial services sector. The U.S. office market continued to perform well with vacancy levels decreasing for the second consecutive quarter to 18.4 percent on average with more than 4.5 million square feet absorbed nationwide. This brings the nation's total occupancy gains to more than 25 million square feet over the past four quarters (the equivalent of filling the entire San Antonio office market up). Richmond, Virginia, has the lowest total vacancy rate at 11.4 percent and Phoenix the highest at 26.9 percent.
Occupancy gains were driven by heightened absorption in Baltimore, Boston, Jacksonville, Seattle and Silicon Valley, while the two markets driving most of the occupancy gains in 2010 (Washington, DC and NYC), saw occupancy decline moderately quarter over quarter. However, previously leased space in those two markets will help future occupancy as tenants begin to fill that empty space. The recovery can be seen in all markets Jones Lang LaSalle tracks by either a leveled or increased tour velocity. This tour velocity is translating into increased transaction volume with 17 of the markets Jones Lang LaSalle tracks indicating increased leasing volume quarter over quarter (despite first quarter usually being the slowest quarter of the year).
While tour velocity and leasing velocity are on the upswing, rents have stabilized in most markets as asking rents were up in 19 of the 43 markets the firm tracks and tenant improvement allowances and rent abatement declined 3.8 percent and 8.8 percent, respectively, over the quarter, while overall asking rents were up 0.7 percent quarter over quarter.
"The overall sentiment nationwide is positive with most markets showing quarter over quarter signs of recovery," said Sikaitis. "Last year we saw a handful of markets tightening up but now we are seeing it nationwide in markets with heavy tech, energy and biotech showing the strongest signs of recovery. The professional and business sector employment growth rate of 3 percent also makes us bullish overall."
Regional outlookNew York:
Building owners in many areas of the city are seeing inquiries from tenants with larger footprints while smaller firms' tour velocity is slowing. Atlanta's first quarter saw modest negative absorption for the metro, but the urban submarkets once again drove demand, reporting nearly 150,000 square feet of gains. "The future looks bright for Atlanta with more than seven million square feet of requirements in the market. We expect demand to continue at a moderate but steady pace and anticipate rents to inch upwards in the latter half of 2011 or early 2012," said Lanie Rea, Jones Lang LaSalle's Director of Research Operations for the Americas.
San Francisco:
Leasing market activity remains strong, with several large transactions closing and many more backfilling a steady demand pipeline. Tech firms buoyed by robust job growth approaching dot-com peak employment levels is creating a more competitive landscape for tenants and causing many to aggressively pursuing deals in an effort to lock in rents before a potential spike. In the first quarter alone, rents jumped 4.7 percent and compared to a year ago, they are up 12.3 percent. With two consecutive quarters of robust net absorption, amounting to more than 770,000 square feet, and a pipeline of scheduled move-ins creating more occupancy gains ahead, at least 1 million square feet of net absorption is anticipated before year-end. Although city-wide vacancy remains relatively high at 16.8 percent, the most demanded submarkets have tightened considerably to 8.0 percent South of Market and 13.9 percent in the CBD. "Clearly, the pendulum is swinging toward landlords and tenants should move on current opportunities before conditions tighten further," said Colin Yasukochi, Director of Northwest Research.
Silicon Valley:
Silicon Valley has seen dramatic increases in leasing velocity and tenant activity since the beginning of 2011. "Increased consumer demand for new innovation in mobile applications, social networking, and software development has spurred significant revenue growth, prompting aggressive increases in future headcount projections," said Christan Basconcillo, Senior Research Analyst. Within the past month both Motorola and Hewlett Packard finalized leases at one of the Valley's premier class A office campuses in Sunnyvale for 225,150 square feet and 444,088 square feet respectively. Dell, who vacated Silicon Valley after the implosion of the dot com era in 2001 has returned to reestablish their presence by signing a deal for 240,913 square feet in Santa Clara. With existing class A available product decreasing, competition for similar space requirements is expected to become aggressive, as a flight to quality trend has emerged. In response to the large volume of tenant activity and news large deals, rental rates have begun to trend upward. Moving forward, leasing activity will continue at its current pace while several proposed office projects that were put on hold will break ground in order to meet demand.
Washington, D.C
"Leasing activity in the Washington, DC office market slowed during the first quarter as federal leasing activity decelerated in response to a shift in power from the midterm elections and a new push for government austerity. Among private sector tenants demand was limited due to shadow space, rightsizing and more cost conscious decision-making," said Scott Homa, Jones Lang LaSalle's Research Manager for the Mid-Atlantic. The dissolution of one of the largest law firms in the market left the second largest block available in the city (300,000 square feet). The unsustainable growth of the federal government also showed clear signs of abating, with federal employment gains cut nearly in half from the robust levels of early 2010 and government leasing demand down dramatically. Heightened renewal activity and moves by the federal government to consolidate operations in Class A buildings characterized most deals in the market. Close-in submarkets like Rosslyn-Ballston, Bethesda-Chevy Chase and downtown Washington, DC continued to demonstrate strong rental rate growth and many tenants capitalized on above-average concession packages to fund relocations.
Forecast 2011
Despite shocks to the global economy in the Middle East and Japan, businesses in the U.S. are gaining confidence and starting to hire again as employment fundamentals start to solidify. Employment growth will continue to increase from its overall 1.0 percent growth rate, fueling heightened demand in the latter part of this year and into 2012.
Absorption rates will continue to be positive for 2011; however, slow leasing activity at the start of 2011, combined with lower levels of immediate lease rollover in 2011 due to tenants renegotiating their leases early, will mean that most of the absorption gains will be a result of the hiring of more people and not as a result of pending lease expiration dates.
Concessions across nearly all market segments have now peaked. However, leverage with net rent growth will continue to be segmented in 2011 with higher leverage for landlords in core CBD gateway locations with large blocks of space, whereas mid-sized and small-sized tenants will continue to have leverage in most market segments, as well as tenants in most suburban, secondary and tertiary urban locations.
"While 2011 has started off slowly, all the fundamentals are in place for this to be a strong year," said Sikaitis. "We still anticipate absorption to triple over last year and to end this year with a national vacancy rate just north of 17 percent."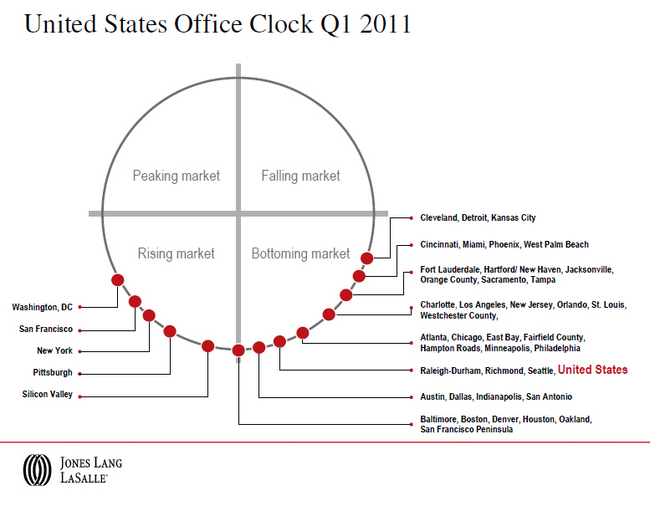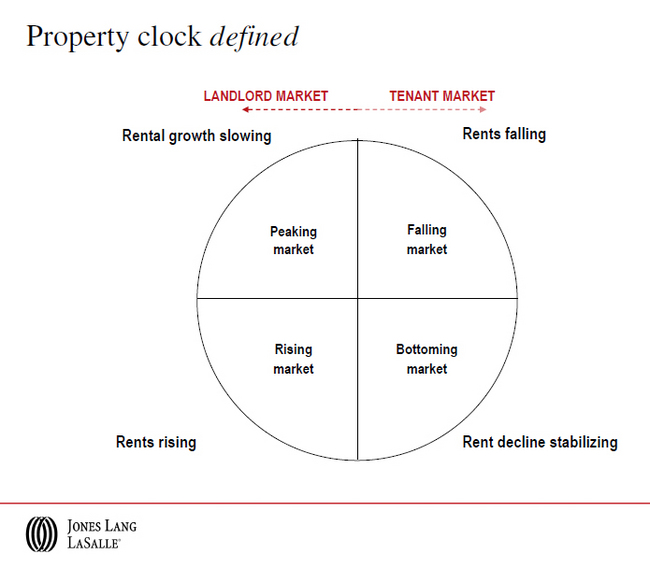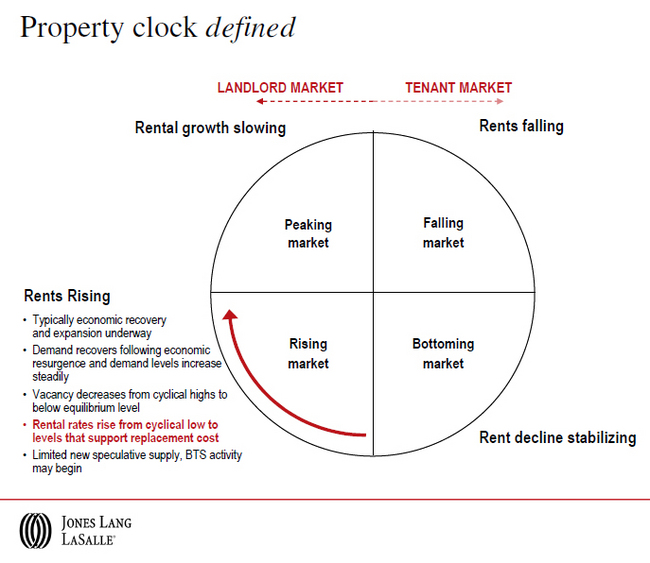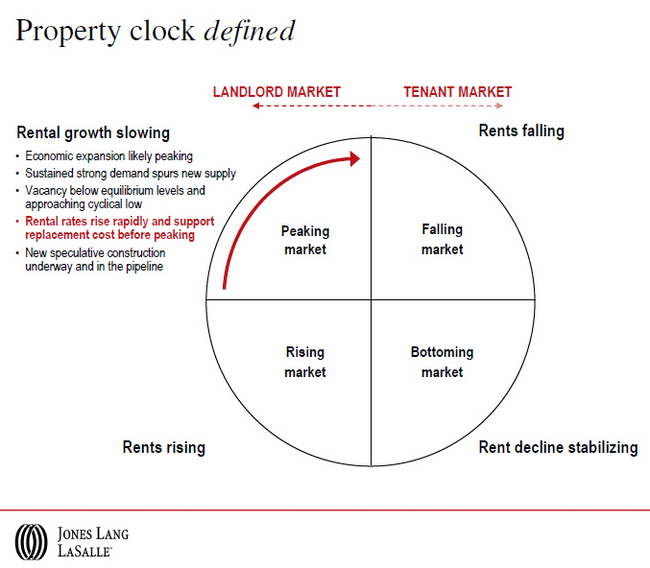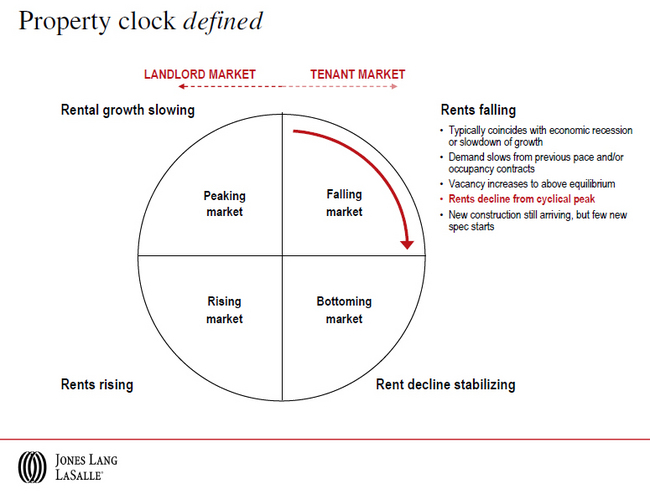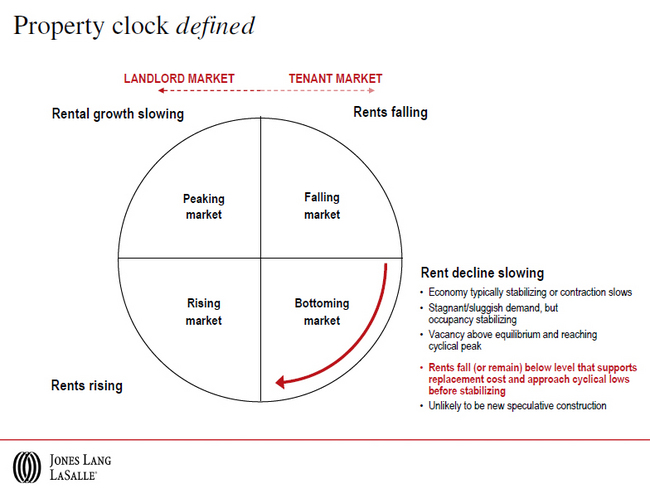 ---
Sign Up Free | The WPJ Weekly Newsletter
Relevant real estate news.
Actionable market intelligence.
Right to your inbox every week.
---
Real Estate Listings Showcase