---
(MIAMI, FL) -- At a recent business conference held in Miami a few weeks ago, several hundred industry experts gathered to hear what may be coming to the Port of Miami beginning in 2014 - a multi-billion dollar game-changing event called the Panama Canal expansion.
But Miami's port had two serious problems.
First -- Miami's port simply isn't deep enough to accommodate the newer and larger container ships passing through the Panama Canal once that expansion is completed in the summer of 2014 (these larger ships need 50 foot port depths).
Second -- the lack of funding to dredge Miami's port to those depths.
In the prior weeks leading up to the Miami business conference, President Obama had just cut out of his budget the $75 million the federal government had already agreed to put up in matching funds to Dade County's and City of Miami's $75 million commitment. The total cost of Miami's 2-mile dredging to a depth of 50 feet is $150 million.
What a Difference a Few Weeks Make
Today, just two weeks after the Miami Port conference, Florida Governor
Rick Scott
announced in a press conference held at 10AM at the Port of Miami that the State of Florida will now step in and commit $77 million short-fall of funding to start dredging the Miami port to a depth of 50 feet.
This will now give the Port of Miami a one to two year head-start over several other east coast U.S. ports scrambling to be recipients of the increased import and export business coming from the Panama Canal expansion.
Panama Canal History
The first attempt to build a trans-Panama shipping route was the construction of the Transisthmian Railroad across Panama by the French Government in 1880, which after much work, abandoned the project in 1893.
In 1903 the U.S. Army Corp of Engineers took over the project and proceeded to dredge and build a series of locks across Panama in order to get U.S. naval war ships between oceans in a more rapid pace.
Upon completion the canal was opened in January 1914, and since then through December 2010, the Panama Canal has had over 1,000,972 ship transits through the canal delivering over 8,587,711,605 tons of goods worldwide.
In the mid 1990s the canal started to experience an interesting new trend. The number of ships passing through was rising at a slower rate than the amount of tons being shipped on each ship. The cause - larger container ships.
In the shipping world, the standard unit of measurement in a container ship's load capacity is a term of 'Twenty foot equivalent units' or TEUs (the length of smaller shipping containers).
Today the Panama Canal's maximum ship size is 4,400 TEUs (Max of 1,000 ft. lengths by 100 ft. widths) which are called 'Panamax' ships. Upon completion of the new third lock system, much larger 12,600 TEU ships can pass (1,400 ft. lengths by 160 ft. widths) which are known as 'Post-Panamax' ships.
These larger ships allow for the delivery of containers at reduced prices because of the sheer scale of delivery capacity that these new shipping vessels have to divide their transportation cost over.
And these ships are getting even bigger. It was also just reported this past month that the largest shipping line in the world (Danish based Maersk) has just placed an order to a Korean ship builder for ten new 18,000+ TEU ships for $1.9 billion dollars.  These ships are fifty percent larger than the post-Panamax ships (these will be called 'ultra-post' Panamax ships).
National and Local Significance
There is nationwide significance in supporting international trade and commerce growth because of the Panama Canal expansion.
According to
John Carver
, director of Jones Lang LaSalle's Port, Airport and Global Infrastructure practice in Los Angeles, the 'New' Panama Canal will have the following impact on U.S. commercial real estate:
Lower cost mode, with "mega" ship economies of scale, driving new network optimization models
Quicker delivery time for all water routes to the U.S. East Coast, increasing viability of numerous mid-Atlantic ports
Competitive opportunities for a variety of container and non-container port uses, yielding new job generation. Allowance for diversification strategy among supply chain interests
Higher traffic volumes through the canal means greater pressure on port "through-put"
The Port of Miami is one of only three ports on the Eastern Seaboard that has received Congressional Authorization in November 2007 (WRDA) for deepening its harbor (New York & New Jersey is under construction & Norfolk, VA is already at 50ft depths).
But there is new competition for Panama's new larger ship traffic coming from  Savannah, GA and Charleston, SC -places that are also looking for ways to finance the dredging of their ports to accommodate these larger post-Panamax ships.  Their dredging costs are projected to be in the mid to upper hundreds of millions of dollars, compared with Miami's dredging cost of $150 million, of which the State of Florida has just committed $77 million this past week.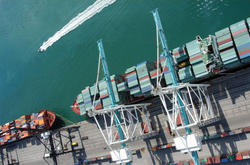 In addition, Miami already has funding in place and recently started a billion dollar tunnel boring project that will connect Miami's port truck traffic directly to Interstate - 95 via a 4-lane under water highway running under Miami's cruise ships. This is to stop the estimated 17,000 trucks a year driving through Miami's downtown from the port to access I-95. The tunnel boring project is expected to be completed in 2014 and will create an additional 33,000 new jobs for Miami-Dade County.
The Port of Miami accounted for 47% of the value of all Florida ports international container trade. The Port of Miami international container trade by value is 33 times that of the Port of Tampa, 4 times that of the Port of Jacksonville and 1.5 times that of the Port Everglades.
Port Volumes Drive Commercial Real Estate Markets
In a hyper competitive shipping world with rising energy costs, it comes down to a single sentence - optimizing your supply chain management cost structure. In other words: 'time is money'.
When looking at how ports impact a local commercial real estate economy, you must look at the entire value chain of vendors and services related to shipping a product from one Country to another.
According to a report by Jones Lang LaSalle, the real estate component of this entire shipping process is relatively small, only 5%.
At an average daily operating cost of over $250,000 for these ships, it is the efficiency with which container ships can enter a port, rapidly dock, off load containers; reload with outboard containers, then turnaround back to other ports or home ports that generates the most cost savings for shippers of goods and materials worldwide.
Part of that 'just in time' delivery equation rests with big-box warehouse space that is easily accessible by both rail and truck to store various products before being re-packed and trucked (or railed) off to other U.S. distribution cities or final end destinations.
John Carver
further commented, "The expansion of the Panama Canal can be expected to stimulate a coast inward recovery for the commercial real estate industry as new supply chain models are created to take advantage of the improved all-water route to the US east coast. Miami in particular, is further positioned to capture market share not only as a first port of call for increased east-west traffic, but also from its recognition as the leading gateway to the Americas."
Miami's Play
The numbers are staggering, and if they hold true over the next ten years, Miami will be in a position of becoming the top east coast port.
According to
Steve Medwin
, managing Director of Jones Lang LaSalle's Miami office, "The expansion of the Panama Canal could be a game-changer for South Florida industrial real estate if the port dredging is completed, since Miami is the closest East Coast port to Panama and would be able to accommodate the Post-Panamax ships which hold roughly 3 times the number of TEU's as the largest ships that currently fit through the canal and dock in Miami now."
Medwin further commented, "We expect to see an increase in demand for industrial space to accommodate the increased volume of container traffic flowing through the Port of Miami. The increased trade will also lead to expansion of ancillary businesses not directly tied to the Port such as customs brokers, freight forwarders and logistics firms, all who will need additional warehouse and office space in Miami."
The current inventory of warehouse space in Miami-Dade County is about 200 million square feet with a 9.5% vacancy rate. The national average is about a 10.5% vacancy rate.
The stock of modern, institutional-quality buildings in Miami is only about 50 million square feet of the 200 million SF total available.
According to Medwin, these buildings are the most likely to benefit from the increased port traffic since they can handle the newest trucks and containers.
"We expect these quality buildings will be absorbed before 2014 in anticipation of the increased port traffic and will lead to new development of 2 to 5 million square feet in the next 5 years. Add to the equation Brazil hosting the 2014 World Cup and 2016 Summer Olympics and the natural demand for goods in that country alone will continue to stimulate growth in the import/export industries. This will only add to the demand for warehouse space in South Florida. Since we already have a limited supply of industrially zoned land, selling prices of land and warehouses will increase in the coming years - and lease rates will increase as well" stated Medwin.
Gary Goldfarb
, EVP of WTDC, a Miami-based supply chain management firm stated, "The expansion of the Panama Canal can create enough business to fill additional Industrial Parks in Industrial West Dade.  If we can obtain FTZ status for those parks, then we can also compete with Colon Free Zone in Panama.  We cannot miss this opportunity presented to us."
The passionate
Bill Jones
, Director of Miami's Port said, "I like to think of us as building a stool with legs that include our port's infrastructure improvements and expansion plans that will dramatically drive Miami's (and all of Florida's) economy forward for decades to come with an additional $30 billion economic impact over the next decade. We will also be creating over 30,000 new local Miami/Dade County jobs with an average annual salary of over $55,000 a year...now that's the type of impact that Washington can't ignore!"
With the Port of Miami now having all four legs of their stool solidly in place and funded (underwater trucking tunnel, new intermodal railway spur, deep water dredging funding and soon completion of Panama canal expansion), Miami is truly poised to truly become the Shanghai of the U.S. east coast, bridging massive trade between eastern and western hemispheres.
---
Sign Up Free | The WPJ Weekly Newsletter
Relevant real estate news.
Actionable market intelligence.
Right to your inbox every week.
---
Real Estate Listings Showcase