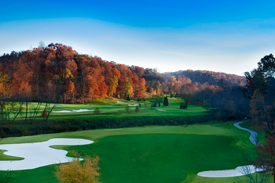 Achasta, Reynolds Signature Community to Host Major Golf Event
(DAHLONEGA, GA) -- A new collegiate match-play style golf tournament featuring 48 schools from all three divisions of the NCAA debuts next month at Achasta, a Reynolds Signature Community one hour north of Atlanta.
Presented by the National Golf Coaches Association, the first Hooters Collegiate Team Championship is a 54-hole event scheduled Aug. 3-5, 2010, when teammates from some of the nation's leading women's golf programs pair up to play three different formats. Consisting of 54 twosomes for a field of 108 players (six schools have two entries), the tournament will begin with an alternate shot format on day one, followed by better ball format on day two, closing with a combined score format on day three.
"Achasta is an ideal setting for this special type of competition," said Tom Fowler, head golf professional at Achasta and coach of both the men's and women's programs at North Georgia College & State University. "The golf course has a history of hosting elite competition, as a qualifying site for the PGA TOUR, the U.S. Open and the Georgia State Amateur. I expect it to be a great course for this collegiate event, as well."
Representing women's programs from coast to coast, the inaugural field for the Collegiate Team Championship is headed by nine of the Top 25 teams in NCAA Division I, two Top 10 schools from Division II a and five of the Top 10 in Division III, based on the Golf World/NGCA final spring polls.
Among the Division I schools are No. 4 Duke, No. 6 Alabama and No. 9 Wake Forest, with D-II represented by No. 5 Tarleton State of Texas and No. 7 Belmont University of Tennessee, while the deep D-III field features No. 2 Gustavus Adolphus of Minnesota, No. 3 Wisconsin-Eau Claire, No. 5 DePauw of Indiana, No. 7 Illinois Weslyan and No. 10 Olivet College of Michigan.
A Jack Nicklaus Signature golf course, Achasta is a 6,995-yard, par 72 surrounded by dramatic, tree-lined ridges along the Chestatee River valley. Although relatively flat, Achasta is a thorough challenge, with the Chestatee coming into play on most holes -notably on the picturesque island in the middle of the river, on which the fourth green, entire fifth hole and sixth tee are situated.
Scheduled to compete are Division I all-Americans Brooke Pancake of Alabama, Emilie Burger of Georgia and Brittany Altomore of Virginia, as well as D-II all-American Carla Cooper of Tarleton State and D-III all-American Katie Schenfeld of Gustavus Adolphus.
"The NGCA believes there is a lack of high quality amateur tournament opportunities for women's collegiate golfers during the summer," said Roger M. Yaffe, NGCA Executive Director. "By creating this event, we are offering a unique format and professionally operated event that also captures the spirit of college golf."
The multi-format, multi-division tournament replaces the Hooters NGCA Match Play Championship, which was held the previous seven years as an in-season event and was the only match play competition on the women's schedule.
Achasta is a Reynolds Signature Community from the creators of Reynolds Plantation, providing an award-winning lifestyle with world-class amenities. Located along the banks of the Chestatee River, Achasta is in historic Dahlonega, Ga., site of the first American gold rush. Home of the AT&T Classic Qualifier, this upscale community also features a clubhouse with casual dining, practice facilities, a golf shop and a member swim and tennis center. The upcoming Mountain View Club will be the hub of the community and member social activity, with an indoor and outdoor pool, spa, fitness center, café and tennis center.
---