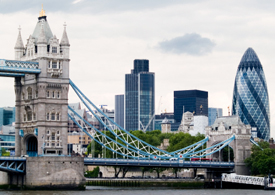 London Property Prices May Jump, Predicts Savills
After a dip in 2011, prices for houses in central London should jump by 33 percent by the end of 2015, Savills Research predicts.
While much of the U.K. will continue to struggle, "overseas wealth inflows and a strong private sector economy, particularly in the financial and business services sectors" will drive up London valuations, Savills says in its 2011 residential forecast.
Around the U.K., prices started to slide in the second half of 2010, raising concerns of a "double dip." From mid-2010 to the end of 2011, "mainstream" property values in the U.K. will likely drop 7.3 percent, with London prices sliding a total of 3.5 percent, the property company says.
But prime London houses will only fall about 1 percent in 2011 and quickly bounce back into positive territory, according to Savills data.
"Unlike the doomsters, we are not forecasting a deep double dip and there will be tiers of the market--like grade A prime London properties--that may well escape the downturn virtually unscathed," Yolande Barnes, head of residential research at Savills, said in the report.
---