---
According to Redfin, the median U.S. asking rent rose 0.4% year over year to $2,011 in September--the sixth straight month in which rents were little changed from a year earlier. Prior to that, rent growth had been slowing rapidly for roughly a year, coming back down to earth after a surge in prices during the pandemic. The median asking rent fell 2% from a month earlier in September.
"Rents have flattened because a boom in apartment building in recent years has flooded the market with supply, but they haven't yet posted a substantial decline because there's still demand for rentals--especially as high mortgage rates keep many would-be homebuyers and sellers on the sidelines," said Redfin Economics Research Lead Chen Zhao. "There are still a lot of apartments under construction that will continue to hit the market, which should keep rents from increasing much in the near-to-medium term. But construction has started to slow, which should eventually help bolster rent prices."
The Number of New Apartments Hitting the Market Continues to Rise--But Construction Has Started to Slow
The number of completed apartment buildings in the U.S. rose 32% year over year to a seasonally adjusted annual rate of 433,000 in August, the most recent month for which data is available. But the number of apartment buildings on which construction has started declined 41% year over year to a seasonally adjusted annual rate of 334,000. Building starts are a leading indicator of what's happening in the housing market, whereas building completions are a lagging indicator.
Building may be slowing, but landlords are still facing more competition than they're used to as new rentals continue to hit the market. Sometimes, their competition is an individual homeowner who's renting their home out instead of selling--either because they don't want to lose their low mortgage rate, they didn't get a good offer, or both.
"Last year, conversations with home sellers were hard. I had a lot of discussions about how they needed to lower their price expectations because the market had turned," said David Palmer, a Redfin Premier real estate agent in Seattle. "But this year, they have a better understanding of the market. We're now having the property management conversation earlier: 'Do you have a rental plan if we can't sell your home?'"
As rising rental supply leads to rising vacancies, some landlords are handing out concessions, such as a free month's rent, to attract tenants without having to lower asking rents on paper.
That's good news for renters at a time when the median asking rent is still just 2.1% ($43) below its record high.
The jump in supply isn't the only factor that has caused rents to flatten; slowing household formation, economic uncertainty and affordability challenges have also contributed.
Rents Rise in the Midwest, Fall in the West
In the Midwest, the median asking rent rose 5% year over year to a record $1,436. There was also an increase in the Northeast, where the median asking rent climbed 3.1% to $2,482. Asking rents fell 1.6% to $2,413 in the West and declined 0.3% to $1,653 in the South.
The rental market has softened substantially in the West and South in part because those markets saw outsized rent growth during the pandemic. Rents skyrocketed as people flooded into Sun Belt cities including Phoenix, Miami and Dallas. But once the rental boom in those regions cooled, prices had relatively more room to fall. Apartment construction in the Sun Belt has also been especially robust, contributing to the cooldown in rents. In the West, tech layoffs have likely contributed to the region's sluggish rental market.
While rents in the West and South have been cooling, these regions' rental markets have started to stabilize in recent months as the impact of the pandemic price boom moves further into the rearview mirror and layoffs ease.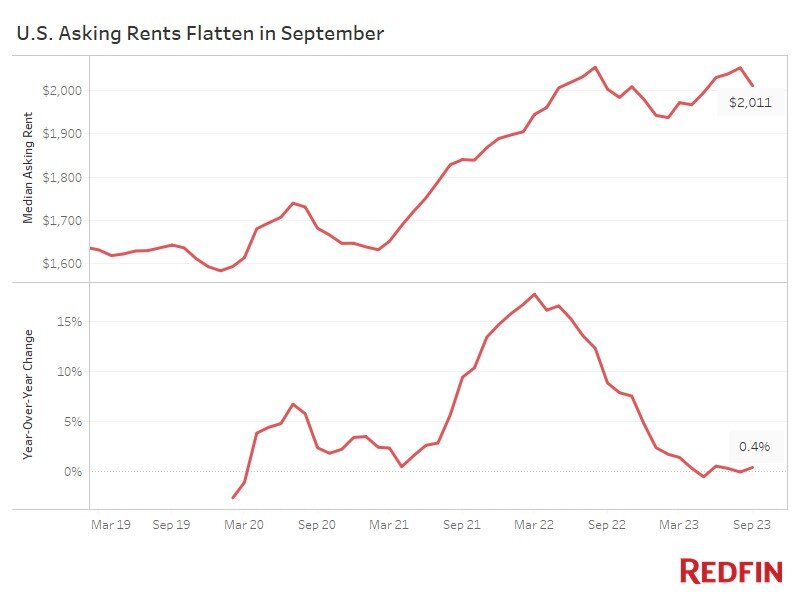 Sign Up Free | The WPJ Weekly Newsletter
Relevant real estate news.
Actionable market intelligence.
Right to your inbox every week.
---
Real Estate Listings Showcase