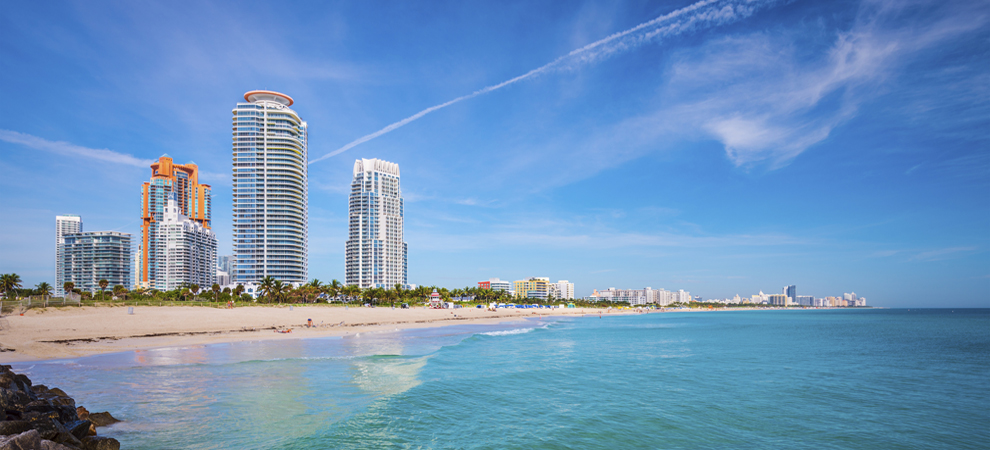 Miami's Home Sales at Record Levels in 2014
According the Miami Association of Realtors, strong demand from both domestic and foreign buyers continues to fuel Miami's property price growth, as demand for new construction properties continues to gain momentum.
Median sale prices again increased for both single-family homes and condominiums in July. Prices remain at affordable 2004 levels despite 37 months of consistent increases for condominiums and 32 months for single-family homes.
The median sale price for single-family homes increased 11.3 percent, up to $255,950 from $230,000 in July 2013. The average sale price for single-family homes increased 19.7 percent from $406,532 in July 2013 to $486,820 last month.
Compared to July 2013, the median sale price for condominiums increased by 5.6 percent to $190,000 from $180,000 a year prior. The average sale price for condominiums increased 6.9 percent to $345,610 from $323,338 in July 2013.
"Demand for Miami housing continues to strengthen, as evidenced by rising prices and rapid sales activity," said Liza Mendez, 2014 Chairman of the Board of the Miami Association of Realtors. Condominium resales in Miami are being impacted by all of the new and pre-construction projects now being marketed - and there are actually more sales and contracts when both the new and resale condominiums are added."
Strong Sales Compared to Record Sales Activity
Single-family home sales in Miami-Dade County increased 9.5 percent relative to July 2013, from 1,169 to 1,280. Compared to June 2013, condominium sales declined 8.8 percent from 1,538 the previous year to 1,403 last month. Combined, residential real estate sales decreased 4.8 percent to 2,632 compared to 2,765 in July of last year.
Miami Real Estate Selling Fast, Close to List Price
Miami real estate continues to sell at a rapid pace and at nearly asking price, reflecting strong demand.
The median number of days on the market for single-family homes sold in June was just 43 days, an increase of 22.9 percent from July 2013. The average percent of original list price received was 95.2 percent, down a negligible 0.9 percent from a year earlier.
The median number of days on the market for condominiums sold in July was 59 days, an increase of 31.1 percent compared to the same period in 2013. The average sales price was 93.5 percent of the asking price, a decrease of 3.7 percent.
"We expect the current momentum of the Miami real estate market to continue as job growth and other economic factors improve," said Miami Realtors Residential President Francisco Angulo. "Miami remains a leading global city and destination, and our real estate market plays a major role in this reality. Miami also remains a focal point for both U.S. and foreign buyers, investors, tourists and business, a fact that will continue to fuel demand for local housing and properties."
National and State Figures
Nationally, sales of existing single-family homes, townhomes, condominiums, and co-ops increased 2.4 percent from June but were 4.3 percent below what they were in July 2013, according to the National Association of Realtors (NAR). Statewide closed sales of existing single-family homes totaled 22,099 in July, up 5 percent compared to the year-ago figure, according to Florida Realtors. Statewide sales of condominiums totaled 8,984, down 6.7 percent from July 2013.
The national median existing-home price for all housing types was $222,900 in July, a 4.9 percent increase from July 2013, according to NAR. The statewide median sale price for single-family existing homes last month was $185,000, up 3.6 percent from the previous year, while that of townhouse-condo properties was $137,500, up 7.4 percent over the previous year.
Cash Sales Decline
Cash sales in Miami continue to decline as more financing becomes available. Still, access to mortgage loans for condominium buyers remains limited, impeding further market strengthening.
In Miami-Dade County, 54.5 percent of total closed sales in June were all-cash transactions, compared to 60 percent in June 2013. Cash sales in Miami are still significantly higher by 26 percent compared to the national average of 29 percent. All-cash sales accounted for 40 percent of single-family home and 67.1 percent of condominium closings, compared to a year earlier when cash sales were 43.3 percent of single-family home sales and 73.6 percent of condominium sales.
Since nearly 90 percent of foreign buyers in Florida purchase properties all cash, this continues to reflect the much stronger presence of international buyers in the Miami real estate market.
Short Sales Continue to Decrease
While traditional sales continue to increase, distressed property transactions in July again declined in Miami-Dade due to fewer short sales. In July, only 31.4 percent of all closed residential sales in Miami-Dade County were distressed, including REOs (bank-owned properties) and short sales, compared to 35.1 percent in July 2013.
Short sales and REOs accounted for 8.0 and 23.4 percent, respectively, of total Miami sales in July. Sales of REOs increased 21 percent while that of short sales declined by 55 percent.
Nationally, distressed homes accounted for 9 percent of July sales compared to 15 percent in July 2013.
Active Inventory Rises
After three years of record sales activity that resulted in an inventory shortage, seller confidence is resulting in more properties being listed for sale in Miami.
Active listings at the end of July increased 26.5 percent, from 13,575 in 2013 to 17,167 last month but remain 60 percent below 2008, when sales bottomed. Inventory of single-family homes increased 20.7 percent from 5,123 in July 2013 to 6,181 last month. Condominium inventory increased 30 percent to 10,986 from 8,452 active listings during the same period in 2013. At the current sales pace, there is still a 5.6-month supply of single-family homes, an increase of 14 percent from 4.9 months in July 2013, and a 7.8-month supply of condominiums, up from 6.0 months in July 2013, an increase of 31.7 percent. A balanced market between buyers and sellers offers between six and nine months' supply of inventory.
New listings of single-family homes increased 6.6 percent, up to 2,738 in July 2014 from 1,913 during the same period in 2013. New condominium listings decreased a 3.5 percent from 2,838 in July 2013 to 2,738 last month.
At the end of the July, total housing inventory nationally rose 3.5 percent to 2.37 million existing homes available for sale, which represents a 5.5-month supply at the current sales pace.
New Construction Market Update
Strong sales in the coastal new construction condominium Miami market (east of I-95) reflect significant demand for new properties, according to the latest New Construction Market Status Report released today by Cranespotters.com and MIAMI.
Although existing condominium sales remain consistent compared to record sales activity over the last three years, slight declines in existing sales can be attributed to new construction supply becoming available over the last year.
Further, deposit structures and a high percentage of cash sales in the current new construction market is indicative of a very sound market that is very unlike the condo boom of the last decade.
"The south Florida preconstruction condo market is gaining momentum some three years after this current boom began in 2011. Unlike the last boom that was fueled by loose bank financing, this current condo cycle is being driven by buyers who are putting down hefty deposits of some 50 percent of the presale contract price," said Peter Zalewski, founder of
Cranespotters.com
. "Overall, developers in South Florida have already completed 16 new condo towers with nearly 800 units and are currently constructing an additional 70 towers with some 9,300 units. The primary focus for many developers right now is to prepare their projects for the all-important winter tourism season in South Florida that kicks off in November."
Currently, there are 173 new construction towers that have been announced in Miami-Dade County east of I-95, of which:
53 have not been approved
59 are planned but have not begun development
54 are under construction
7 were completed in 2014
Of the above, 76 projects or 90 towers totaling 14,205 units are currently selling. To date, 63 percent or 8,883 units have been sold. The mean price per square foot of these units is $825.