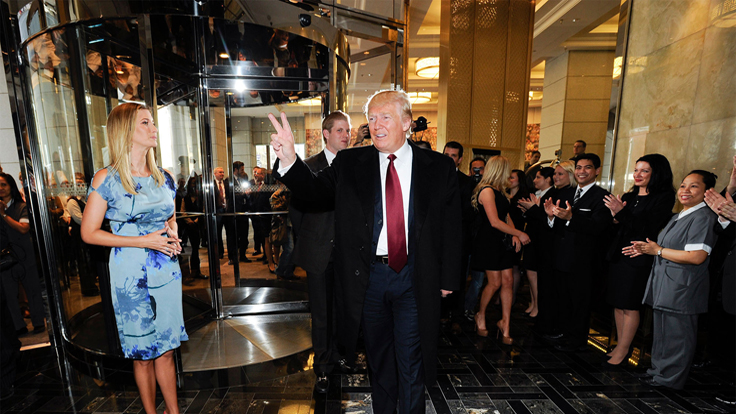 New York Sues Trump Over Real Estate 'University'
The New York attorney general has filed a civil suit against Donald Trump and his real estate school, alleging the mogul's "university" was a fraud.
More than 5,000 participants paid for three-day seminars, where they were urged to pay anywhere from $10,000 to $35,000 for "elite" real estate courses. But they received little substantive training, the suit alleges. The lawsuit seeks $40 million in restitution.
"Trump University engaged in deception at every stage of consumers' advancement through costly programs and caused real financial harm," New York Attorney General Eric Schneiderman told reporters. "Trump University, with Donald Trump's knowledge and participation, relied on Trump's name recognition and celebrity status to take advantage of consumers who believed in the Trump brand."
The Trump Organization fired back at the charges, saying that the program has a "98 percent approval rating." The company also set up a
Web site
to defend the charges.
The Trump counter attack focused specifically on the "gross incompetence" of Mr. Schneiderman.
"The action has no merit and is nothing more than a cheap publicity stunt to deflect from [Mr Schneiderman's] weak job performance," a Trump spokesman said. "Maybe his office should focus more of their attention and the use of our tax dollars on bringing to justice those responsible for the financial meltdown."
Mr. Schneiderman, who said he was responding to complaints about the courses, characterized the university as an "elaborate bait and switch."
"Mr. Trump used his celebrity status and personally appeared in commercials making false promises to convince people to spend tens of thousands of dollars they couldn't afford for lessons they never got," Mr. Schneiderman said in a statement.
The suit alleges that from 2005 to 2011 Trump marketers made "false claims" and made "false promises" about the courses. In 2010 the name was changed the Trump Entrepreneur Initiative after states charged that the courses did not meet the legal requirements for a "university."
The
Better Business Bureau
rated the courses a D-minus, its second lowest rating, in 2010 after receiving 23 complaints. In 2011, the
New York Times
reported on upset participants, who said they were promised individualized training and investment support they never received.
Among other charges, the suit alleges Trump University promised students they would learn "from Donald Trump's handpicked instructor" who would teach "a systematic method for investing in real estate that anyone can use."
But Mr. Trump "did not handpick even a single instructor at these seminars and had little or no role in developing any of the Trump University curricula, or seminar content," Mr Schneiderman said in a statement.