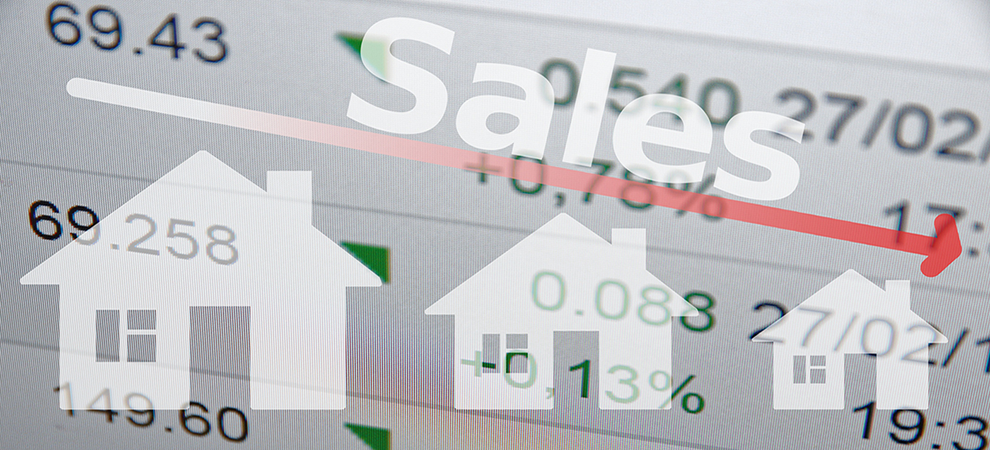 Pending Home Sales in U.S. Continue to Tumble, Third Straight Month
According to the National Association of Realtors, the ongoing supply shortages that are propping up U.S. home prices in many metro areas has caused pending home sales in May 2017 to slump for the third consecutive month. None of the major regions saw an increase in contract activity last month.
The
Pending Home Sales Index
, a forward-looking indicator based on contract signings, decreased 0.8 percent to 108.5 in May 2017 from a downwardly revised 109.4 in April 2017. The index is now 1.7 percent below a year ago, which marks the second straight annual decline and the most recent since November and December of last year.
Lawrence Yun, NAR chief economist, says it's clear the critically low inventory levels in much of the country somewhat sidetracked the housing market this spring. "Monthly closings have recently been oscillating back and forth, but this third consecutive decline in contract activity implies a possible topping off in sales," he said. "Buyer interest is solid, but there is just not enough supply to satisfy demand. Prospective buyers are being sidelined by both limited choices and home prices that are climbing too fast."
The persistent housing shortages seen in several markets are most severe, according to Yun, in the lower price ranges. That's very apparent when looking at the percent change in closings in May compared to a year ago. Sales of homes under $100,000 last month were down 7.2 percent from last year and up only 2.0 percent for those between $100,000 and $250,000. In higher price brackets, sales expanded incrementally all the way up to massive increases of 26.0 percent for homes priced between $750,000 and $1 million and even more for those $1 million and up (29.1 percent).
Weaker financial and economic confidence could also be playing a role in the slowdown in contract activity. NAR's quarterly Housing Opportunities and Market Experience survey, released earlier this week, found that fewer renters think it's a good time to buy a home, and respondents overall are less confident about the economy and their financial situation than earlier this year.
"The lack of listings in the affordable price range are creating lopsided conditions in many areas where investors and repeat buyers with larger down payments are making up a bulk of the sales activity," said Yun. "Meanwhile, many prospective first-time buyers can't catch a break. Prices are going up and there's intense competition for the homes they're financially able to purchase."
Existing-home sales are forecast to be around 5.63 million this year, an increase of 3.2 percent from 2016 (5.45 million). The national median existing-home price this year is expected to increase around 5 percent. In 2016, existing sales increased 3.8 percent and prices rose 5.1 percent.
"A much higher share of homeowners compared to a year ago think now is a good time to sell1, but until they do, sales will likely stay flat and low inventory will keep price growth moving swiftly," said Yun.
The PHSI in the Northeast decreased 0.8 percent to 96.4 in May, but remains 3.1 percent above a year ago. In the Midwest the index was 104.5 in May (unchanged from April), and is 2.8 percent lower than May 2016.
Pending home sales in the South declined 1.2 percent to an index of 123.4 in May and are now 1.4 percent below last May. The index in the West subsided 1.3 percent in May to 98.6, and is now 4.5 percent below a year ago.
Realtor.com Senior Economist Joseph Kirchner, Ph.D. said, "Today's reported decline in contract signings is the third monthly slip in a row. This could be evidence of a downward trend - but there's no reason to panic yet."
Kirchner continued, "For one, the pending home sales index has been relatively stagnant since 2015, and has dropped to this level during that time. Plus the numbers aren't a perfect gauge of what's actually happening in the market. Sales can continue to grow while pending sales numbers are going down if the time between signing a contract and officially closing the sale shortens."
"However, today's numbers are yet another indication that the lack of homes for sale is having a major, negative impact on the market. The future direction will be brighter if and when we see a significant uptick in inventory, but that unfortunately doesn't seem to be right around the corner", concluded Kirchner.