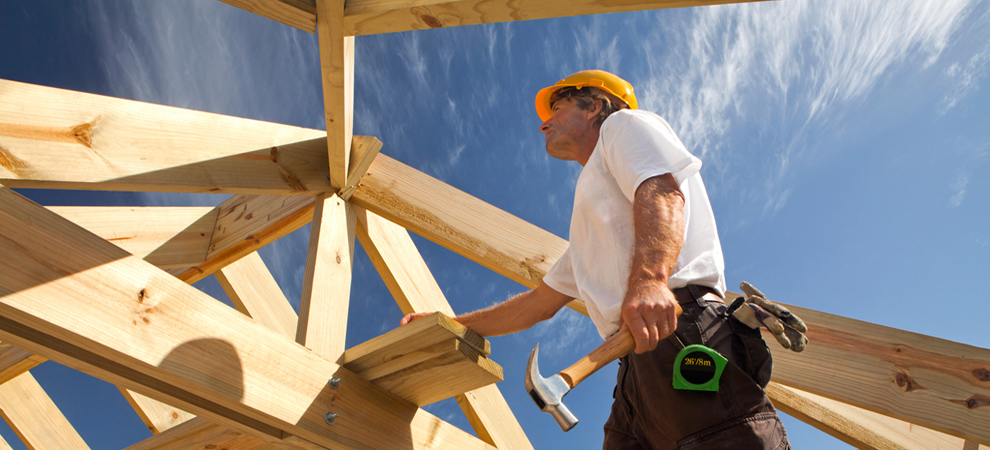 Orlando New Home Prices Increase in Early 2018
Home Production Moves to Higher Price Points
According to Metrostudy's 1Q18 survey of the housing market in the Orlando CBSA - including Lake, Orange, Osceola, and Seminole counties - 3,419 single-family housing units were started in the quarter, up 10.7% compared to 1Q17. The annual starts rate of 13,610 units has increased by 5.1% over the past year. Single-family quarterly closings totaled 3,165 units which is 6.3% lower than the same quarter last year. The annual closings rate (past 4 quarters) of 12,764 units is 3.4% above the rate recorded a year ago.
Fast FAQs:
Quarterly New Home Starts are up 10.7% YoY while Annual Starts were up 5.1% since 1Q17.
Annual Closings Rate is 3.4% above the 1Q17 rate while Quarterly Closings were down 6.3% from YoY
New home base prices are increasing at most projects in the market, and builders are having a hard time offering detached or townhome housing below $200,000.
"New home starts in the first quarter for the Orlando CBSA were up significantly from the fourth quarter of 2017 and from a year ago, the first quarter of 2017," said Anthony Crocco, Regional Director of Metrostudy's Central Florida market. "This is indicative of the strong backlog many builders brought into 2018 and is a good sign for the market. Closings in the first quarter were also up from the fourth quarter, but behind the first quarter of last year, reflecting labor market and material supply constraints and increasing build times."
The chart below shows the price distribution of annual housing starts in the Orlando CBSA through the first quarter of this year compared to the three previous years. New home base prices are increasing at most projects in the market. It is obvious from the chart that builders are having a hard time finding projects that can offer detached or townhome housing below $200,000.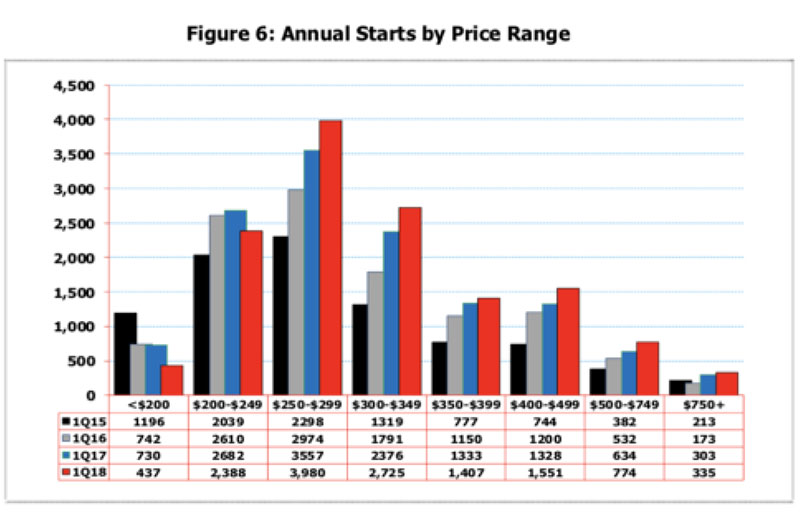 Total single-family inventory, which is comprised of units under construction, finished vacant units and models, equaled 8,161 units at the end of the first quarter, 7.7 months of supply. Housing inventory increased by 11.6% compared to last year. The market's overall housing inventory level (# of units) and relative inventory level (months of supply based on annual closings) have been flat for the past three quarters, and are at about the same level as 3rd quarter of 2016, with fewer finished houses in inventory today than 3Q16. Interestingly, the number of finished vacant houses in the market has declined by about 5%, while the annual closing rate has increased over 15% in that period. The increase in housing inventory has been in under construction units, which is indicative of a market that is building out of backlog and taking longer to construct.
The Orlando market's employment growth remains strong and will likely enhance housing demand over the coming year. This is especially so with income tax reform that should add to most working families' aftertax incomes. Additional demand for houses should come from investors, seasonal residents and international buyers. Opposing these demand drivers is the Fed's increase in the Fed Funds rate, which is impacting buying power and will negatively impact demand in the longer term. However, low inventory levels in many local areas' new and resale housing markets could spur demand in the short term as potential buyers rush to act before mortgage interest rates rise significantly.
At the same time, the pace of new lot development has slowed some in Orlando and is further limiting available supply. We expect lot deliveries to pick over the next few quarters and housing construction to begin to grow again as it did in the early and middle part of 2017.