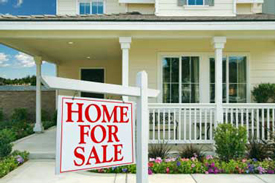 January Existing-Home Sales Fall, Inventory Down
(WASHINGTON, D.C.) -- Existing-home sales declined in January with some buyers waiting to see how details of the economic stimulus package would affect them, according to the National Association of Realtors®. At the same time, inventories fell to a two-year low.
Existing-home sales - including single-family, townhomes, condominiums and co-ops - fell 5.3 percent to a seasonally adjusted annual rate of 4.49 million units in January from a level of 4.74 million units in December, and are 8.6 percent lower than the 4.91 million-unit pace in January 2008.
Lawrence Yun, NAR chief economist, said there was understandable hesitation by some home buyers. "Given so much stimulus package discussion in January, some would-be buyers simply sat out for clarity and certainty on the nature of housing stimulus," he said.
"The housing market will soon get a lift from very favorable buying conditions - not only from improved affordability, but also from the stimulus of an $8,000 first-time home buyer tax credit, and higher conforming loan limits that will allow more people to tap into 50-year low mortgage rates."
NAR estimates the impact of the stimulus package and lower interest rates on the housing market to be about 900,000 additional home sales in 2009 compared to conditions before the stimulus package. Inventory is expected to fall below an 8-month supply by the year end, which would be consistent with home price stabilization.
Total housing inventory at the end of January fell 2.7 percent to 3.60 million existing homes available for sale, which represents a 9.6-month supply at the current sales pace. Because sales were down, the January supply is up from a 9.4-month supply in December.
"The drop in total inventory is an encouraging sign because the number of homes on the market has declined steadily since peaking in July 2008, and inventory is at the lowest level in two years," Yun said. In January 2007 there were 3.54 million homes for sale.
NAR President Charles McMillan, a broker with Coldwell Banker Residential Brokerage in Dallas-Fort Worth, said foreclosure relief needs to be fair. "Though President Obama's foreclosure relief plan is a step in the right direction with a net positive benefit for the housing market, serious issues of moral hazard and fairness need to be better addressed," he said.
"The plan should be wider in scope with equal opportunity for all rather than targeting specific groups. Responsible homeowners who have been making payments consistently on time but do not have traditional refinance options should also qualify for potential loan modifications," McMillan said.
According to Freddie Mac, the national average commitment rate for a 30-year, conventional, fixed-rate mortgage fell to a record low at 5.05 percent in January from 5.29 percent in December; the rate was 5.76 percent in January 2008.
A high prevalence of distressed home sales, and of those in lower price ranges, has skewed the median price to be markedly lower than under normal market conditions. The national median existing-home price for all housing types was $170,300 in January, down 14.8 percent from a year earlier when the median was $199,800; the median is where half of the homes sold for more and half sold for less.
McMillan said we are living in a bifurcated market divided between distressed sales and traditional homes. "It appears that in many instances a buyer can get a really good deal on a distressed sale, although that home may require some significant effort to bring it up to standard." A preliminary analysis by NAR suggests that non-distressed properties are holding their value much better.
"Distressed sales activity appears to be leveling off, although there are wide differences locally. For example, close to 80 percent of all sales are either foreclosed properties or short sales in Santa Ana, Calif., but less than 20 percent in the Chicago region," Yun said. About a quarter of all inventory is listed as being distressed, but NAR estimates that distressed sales - foreclosed or those requiring a lender-mediated short sale - comprised about 45 percent of all sales in January. "Home buyers are evidently competing for homes with deep discounts," he said.
Yun said it will take a while for the stimulus to show in housing data. From the time a buyer starts looking for a home until it is reported as a closed sale can take as long as five months: a median of 10 weeks to search and make an offer, about 6 weeks to close the transaction and up to 4 weeks to collect and report the data. "This means improvement from the economic stimulus isn't likely to show as closed home sales before summer, although we may see an earlier lift from lower mortgage interest rates," he said.
Significant local market variations continue. "A majority of markets experienced sales declines of more than 20 percent from a year ago, but some markets appeared to have reached the tipping point of accelerating home buying," Yun said. "For example, home sales in Las Vegas have more than doubled with some reports of multiple bids."
Single-family home sales fell 4.7 percent to a seasonally adjusted annual rate of 4.05 million in January from a pace of 4.25 million in December, and are 7.1 percent less than a 4.36 million-unit level in January 2008. The median existing single-family home price was $169,900 in January, which is 13.8 percent below a year ago.
Existing condominium and co-op sales dropped 10.2 percent to a seasonally adjusted annual rate of 440,000 units in January from 490,000 units in December, and are 20.3 percent lower than the 552,000-unit level a year ago. The median existing condo price was $174,400 in January, down 20.6 percent from January 2008.
Regionally, existing-home sales in the Northeast dropped 14.7 percent to an annual pace of 640,000 in January, and are 23.8 percent lower than January 2008. The median price in the Northeast was $228,200, down 14.7 percent from a year ago.
Existing-home sales in the Midwest fell 5.7 percent in January to a level of 1.00 million and are 16.7 percent below a year ago. The median price in the Midwest was $138,100, which is 6.8 percent lower than January 2008.
In the South, existing-home sales declined 5.7 percent to an annual pace of 1.64 million in January, and are 15.9 percent below January 2008. The median price in the South was $152,100, down 7.4 percent from a year earlier.
Existing-home sales in the West were unchanged at an annual rate of 1.20 million in January and are 29.0 percent stronger than a year ago. The median price in the West was $220,000, which is 25.5 percent below January 2008.
The National Association of Realtors, "The Voice for Real Estate," is America's largest trade association, representing 1.2 million members involved in all aspects of the residential and commercial real estate industries.
For more real estate industry news and trends from the National Association of REALTORS, visit
www.Realtor.org
.
---