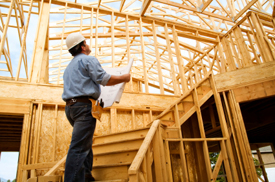 U.S. Commerce Department Releases New Residential Sales Data for January 2009
(News Source: U.S. Department of Commerce)
(WASHINGTON, D.C.) -- Sales of new one-family houses in January 2009 were at a seasonally adjusted annual rate of 309,000, according to estimates released jointly today by the U.S. Census Bureau and the Department of Housing and Urban Development. This is 10.2 percent (±15.4%) below the revised December rate of 344,000 and is 48.2 percent (±6.8%) below the January 2008 estimate of 597,000.
The median sales price of new houses sold in January 2009 was $201,100; the average sales price was $234,600. The seasonally adjusted estimate of new houses for sale at the end of January was 342,000. This represents a supply of 13.3 months at the current sales rate.
Statistics on the inventory of new homes for sale have been revised back to April 2008 with this month's release. An error in the tabulation of data for houses removed from the sales market caused the numbers of houses for sale in April through November 2008 to be overestimated. Estimates of the months' supply of houses for sale and the median number of months for sale have also been revised to reflect these corrections.
---