---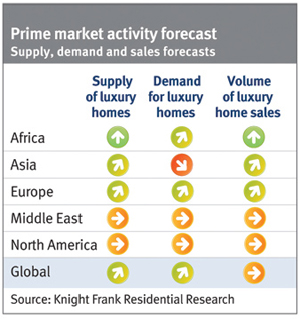 According to London-based real estate firm Knight Frank, prime global city markets in 2012 are likely to outperform their mainstream national counterparts, but don't expect all prime residential markets to deliver positive growth.
Knight Frank tells the
World Property Channel
that before 2007 the global housing market was a much simpler subject to analyze. Prices and demand rose year-on-year pretty much everywhere and at almost every level of the market. Then came the credit crunch, and things became more complex.
Following the introduction of stimulus measures - the global response to the crisis in late-2008 - a geographical separation opened between the markets in the weakened West and those in the newly resurgent Asia-Pacific, where lower interest rates began to stoke a second boom in pricing.
The stimulus measures also opened a divide between mainstream markets and prime, or luxury, markets globally. Affluent purchasers took advantage of ultra-low mortgage rates, and central bank asset purchases created a wave of investment funds which drove pricing in 'safe-haven' assets higher.
As wealth portfolios recovered after 2009, demand for prime property rose across the world, leading to a sharp upturn in cross border property investment flows.
Asian demand for new-build development purchases in central London is an obvious manifestation of this latter trend. The same phenomenon has been witnessed in Asia, with more than 30% of Singapore's prime market purchases going to non-domestic buyers, and in North America, where rising demand from wealthy Brazilian investors is helping to drive prices in New York and Miami.
See related news story on WORLD PROPERTY CHANNEL:
Liam Bailey, head of residential research at Knight Frank says, "Growing global uncertainty and government intervention in the property market, especially in Asia, will weigh on prices in some areas. But some cities, such as Moscow and Bangkok, will shrug off these concerns to register growth of between 10 and 20% in 2012. Paris, Kiev and St Petersburg are all expected to rise by 5 to 10%, with London slotting in next with a rise of 5%."
Bailey further states, "However, Shanghai, Mumbai, Manama, Hong Kong and Geneva are tipped to fall by between 10 and 20%."
Worsening sovereign debt conditions in Europe, weak banking sector performance and a sluggish global economy are weighing heavily on global housing markets. Price growth in the world's mainstream housing markets averaged 0.9% in the year to September, down from 3.5% a year earlier.
With national markets flagging, conditions in the world's luxury city markets are holding up a little better. In 2012, Knight Frank expects prices to either rise or remain flat in around half the cities they monitor.
Following the 2008 credit crunch, the relative outperformance of prime residential property has meant that it continues to be viewed favorably by wealthy investors. This has become more evident as the list of alternative investment options open to investors has shrunk.
While the prime markets may be outperforming their mainstream peers, they are in no way immune from weakening confidence and deteriorating market conditions. Cities across Asia-Pacific are at the sharp end of this process, with weaker sales volumes in many cities starting to feed through into price growth.
Twelve months ago average prices for Asia's luxury homes were rising in value by 16.3% annually. At the end of September this year, the comparable figure was closer to 2%.
Of the cities covered in their forecast, 32% are expected to see luxury house prices fall in 2011, 25% are tipped to remain unchanged, and the remaining 43% are expecting prices to end the year higher than they started. Jakarta and Nairobi are forecast to be the strongest performers in 2011, with prices rising by up to 20% over the year.
Positive price movements this year can largely be attributed to rising cross-border demand from wealthy individual investors (especially in London and Paris), a lack of new supply (Moscow) and strong growth in domestic wealth (Beijing).
For those cities where prices are falling this year, weaker economic activity is a contributory factor in the majority of cases (Geneva, Hong Kong and Sydney), but weakening demand in the Middle East (Manama) and monetary tightening (Mumbai) also feature.
What's Coming in 2012?
For 2012, Knight Frank forecasts a relatively even split, with price falls expected in 44% of cities, no change in 12% and rising prices in 44%.
Perhaps the most interesting trend is the lack of homogeneity across the continents.
In Europe, Geneva and Madrid will see prices decline in 2012, but expect Moscow and Paris to be among the strongest performing markets.
Similar disparities can be observed in Asia. Hong Kong is forecast to see luxury prices decline by between 5% and 10%, while prices in Beijing are expected to rise by a comparable amount.
Seven Asian cities are expected to see negative price growth in 2012. In most cases these price falls have been partly driven by government regulation, which was brought in after 2008 in an attempt to cool housing markets before they experienced US and European style crashes.
These steps were bolstered in recent years, as concerns over speculative investment rose and rising household wealth created price pressures. The measures have proved hard-hitting and have included curbing multiple home ownership, halting bank loans for uncompleted projects and increasing interest rates.
Away from government intervention in Asia, the main reason for price falls in 2012 is the growing global economic uncertainty emanating from the Eurozone and extending to other parts of the world.
Given the seriousness of the economic threat facing the world economy, some might find it surprising that Knight Frank forecasts positive growth in 44% of their key global city markets.
Limited supply in several markets is the pivotal factor, and it is expected to push prices higher in London, Paris, Moscow, Nairobi and Kuala Lumpur.
Knight Frank's head of International Residential Research Kate Everett-Allen says, "Price growth in 2012 will continue to be underpinned by the flight of capital from troubled world regions, a factor which has certainly aided demand in locations like London, Paris, Singapore and Geneva".
Allen continues, "Equally important is the desire of wealthy investors to target property and other real assets over financial products, certainly for as long as the current financial turmoil continues."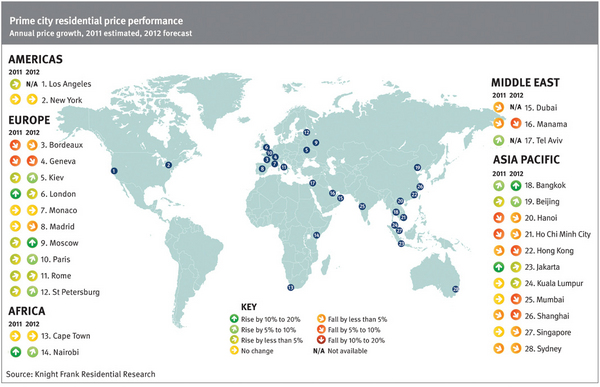 Sign Up Free | The WPJ Weekly Newsletter
Relevant real estate news.
Actionable market intelligence.
Right to your inbox every week.
---
Real Estate Listings Showcase