---
Hong Kong ushers in new rules this week that overhaul the way new properties are sold - measures that have been praised as long overdue by consumer advocates and largely resisted by the real estate industry.
The new rules require developers to use only the saleable, or net, area of new properties rather than gross floor area, the system previously used in the city, in promoting new homes.
The practice of citing gross floor area has led to increasingly misleading descriptions of the size of new flats. Gross floor area includes not only the area within the walls of an apartment or house but also an apportionment of the public areas of a development, including stair wells, elevator shafts, club houses, car parks, electricity substations and air-conditioning systems.
Although the net area was available with a title search, it cost money to retrieve that information, also available on calculations of government rates. Prospective buyers were left asking their agents for the "efficiency ratio" of a flat - the percent of the gross area that was actually inside the apartment, a ratio that had fallen from close to 90 percent in the 1980s to just over 70 percent in many 21st century developments.
The new Hong Kong law, the Residential Properties (First-hand Sales) Ordinance, has led to the creation of a 32-person authority under Hong Kong's Transport and Housing Bureau to oversee enforcement. The maximum penalties are seven years in prison and a fine of HK$5 million (US$644,000).
In addition to developers, property agents and the media may also be found liable for making fraudulent misrepresentations in the sale of new flats.
Since property prices are cited both in sum total and per square foot in Hong Kong--dividing by gross area made the per-square-foot rate look lower.
"From a buyers' perspective, more information is better," shareholder activist David Webb said. Citing gross floor area "was a practice that evolved to create the perspective that property wasn't as expensive as you thought it was. It didn't make property any cheaper. It just made it appear to be cheaper."
It is no exaggeration to say that the term "developer" has become a four-letter word in Hong Kong. The city's home prices have grown the fastest in the world since the Lehman crisis in September 2008, close to doubling, well ahead of India's second-place 60 percent growth. The Hong Kong government has introduced round after round of restrictions looking to halt the seemingly unstoppable run.
Most of Hong Kong's biggest companies have real estate as their foundation. Tycoons have traditionally been looked up to in the city -- Li Ka-shing, founder of Cheung Kong (Holdings), and Asia's richest man has been lauded as "Superman" for his deal-making prowess. But as home prices far outstripped advances in wages and the standard of living, social unrest and resentment has been festering over the city's widening wealth gap - one of the worst in the world - and the inability for new buyers to get on the property ladder.
Home buyers have also grown frustrated over misleading advertisements, in which developers airbrush out waves and boats in the harbor, touch up the city's polluted skies to a perfect sky blue and even relocate the background of developments in billboards to Monte Carlo or Louis XIV era France.
The Real Estate Developers Association of Hong Kong claims it "has always fully supported" the passage of the new first-hand sales law and says it has taken "no action to delay or sabotage the legislation." But REDA, largely viewed as toothless in attempts to self-regulate the industry, has repeatedly voiced its belief that the new rules are "flawed" and have "many unsolved problems in the legislation, which will cause unnecessary confusion in the property market."
In fact, the new rules bring Hong Kong into line with property-disclosure standards in most developed nations, which already use the net area of properties for listings - for both new and secondary-market sales listings. Consistent standards for measuring property has become an international issue and groups from around the world are currently
working to create a worldwide standard
.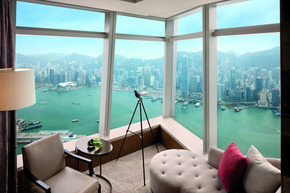 Technically, the net or saleable area developers are allowed to cite on new Hong Kong properties includes the internal apartment space, balcony, utility platform and verandah.
Still, Webb notes that REDA may have a point in insisting that there's no problem in citing both net and gross floor area, since consumers have been used to shopping for property using the gross figure.
"I think REDA have a valid argument about the Basic Law [Hong Kong's constitution] and freedom of speech," Webb says. "You should be entitled to say what the gross floor area is as well."
Secondary market sales must now cite net area but are still allowed to cite gross area as well. What's more, the government - which owns all land in Hong Kong and sells it on long-term leases - calculates the allowable size of developments using the gross figure. Developers get concessions allowing greater gross area, for instance, for including green features in buildings.
Regardless of the new rules,
the mood is turning in Hong Kong
. Residential prices have now fallen 4 percent since early March, cutting the year to date advance to 2.5 percent.
Nomura analyst Paul Louie says that "the glass is now officially half empty," causing him to adopt a cautious stance. "With affordability already stretched and the current demand base thin, we believe these small changes in perspective may hasten home owners' decision to sell and lock in their profit, and accelerate the pace of the correction."

Sign Up Free | The WPJ Weekly Newsletter
Relevant real estate news.
Actionable market intelligence.
Right to your inbox every week.
---
Real Estate Listings Showcase