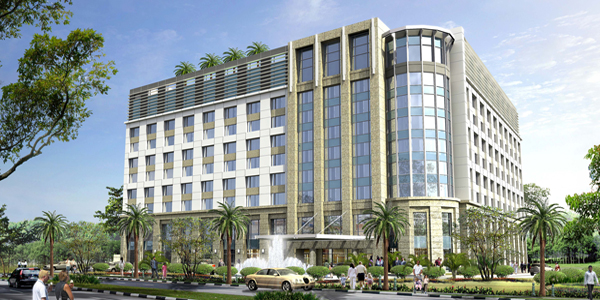 Park Hyatt Chennai Opens in Southern India
Hyatt Hotels Corporation recently announced the opening of Park Hyatt Chennai, marking the 30th hotel in the Park Hyatt collection and the first Park Hyatt hotel to be introduced in the city of Chennai, known as the gateway to Southern India.
Designed as a serene and tranquil retreat for the business traveler, Park Hyatt Chennai is located next to the prestigious Governor's residence and is also adjacent to the thriving green area of the Guindy National Park. A 15-minute drive from the city's domestic and international airport, Park Hyatt Chennai enjoys close proximity to the new developments of OMR (Old Mahabalipuram Road), Sri Perumbudur and the Guindy Industrial Estate.
"The opening of Park Hyatt Chennai is a great day of pride for us," said Yann Gillet, General Manager, Park Hyatt Chennai. "The hotel is truly a reflection of this great city with the art and design thoughtfully encompassing Indian heritage and culture. We're thrilled to join the Park Hyatt portfolio as the 30th hotel and look forward to providing guests with an ambience of sophistication with service that is gracious and truly personalized."
Park Hyatt Chennai features 201 luxury guestrooms, including 20 suites.
"We are proud to expand the Park Hyatt brand in India with the opening of Park Hyatt Chennai, which joins the newly opened Park Hyatt Hyderabad, as well as Park Hyatt Goa Resort and Spa," said Peter Fulton, Manager Director, Hyatt - Southwest Asia. "This opening is reflective of the thoughtful growth we're experiencing in India, as well as the growth of the brand in destinations that will ultimately build customer preference."
The hotel embraces the serenity of the surrounding Guindy National Park with flowing landscapes and relaxing interiors, complemented by a graceful lily pond dotting the heart of the inner courtyard of the hotel.
Park Hyatt Chennai offers an array of epicurean tastes and experiences in a sublime setting at The Dining Room. Overlooking the beautiful lily pond, guests at The Dining Room can enjoy convenient, all-day dining featuring traditional South Indian and European bistro fare. Early next year, Park Hyatt Chennai will be home to an exciting new dining extravaganza, The Flying Elephant.
For rest and recreation, Antahpura Spa offers guests a blissful refuge and the hotel has a fully equipped fitness center, Sphere, with separate areas for cardio and strength training, alongside a yoga studio. The fitness center also features hot and cold plunge pools and steam and sauna facilities.
The Apartment at Park Hyatt Chennai offers more than 8,000 square feet (743 square meters) of versatile and innovative meeting and event space.
Park Hyatt Chennai joins the company's list of Park Hyatt hotels in the following global locations: Abu Dhabi, Baku, Beaver Creek, Beijing, Buenos Aires, Canberra, Carlsbad, Chennai, Chicago, Dubai, Goa, Hamburg, Hyderabad, Istanbul, Jeddah, Maldives, Melbourne, Mendoza, Milan, Moscow, Ningbo, Paris, Saigon, Seoul, Shanghai, Sydney, Tokyo, Toronto, Washington D.C., and Zurich.