---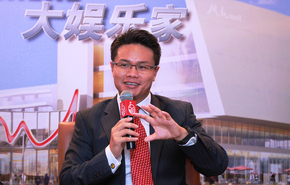 Mission Hills Group, China's leading developer of hospitality and leisure real estate, announced an ambitious mixed-use master-plan entertainment-driven development called Mission Hills Centreville. The new development, located one hour north of Shenzhen, will introduce four new international entertainment brands to the country as the heart and soul of a project that comprises, hotels, offices, parks, shopping malls, clubs and apartments.
Mission Hills hopes to have this mixed-use project open in 2013.
Three of the new partners are American bowling alley operators Brunswick Group; international ice-skating business Ice Castle International; and Japan's eXcape Entertainment Group. Joining this branded trio of top companies will be Chinese language film company Orange Sky Golden Harvest Entertainment Limited.
"We're delighted to announce this collaboration between Mission Hills and four prestigious leisure and entertainment brands," said Ken Chu, Chairman and Chief Executive Officer of the Mission Hills Group. "Each business is a leader in its own field and this association presents a 'win-win' situation for each party. Mission Hills Centreville is a hugely exciting project. With leading international brands like this on-board, it will become a major attraction throughout China and the Asia-Pacific region."
For more than a century, Brunswick Bowling has been a world leader in bowling center development, operating over a hundred retail outlets in North America and Europe.
"We look forward to building a unique bowling complex with 2,850 square meters here at Mission Hills Centreville, China," said Brunswick general sale and service manager Katherine Lee, "and we'll be sure to bring the very best in entertainment to this part of China. ... There's a lot of similarities with golf. You can have lots of fun; it's entertaining, challenging and suitable for all ages."
Well-known U.S. ice-skating mecca and training center Ice Castle International will also be making its Chinese debut with a ​​2,600 square meter skating center. It will not only be the first real ice rink in Shenzhen, but also a top training center for future dancers and athletes.
Led by former national skating team member Liu YueMing, the Ice Castle International figure skating brand has worked with some of the top performers in the world. They include nine-time U.S. National Champion Michelle Kwan, two-time World Silver Medalist Sasha Cohen, Canada's 2008 World Champion Jeffrey Buttle, America's 2009 World Champion Evan Lysacek, Japan's two-time World Champion Mao Asada, and famous Chinese figure skaters Shen Xue and Zhao Hongbo, three-time World Champions.
"Shenzhen is a young dynamic city and we look forward to bringing first-class venue, management and skills training to the city, not only to enable more people to enjoy skating but to develop more domestic talent," said Liu YueMing.
Japan's eXcape Entertainment Group will set up a simulation racing centre at Mission Hills Centreville. Visitors will experience iconic sports car brands like Ferrari and Audi in a 270-degree driving simulator.
"The high-tech driving simulator will provide participants with an unparalleled opportunity to experience the passion and excitement that comes with high-tech motorsport," said eXcape Entertainment Group CEO James Fiorillo Ortega.
Meanwhile, Orange Sky Golden Harvest Entertainment is the world's premier Chinese language film entertainment group. It operates 57 multiplexes with a collective 433 screens across Mainland China, Hong Kong, Taiwan and Singapore.
Orange Sky Golden Harvest Studio will create a 5D high-tech, luxurious movie city equipped with state of the art equipment, perfect audio-visual effects -- including the Sony 4K projection systems and Dolby 11.1 channel and DMR -- together with the introduction of Motion Chair D-BOX.
"Orange Sky Golden Harvest Studios combines the most advanced screening technology and audio-visual equipment," said Orange Sky executive director and CEO, Mao Yimin. "Our cooperation with Mission Hills Group, the leading brand in hospitality and leisure industry, will set new standards by bringing high-quality entertainment to this part of China."
Mission Hills Centreville is conveniently located on the Pearl River Delta. It enjoys easy access to major expressways that drastically reduce travel time between Mission Hills and downtown Shenzhen, Dongguan and Hong Kong. With the 'World's Largest Golf Club' at its core, Mission Hills has become the landmark of Shenzhen.
Founded in 1992, Mission Hills is recognized as China's leading golf brand and synonymous with high-end resort-style living. Its three world-class integrated leisure and wellness resort destinations have hosted more than 100 international tournaments. Mission Hills has also been accredited the "World's Largest Golf Club" by the Guinness World Records.
Spread out over 40 square kilometers, Mission Hills comprises 22 championship courses designed by renowned players and architects from five continents, several five-star resorts, award-winning spas and volcanic mineral springs, an international convention center, golf academies and Asia's largest tennis facility. Mission Hills is also the official training headquarters of China's Tennis and Golf Associations.
Sign Up Free | The WPJ Weekly Newsletter
Relevant real estate news.
Actionable market intelligence.
Right to your inbox every week.
---
Real Estate Listings Showcase