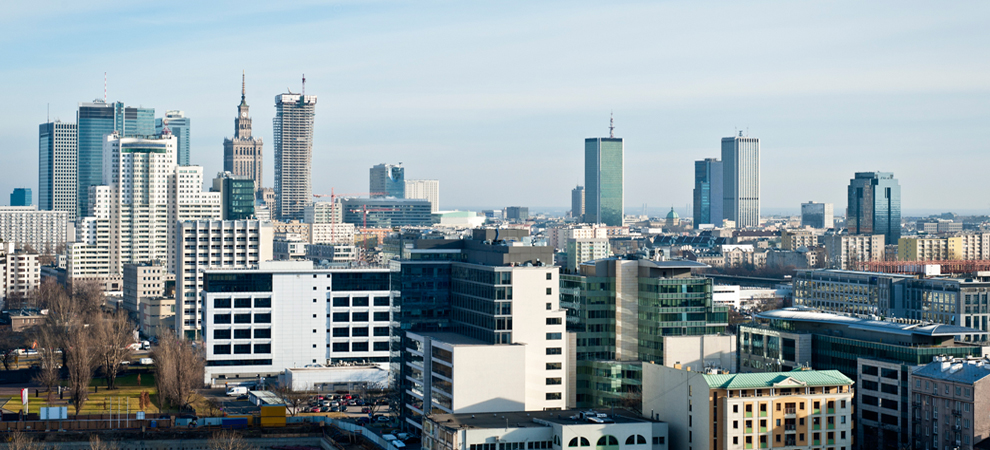 Polish Commercial Investments Reach Seven-Year High
Commercial real estate investment volumes in Poland reached €3.12 billion in 2013, the best year since 2006, with the second half of the year accounting for tow-thirds of all deals.
In 2013, CH Silesia City Center in Katowice was acquired for €412 million by an international consortium of investors led by German financial services group Allianz, marking the biggest-ever deal for the Polish investment market, according to property firm Cushman & Wakefield.
Commercial investment volumes in Poland
were forecast to reach record levels as investor interest grew throughout 2013.
The retail sector accounted for 44 percent of the total volume in 2013, with office taking 38 percent and warehouses 14 percent. The remaining 4 percent were properties of other commercial uses.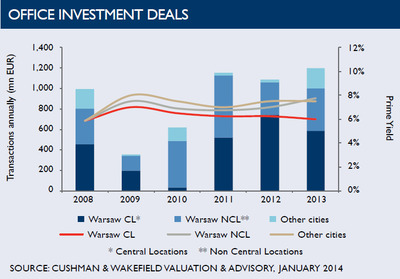 German investors represented the largest share of investors, accounting for 25 percent, and were the largest group of buyers as well. The second-largest group of investors were from the U.S. (21 percent), followed by the U.K. (15 percent), while investors from Poland accounted for eight percent of all deals with €263 million.
This year the overall investment outlook remains positive with continued investor interest, C&W reports.
"However, the investment market will maintain its momentum provided there is sufficient supply of prime properties and stronger appetite for investing in more demanding properties, particularly in the retail sector," Piotr Kaszyński, Partner, head of capital markets of C&W, said in the report.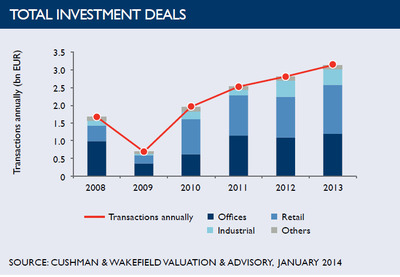 The office market was the best performing sector with 27 deals, totaling €1.19 billion.
In 2013, new office supply in the six regional cities totaled 548,000 square meters, with total take-up reaching 968,700 square meters during the same time frame. In December, the vacancy rates for the seven largest Polish cities was more than 11 percent, about 1.5 percent higher than the average in core European Union cities, according to the report.
The total retail investment volume in 2013 reached €1.38 billion, increasing less than 20 percent from the previous year. The three largest single deals in Poland were in the retail sector: the Silesia City Center shopping centre, Galeria Kazimierz in Krakow acquired by Invesco for €180 million and Charter Hall's portfolio of five shopping centers acquired by Tristan Capital Partners for €174.5 million.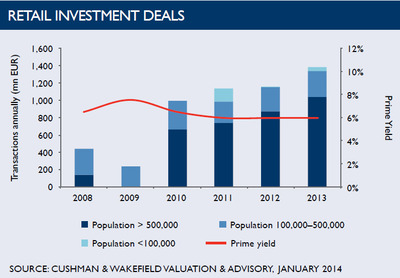 A total of 650,000 square meters of new modern retail supply was delivered in 2013, up almost 20 percent from a year ago. Shopping centers accounted for the largest share with 74 percent.
The transaction volume for the Polish industrial market totaled €0.44 billion in 2013, falling about five percent from the peak year of 2012.
At the end of 2013, total modern warehouse supply reached 7,942,000 square meters, increasing about five percent from a year ago. About 354,000 square meters of new space was delivered last year, with the Wrocław region accounting for the largest share of total volume.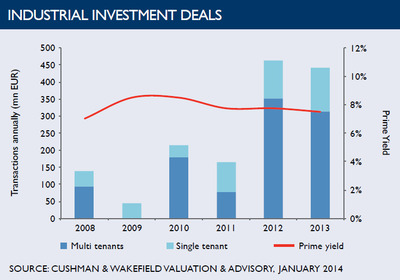 "The Polish industrial market performed very well in 2013 with the 3 transactions signed by
Amazon
totaling approximately 300,000 square meters being a major highlight," Tom Listowski, partner, head of industrial in Poland & CEE Corporate Relations at C&W, said in the report. "This being said, several other major transactions were also concluded which again confirms that occupiers perceive Poland as a very attractive and strategic location and we anticipate the growth in occupier activity to continue in the foreseeable future."