---
If designing urban spaces was a spinoff of "
Game of Thrones
," the Rem Koolhaas-Bjarke Ingels confrontation in Miami Beach would be a great storyline.
After months of scandal and castle intrigue, the city this week chose a development team led by the legendary Koolhaas to redevelop its 52-acre convention center district, spurning the competing team led by Koolhaas' former employee, the young upstart Bjarke Ingels.
The master vanquished the student. Obi-Wan beat Luke. Even Ingels referred to the competition as "Oedipal."
"OMA and BIG produced the requisite pretty renderings and eco-friendly videos, but neither design would be characterized as inspired."
It made for a good theater, but the convention center project-- repeatedly described by the local paper as "one of the most significant urban projects in the country" -- was never about great urban design. As is often the case in these types of projects, the commercial public-private partnership process was clearly focused on trying to find an economical way to redevelop the land and build a mega convention center to compete with all the other mega convention centers.
Yet, for many observers, it was hard not to put this internationally-tracked project in terms of the two architects and the fascination of seeing Koolhaas' OMA and Ingels' modestly-named BIG (Bjarke Ingels Group) participating in a lengthy head-to-head competition for a $1 billion development. It was easy to frame it as Rem versus Bjarke.
Koolhaas
is destined to go down as one of the great innovators and stylists of modern architecture, a true icon of the industry, one of the handful of architects always sure to generate passion and debate.
Ingels
is the brash kid with a flair for drama and good TV, a fellow Scandanavian and innovator, only now entering the big stage, winning the type of commissions that seal his status as a player.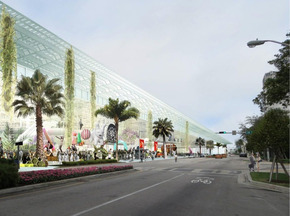 Little of that flair is evident in their Miami Beach designs. Both OMA and BIG produced workable solutions, suggesting plans that create public spaces while generating revenue for the developers and city. With a myriad of traffic issues, tight economics and detailed requirements for the centerpiece convention center, there were few options on the table for the architects.
OMA and BIG produced the requisite pretty renderings and eco-friendly videos, but neither design would be characterized as inspired. Any slivers of revolution were squashed in the meat grinder community process. The City of Miami Beach added its own unique flair, including the arrest of the lead city administrator on corruption charges and
a last minute move to downsize the plan
.
Ultimately, the debate centered on such issues as the amount of revenue generated for the city and whether or not the convention center would stay open during construction. South Beach ACE, the development team led by Tishman Realty, won based on economic variables, not because Mr. Koolhaas proposed a vision that will transform the city.
"A renovated convention center, adjacent hotel, and re-imagined convention center campus are critical to Miami Beach's ability to maintain and grow its desirability as a tourism and convention destination," Dan Tishman, South Beach ACE's principal, said in a victory statement, which sounded very un-Koolhaas.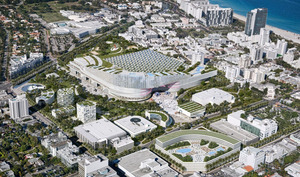 Mr. Ingels can take solace in knowing he has two other projects in development in south Florida, including
The Grove
, a pair of twisting residential towers, which broke ground earlier this year.
So what now for Miami Beach's grand plan?
The city must still figure out how to finance its portion of the deal, something close to $600 million. It's hoping to extend a special tax in the area, but there is nothing firm. The city must also negotiate a development deal with Tishman.
If all the deals are finalized, the plans will ultimately go to a public vote, which may require a "super-majority" to win approval, if an initiative drive is successful.
In other words, after all the intrigue and Oedipal conflict, neither Koolhaas nor Ingels may see their grand schemes become a reality.
Video: OMA's plan

Video: BIG's plan

Sign Up Free | The WPJ Weekly Newsletter
Relevant real estate news.
Actionable market intelligence.
Right to your inbox every week.
---
Real Estate Listings Showcase